33MILES EXTENDS SUCCESSFUL "ONE LIFE TOUR" INTO 2010
Pocket Full of Rocks and Kimber Rising Join Touring Bill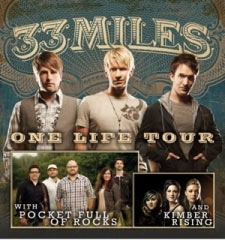 NEWS SOURCE: The M Collective
March 18, 2010
Nashville, TN – March 18, 2010 – GMA Dove Award nominated band, 33Miles, is announcing the spring leg of its highly successful, fall 2009 "One Life Tour." 33Miles will be joined by worship band Pocket Full of Rocks, who released their third studio project "More Than Noise" on March 2 , as well as newcomers Kimber Rising.
The spring tour kicks off in New Berlin, WI on March 19, and will make stops in 25 cities across the mid-west and southern United States. The extended spring tour comes after multiple sold-out shows during the fall run, a trend that is continuing into the spring with several dates already being close to a sell out including one event running out of tickets in under four hours.
"We are excited to get back out on the road after taking some time off to be with our families and write for our next album," says lead singer, Jason Barton. "It'll also be great to join our friends Pocket Full of Rocks and Kimber Rising, who we have loved touring with in the past."
The tour is partnering with Food For The Hungry to seek aid for earthquake-affected children in Haiti. Concert attendees will have the opportunity to sponsor one of the thousands of children affected by the January 12 disaster. Food For The Hungry is tirelessly working to not only meet the immediate needs of these communities but to begin the long-term development work as well.
"Food for the Hungry is thrilled to be partnering with 33Miles on the 'One Life Tour,'" explains Ben Greene, Director of Food for the Hungry's artist program. "They communicate the mission and heart of the organization. We are staying very aggressive in our development work in Haiti and 33Miles wanted to be a part of that. The church has responded to the immediate needs of the Haitian people, now we need to lead the way in the long-term recovery and development efforts. This program gives us that opportunity."
To learn more about Food For The Hungry, please visit www.fh.org
For tickets and information on the "One Life Tour," visit www.33milesonline/tour
2010 ONE LIFE TOUR DATES (dates subject to change):
3/19 – New Berlin, WI+
3/20 – Milan, TN
3/24 – Ardmore, OK
3/25 – Checotah, OK
3/26 – Kansas City, MO*
3/27 – Monett, MO** (sold-out)
3/28 – Monett, MO**
4/8 – TBA
4/9 – Walker, LA
4/10 – Winnsboro, LA
4/11 – Portland, TX
4/12 – Pharr, TX
4/13 – San Antonio, TX
4/15 – TBA
4/16 – Lufkin, TX
4/17 – Ovilla, TX
4/18 – TBA
4/22 – Richmond, KY
4/23 – Ashland, KY
4/24 – Madisonville, KY+
4/25 – TBA
4/29 – TBA
4/30 – TBA
5/1 – Oxford, NE+
5/2 – TBA
*Pocket Full of Rocks & Kimber Rising not appearing. Samestate and Last Place to open.
**Pocket Full of Rocks or Kimber Rising not appearing. Samestate to open.
+Kimber Rising not appearing.
More about 33Miles:
After logging in over 120,000 miles (not including air travel), performing at over 200 churches, garnering radio hits and a 2008 Dove nomination for "New Artist of the Year," 33Miles released their sophomore record One Life on Sept. 16, 2007 to much praise. Critically acclaimed One Life entered the Top Christian Soundscan Album Sales chart and the Christian Digital chart at No. 5, while debuting at No. 160 on the Billboard Top 200. Since their debut in 2007, 33Miles' Jason Barton (lead vocals), Chris Lockwood (guitar) and Collin Stoddard (keys) celebrated one of the highest-selling freshman albums of 2007 with their GMA Dove nominated project 33Miles.
More about Food for the Hungry:
Since 1971, Food for the Hungry has boldly served and spoken out for the poor. Food for the Hungry is more than a relief and development organization; they are tested, trusted and innovative partner who respectively walks with the poor in more than 26 countries worldwide while intentionally reflecting the love of Jesus. For more information, please visit www.fh.org
More about Pocket Full of Rocks:
Pocket Full of Rocks has been leading worship together for over 14 years. Lead singer and songwriter Michael Farren has written hit songs "Let It Rain" and "Let The Worshippers Arise", which are now worship standards in the contemporary church. The band's previous release, Manifesto, earned a 2008 Dove nomination for Worship Album of the Year.
###
For more info on 33Miles, visit the JFH Artists Database.


[2022]
Jan. | Feb. | March | April | May | June | July | Aug. | Sept. | Oct. | Nov. | Dec.
[2021]
Jan. | Feb. | March | April | May | June | July | Aug. | Sept. | Oct. | Nov. | Dec.
[2001 - 2021]
Visit our complete MUSIC NEWS ARCHIVE