Aaron Gillespie Leaves Underoath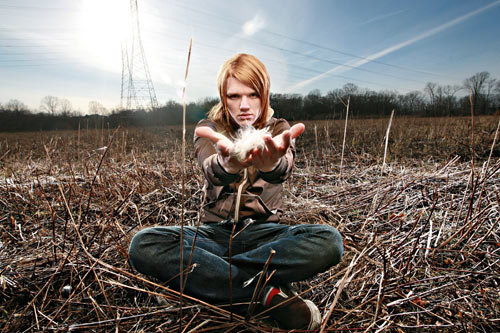 NEWS SOURCE: Aaron Gillespie, a Jesusfreakhideout.com report
April 5, 2010
Today, drummer for Underoath, and frontman for The Almost, Aaron Gillespie has announced he has parted ways with his original band, Underoath. Below are his words addressing the departure...
questions…

I am more then aware the the news you have heard of seems rash, and probably hasty. I wanted to be able to write a few thing down here to maybe help you understand a bit, or at least clear up the rumor mill before it starts grind like a mo fo'.

1. Underoath and i have parted ways. Yes that is a true statement. There is no bad blood, there is no anger, i was in that band for eleven years, i love every person with my whole heart, i love the music we made together, the shows we played and the good times we had. People change, times change, and sometimes change just comes hunting for you.

2. Yes i will continue to play in the almost. I will also play acoustic, as well as speak and do other musical/ ministry type things.

3. Yes underoath will remain a band, yes without me.

4. I really still love you, alot.

5. I am still giving drum lessons, all your appointments will be honored and kept.

6. Everything you read here is true, regardless of what your friends or internet connection might tell you.

7. Its all good. listen to uo, listen to the almost if you want, times change, roll with the hurricane.

I love ya,
aaron"
***UPDATE***
April 6, 2010
Aaron has posted another blog in response to the reactions to the first one...
"guess there are still rumors, in internet land there are always rumors, maybe i helped create that machine. I feel like alot of you need exact closure about the whole me leaving uo thing.

when I was fourteen i was asked to join a band called' "underoath" this was long before any of the members you know now were here. We began as a sort of progressive-metalish type band. I just knew i was young and had an incredible opportunity to play as fast as i could, which was super fun.

Fast forward- all the rad dudes you know and love joined this band and we made music together, and i Believe with my all that God used it (and still does and will) to touch alot of people. I feel so blessed to have been a part of this, it has been triple what i ever imagined or thought could happen,and some of the most fun times of my life.

Truth be told, things change, people change, lives rearrange. My time here in this band is up. I love it, the people the traveling. It is just time for me to go.

I will still be doing the almost, still giving drum lessons, still hanging with you

so come see me
http://aaronrgillespie.tumblr.com/post/500599703/things
# # #
For more info on The Almost, visit the JFH Artists Database.


[2021]
Jan. | Feb. | March | April | May | June | July | Aug. | Sept. | Oct. | Nov. | Dec.
[2020]
Jan. | Feb. | March | April | May | June | July | Aug. | Sept. | Oct. | Nov. | Dec.
[2001 - 2020]
Visit our complete MUSIC NEWS ARCHIVE