SKILLET'S EXPLOSIVE LIVE PERFORMANCE CAPTURED IN "AWAKE AND ALIVE" MUSIC VIDEO DEBUTING ON RANSOM.TV THIS WEDNESDAY, APRIL 7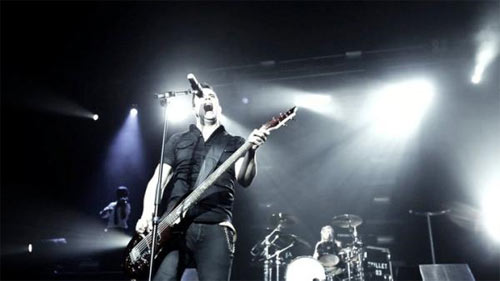 NEWS SOURCE: The M Collective
April 6, 2010
Nashville, Tenn. April 6, 2010… Skillet's new music video for their current hit Christian radio single "Awake and Alive," from their latest and best selling album Awake, will debut exclusively this Wednesday, April 7 on the Billy Graham Evangelistic Association's (BGEA) Ransom.tv. The song is currently top 5 on the CHR radio charts as well as No. 6 on the Christian Rock chart.
The new video was produced by BGEA, headquartered in Charlotte, N.C., and is based mostly on a live Skillet performance in Chattanooga, Tenn. with additional footage shot backstage by the band. Photos from the video shoot are currently available at www.facebook.com/WeAreRansom.
"Skillet is one of those unique bands who've been able to stretch beyond the Christian market and impact mainstream audiences," explains Kevin Adamson, Ransom Producer and spokesperson. "These guys are passionate about the Gospel and living out their faith. This is why we hand-picked them for Ransom, and why we're excited to debut this video."
Ransom.tv aims to address some of life's toughest questions with compelling content – in a format custom-designed for the "millennial" generation, ages 15-25. The site features videos, culturally relevant articles, testimonials, devotions and other engaging pieces on real topics to encourage a deeper relationship with Jesus.
As they close out the hugely successful AWAKE TONIGHT tour with TobyMac this week, Skillet will launch their next headline run, the AWAKE & ALIVE Tour on April 15th in Scranton, Pennsylvania continuing through late May, an updated tour schedule is listed below.
For up-to-the-minute news and information, visit www.skillet.com or www.myspace.com/skilletmusic.
Ransom updates can also be found on Facebook (www.facebook.com/WeAreRansom), Twitter (http://twitter.com/WeAreRansom) and its YouTube channel (www.youtube.com/user/RansomTeeVee).
###
About Skillet:
Skillet's latest, "AWAKE," continues to propel the incredible momentum the rock outfit has going for them with a blockbuster debut at No. 2 on Billboard's Top 200, selling over 67,000 units and peaking at No. 1 on iTune's "Top Albums" chart and "Top Rock" chart. Already over 300k in scans in just 20 weeks (more than double that of the GOLD selling COMATOSE), "AWAKE" was Amazon.com's best selling Christian CD of 2009, and boasts the No. 4 mainstream Active Rock single in the country with "Monster," which was also AOL Music's No. 4 mainstream rock song of last year, and the No. 1 Christian CHR & Rock single, "Hero," which has been used all season long by the NFL in their, Sunday Night Football and NFL Weekend Kickoff promos.
Skillet has toured with the likes of mainstream megastars Breaking Benjamin, Three Days Grace, Seether and Flyleaf, and headlined a slew of major Christian festivals, all followed by solo tours that ranked within Pollstar's Concert Pulse Top 50 Tours. Along the way, the two-time Grammy®-nominated alternative rockers also scored seven consecutive number one Christian radio singles, a 2008 GMA Dove Award for "Rock Song of the Year," and a 2009 nomination for Artist of the Year. Along with a trio of singles on Billboard's Mainstream Rock charts, a pair of BMI Songwriting Awards, and being chosen as Reader's Poll favorites on several top ccm websites, they also released their first ever concert CD/DVD combo pack "Comatose Comes Alive."
About BGEA:
The Billy Graham Evangelistic Association (BGEA) proclaims the Gospel of the Lord Jesus Christ throughout the world by every effective means available. From its headquarters in Charlotte, N.C., BGEA directs a wide range of domestic and international ministries, including: large-scale festivals led by evangelists Franklin Graham and Will Graham; Dare to Be a Daniel, a youth evangelism training project; My Hope World Evangelism Through Television; the Billy Graham Rapid Response Team of crisis-trained chaplains; and many others through print, television, telephone, radio and the Internet. For more information, please visit www.billygraham.org. Get BGEA news updates on Twitter @ Twitter.com/BGEAMediaPR.
Current Skillet tour schedule
* all dates subject to change, for most updated tour information, visit myspace.com/skilletmusic Apr 1 2010 7:00P Awake Tonight Tour- UNO Lakefront Arena New Orleans, Louisiana
Apr 2 2010 7:00P Awake Tonight Tour- Oil Palace Tyler, Texas
Apr 3 2010 7:00P Awake Tonight Tour - Mississippi Coliseum Jackson, Mississippi
Apr 8 2010 7:00P Awake Tonight Tour - Chrysler Hall Norfolk, Virginia
Apr 9 2010 7:00P Awake Tonight Tour - Big Sandy Superstore Arena Huntington, West Virginia
Apr 10 2010 8:30P Awake Tonight Tour - Liberty University Lynchburg, Virginia
Apr 11 2010 6:00P Awake Tonight Tour - Asheville Civic Center Asheville, North Carolina
Apr 15 2010 8:00P Awake & Alive Tour- Scranton Cultural Center Scranton, Pennsylvania
Apr 17 2010 12:00P Richmond Raceway Complex Richmond, Virginia
Apr 18 2010 6:00P Bojangles Coliseum Charlotte, North Carolina
Apr 20 2010 7:30P 1st Bank Center Broomfield, Colorado
Apr 23 2010 7:30P Awake & Alive Tour at Campbell University Buies Creek, North Carolina
Apr 24 2010 7:00P Awake & Alive Tour - USC Aiken Convocation Center Aiken, South Carolina
Apr 25 2010 7:00P Awake & Alive Tour - Saenger Theater Pensacola, Florida
Apr 29 2010 7:00P Awake & Alive Tour-Cajundome Convention Center Lafayette, LA
Apr 30 2010 5:15P Toad Suck Daze Conway, Arkansas
May 1 2010 7:00P Agape Festival-Greenville College Greenville, Illinois
May 2 2010 7:00P Awake & Alive Tour - ASU Convocation Center Jonesboro, Arkansas
May 4 2010 7:00P Awake & Alive Tour- Fort Smith Convention Center Fort Smith
May 6 2010 7:00P Awake & Alive Tour- Hartman Arena Park City, Kansas
May 7 2010 7:00P Awake & Alive Tour - Dodge City Civic Center Dodge City, Kansas
May 8 2010 5:30P Gwazi Fied - Busch Gardens Tampa, Florida
May 9 2010 7:00P Awake & Alive Tour - Kansas Expocentre Topeka, Kansas
May 11 2010 7:00P Bismarck Civic Center Bismarck, North Dakota
May 13 2010 7:00P Awake & Alive Tour - Rushmore Plaza Civic Center Rapid City, South Dakota
May 15 2010 7:00P Awake & Alive Tour -Urban Plains Center Fargo, North Dakota
May 16 2010 3:00P Balloon Classic Field-KAZR's Lazerfest 2010 Indianola, Iowa
May 20 2010 7:00P Awake & Alive Tour - Dow Event Center Saginaw, Michigan
May 21 2010 7:00P Awake & Alive Tour - Michigan State University Concert Auditorium East Lansing, Michigan
May 22 2010 5:00P Columbus Crew Stadium- Rock on the Range 2010 Columbus, Ohio
May 23 2010 4:00P WMMRBQ - Susquehanna Bank Center Camden, New Jersey
May 28 2010 8:30P Spirit West Coast - Del Mar Fairgrounds Del Mar, California
May 30 2010 5:00P YC Alberta 2010 Edmonton, Alberta
Jun 12 2010 8:00P Elitch Arena - Elitch Gardens Denver, Colorado
Jun 17 2010 7:00P Atlantafest Stone Mountain, Georgia
Jun 18 2010 9:30P Ichthus Wilmore, Kentucky
Jun 19 2010 7:00P Magic Springs Park Hot Springs, Arkansas
Jun 25 2010 9:30P Alive Festival 2010-Atwood Lake Park Mineral City, Ohio
Jul 1 2010 10:00P Cornerstone Festival Bushnell, Illinois
Jul 3 2010 7:00P Creation Festival East Shirleysburg, Pennsylvania
Jul 8 2010 9:00P Kings Fest - Kings Dominion Doswell, Virginia
Jul 10 2010 9:30P Lifest - Sunnyview Fairgrounds Oshkosh, Wisconsin
Jul 17 2010 9:30P Sonshine Festival Willmar, Minnesota
Jul 23 2010 8:00P Timber Linn Park Albany, Oregon
Jul 24 2010 7:00P Creation Fest West Enumclaw, Washington
Jul 31 2010 6:00P One Voice :: Six Flags Over Texas Arlington, Texas
Aug 3 2010 9:30P Kingdom Bound Festival Darien Center, New York
Aug 6 2010 9:00P Rock The Desert Festival Field Midland, Texas
Aug 7 2010 7:00P Rock The River West -Thunderbird Stadium Vancouver, British Columbia
Aug 21 2010 7:00P Rock The River West - Canadian Olympic Park Calgary, Alberta
Aug 28 2010 7:00P Rock The River - Billy Graham Evangelistic Assoc. Edmonton, Alberta
Sep 4 2010 7:00P Revelation Generation Festival Frenchtown, New Jersey
Sep 5 2010 7:00P Youth Front- Rock the Light Festival Shawnee Mission, Kansas
Sep 10 2010 10:15P Rock The Universe - Universal Studios Orlando, Florida
Sep 18 2010 7:00P Uprise Festival - Shippensburg Fair Grounds Shippensburg, Pennsylvania
Sep 25 2010 6:00P Harvest Crusades - Allstate Arena Rosemont, Illinois
For more info on Skillet, visit the JFH Artists Database.


[2021]
Jan. | Feb. | March | April | May | June | July | Aug. | Sept. | Oct. | Nov. | Dec.
[2020]
Jan. | Feb. | March | April | May | June | July | Aug. | Sept. | Oct. | Nov. | Dec.
[2001 - 2020]
Visit our complete MUSIC NEWS ARCHIVE