MORE THAN 400,000 ATTEND RECORD-BREAKING
WINTER JAM 2010 TOUR SPECTACULAR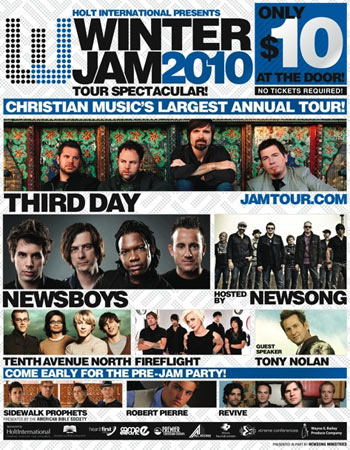 NEWS SOURCE: Turning Point Media
April 7, 2010
NASHVILLE, Tenn.— Christian music's largest annual tour, the Winter Jam Tour Spectacular, has concluded its 15th year with record-breaking attendance. Produced by Premier Productions and presented by Holt International, the 44-city Winter Jam 2010 Tour Spectacular played to a total of more than 403,000 people, setting a new record for the tour.
Over 17,000 people attended Winter Jam in Oklahoma City, while Knoxville, Tennessee, and Greensboro, North Carolina, each saw audiences in excess of 15,000 people. In addition, more than 14,000 people were in attendance at the Lexington, Kentucky, Winter Jam stop.
Hosted by GRAMMY®-nominated NewSong, Winter Jam featured multi-platinum Reunion recording artist Third Day; internationally-renowned Inpop recording artist Newsboys; Dove Award-winning Reunion recording artist Tenth Avenue North; acclaimed Flicker recording artist Fireflight; and guest speaker Tony Nolan. The tour included a Pre-Jam Party with Sidewalk Prophets, Robert Pierre and Revive.
Winter Jam also saw an estimated 74,000 people make decisions for Christ, since its kick-off January 8 in Chattanooga, Tennessee. Additionally, the tour facilitated more than 10,000 sponsorship commitments to adoption and child welfare organization Holt International, to help meet the needs of orphaned children around the world.
"We stand amazed at yet another year of record attendance, commitments to Christ, and child sponsorships that have come as a result of Winter Jam," said NewSong's Eddie Carswell. "It has nothing to do with us; we're simply instruments for His glory, and we can't wait to see what He will do next year."
"We had a great time on Winter Jam and learned a lot," said Third Day's Mac Powell. "So many great people were on the tour and we will never forget the amazing crowds we had!"
"We are privileged to be a part of Winter Jam and we never take it for granted," said Roy Morgan, owner, Premier Productions, producer of Winter Jam. "It's a movement to increase the fan base of Christian music in general, and the performing artists in specific."
Created by NewSong in 1995, the group hosts the multi-artist Winter Jam Tour Spectacular each year. The Gospel Music Association presented its prestigious Impact Award to Winter Jam Tour Spectacular in 2009, in recognition of the tour's continued success.
NewSong's 28 years in ministry have yielded 17 albums; 20 #1 singles; and a GRAMMY® Award nomination, among numerous other achievements. The band's most definitive recording to date, Give Yourself Away, produced by Charlie Peacock, released last fall on their new label, His Honor Music (EMI CMG Distribution).
Multi-platinum selling rock band Third Day headlined the Winter Jam 2010 Tour Spectacular. With 27 #1 singles, the group has played to sold out arenas around the world and earned numerous GRAMMY®, Dove and American Music Awards. Their current CD, Revelation, captures the complexities of the Christian walk and features collaborations with Robert Randolph, Chris Daughtry and Flyleaf's Lacey Mosely.
The Winter Jam 2010 Tour Spectacular was also sponsored by the American Bible Society, HearItFirst, Camp Electric, Premier Christian Cruises, All Access Merchandising, Texas TransEastern, Xtreme Conferences, and Wayne E. Bailey Produce.
For further information, visit www.jamtour.com.
For our Winter Jam coverage, click here.


[2021]
Jan. | Feb. | March | April | May | June | July | Aug. | Sept. | Oct. | Nov. | Dec.
[2020]
Jan. | Feb. | March | April | May | June | July | Aug. | Sept. | Oct. | Nov. | Dec.
[2001 - 2020]
Visit our complete MUSIC NEWS ARCHIVE