ASHMONT HILL PREPARES FOR SOPHMORE RELEASE TITLED YOUR MASTERPIECE
Releases Nationwide on May 25th, 2010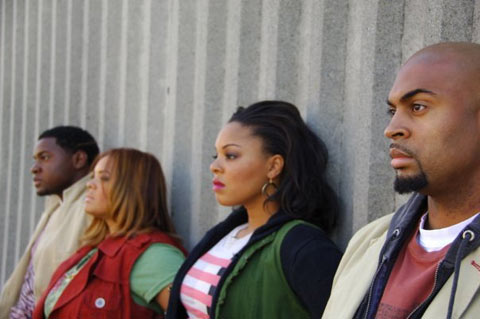 NEWS SOURCE: Big Machine Media
April 14, 2010
New York, NY – (April 14, 2010) – Axiom Records group, Ashmont Hill, has announced the release date for their sophomore album titled Your Masterpiece. Hitting stores nationwide on May 25th, this album is the follow up to their successful self-titled debut. Based out of Boston, the group consists of Phil Thompson, his sisters April Joy Thompson and Deborah Bullock, along with Deborah's husband Wil Bullock.
"As we were coming into this album, we had a better idea of who we are as artists," according to Phil, the group's primary songwriter, who had a hand in writing 9 of the 13 tracks. "I felt a lot more confident as a songwriter. The first album helped us learn what our sound is, but I feel the touring and radio experiences since helped us to step up our game and build upon that sound. We now have a clearer picture of who Ashmont Hill is. I really feel like we have grown leaps and bounds from the first record."
Reteaming with producer Sal Oliveri, Ashmont Hill set out to record an album that offers both radio-friendly material and congregational anthems. They've accomplished the former with "Unstoppable," an adaptation of Romans 8:31 set to adult contemporary with a Brit-pop flavor, and "Show My Love," the album's first radio single, penned by Ronnie Freeman as a response to Jesus and all He's done.
Ashmont Hill's appearances to promote the new album include concerts May 9th at the renowned Brooklyn Tabernacle and May 22nd at their home church Jubilee Christian Church in Boston, June 5th in Durham, NC, June 12-15 in Chicago and June 18 in D.C. They are performing on the Harvest TV Show June 15 and leading worship at the upcoming Worship Leader conference October 5-7.
For more information and an updated promotional tour schedule, visit www.facebook.com/AshmontHill


[2021]
Jan. | Feb. | March | April | May | June | July | Aug. | Sept. | Oct. | Nov. | Dec.
[2020]
Jan. | Feb. | March | April | May | June | July | Aug. | Sept. | Oct. | Nov. | Dec.
[2001 - 2020]
Visit our complete MUSIC NEWS ARCHIVE