The Nations Largest Christian Music Festivals – The Creation Festivals –
Announce Additional Details for the 2010 Events
NATIONS LARGEST CHRISTIAN MUSIC FESTIVAL OFFERS
AFFORDABLE SUMMER EXPERIENCE
WITH JAM-PACKED ENTERTAINMENT FOR THE ENTIRE FAMILY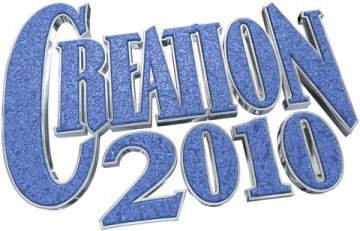 NEWS SOURCE: Overture Media
April 15, 2010
Nashville, TN (April 15, 2010) - Creation Festivals, voted "Favorite Festival" by CCM Magazine readers for the 3rd consecutive year, has proven to be the hallmark summer event music fans can't afford to miss. Hosted in two incredible settings, Creation Festivals host todays top Christian artists, compelling speakers, and stellar entertainment all for one low price. Both festivals are home to 5 stages, 60 artists, 20 speakers, an extreme zone, kid's entertainment, exhibit buildings, and much more.
Creation 2010 Northeast will celebrate the 32nd annual festival June 30th - July 3rd at the Agape Farm in the beautiful mountain ranges of Mount Union, PA. Creation 2010 Northwest will be held at its new home, the Enumclaw Expo Center, in Enumclaw, Washington (just 45 minutes outside Seattle) on July 21st - July 24th.
"Creation is a destination" says festival Producer, Bill Darpino. "The beautiful mountains of western Pennsylvania or the awe inspiring view of Mt. Rainier allows each attendee to experience Gods creation in a unique and personal way."
Each festival boasts world-class artist lineup that includes bands such as Skillet, TobyMac, Casting Crowns, Chris Tomlin, the David Crowder Band, Switchfoot, Newsboys, Red, Family Force 5, and many more. The Nations top speakers such as Bob Lenz, Louie Giglio, Reggie Dabbs, Ron Luce, Tony Nolan, and Matt Pitt will also take the stages at Creation. The "Fringe Stage" will feature the best alternative Christian artists, including Group 1 Crew, Seabird, The Classic Crime, R-Swift, and Brian "Head" Welch (founding member & former lead guitarist of Korn). In addition, Creation Northwest will feature Hillsong Live from Hillsong Church in Sydney, Australia - a Creation Festival exclusive.
The Creation Festivals are more than just entertainment for families and groups - it's an experience. Generations have come to the Creation Festivals over the years with an expectancy to see God move.
"Nothing can compare to worshiping with tens of thousands of people, being a part of the candle-lighting service, or even watching young and old be baptized," states Co-founder and Director of the Creation Festivals, Pastor Harry Thomas.
The message of hope and encouragement is one that is carried throughout the week at Creation. Each afternoon there are special seminars on a variety of topics from keynote speakers at various locations on the festival grounds. Creation has once again teamed up with Interlinc to provide youth leaders with the "Youth Leader VIP Experience." This special tent will house daily seminars by festival speakers, exclusive artist talkback sessions where youth leaders can meet and have candid discussions with some of the artists appearing at the festival, enjoy free snacks, and a place to connect with other church leaders from across the nation.
An event for the entire family, Creation Northeast and Creation Northwest features a "Kid's Stage," geared especially for children of all ages. The Donut Man, Phredd, Mark Thompson, and Stephen Courtney will all make Creation an exciting experience for children. Each afternoon, kids also gather in the "Kid's Grove" for a special craft time, puppets, and a petting zoo. For teens and adults alike, there is an "Extreme Zone" featuring a skate and BMX park, climbing walls, spider jumps, sumo wrestling, basketball courts and much more.
Creation strives to offer the best entertainment value for families as well as youth groups. Advanced tickets start at $49.00 per person for the entire four-day festival, providing the attendees with jam-packed entertainment, lodging, and more all for one low price. In addition to Creation's group rates, Creation offers free tickets to kids under 5 years of age and has once again offered its "Ticketing Payment Plans" and "Carpooling to Creation" contests to help fans spread their dollars even further.
Nick Kulb, Director of Marketing and Sales, states "We will continue to support our attendees by offering a tremendous amount of entertainment for the lowest possible ticket price.
Creation has become a staple on the summer calendars for tens of thousands of people and we will continue to provide them with great value." Tickets for both festivals are available now at www.creationfest.com.
For more information about Creation 2010 Northeast and Creation 2010 Northwest go to www.creationfest.com or Google keyword - "Creation." There you will be able to view the complete program, find information on purchasing tickets, volunteering, and much more. Media and press outlets looking to cover the festival on-site please go to www.creationfestpress.com. Become a fan of Creation Festival on Facebook and follow them on Twitter.
###


[2021]
Jan. | Feb. | March | April | May | June | July | Aug. | Sept. | Oct. | Nov. | Dec.
[2020]
Jan. | Feb. | March | April | May | June | July | Aug. | Sept. | Oct. | Nov. | Dec.
[2001 - 2020]
Visit our complete MUSIC NEWS ARCHIVE