NEWWORLDSON CELEBRATES FIRST NUMBER ONE SONG AT RADIO
Current Single "There Is A Way" Climbs to No.1 in Canada, No.2 in the U.S.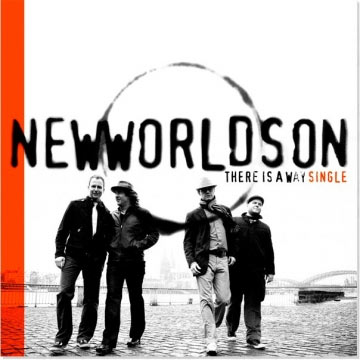 NEWS SOURCE: Savvy Media
April 22, 2010
(NASHVILLE, Tenn.) April 22, 2010-- Inpop Records' Newworldson is celebrating its first No.1, as its current single "There Is A Way" tops the Canadian Christian Radio Charts this week. The song, from Newworldson's Feb. 23 self-titled release, additionally peaked at No. 2 on the Radio & Records Christian AC Monitored & Indicator charts.
"There Is A Way," featuring the Toronto Mass Choir, is a song of encouragement to those who are carrying a heavy burden. Newworldson frontman Joel Parisien explains, "We all have someone in our lives who is trying to carry the weight of the world on their shoulders ...the purpose behind this song is to shine a light in the dark, lyrically extending a hand to that someone just waiting to lay their burden down."
That message has resonated greatly with listeners who helped propel the song to No. 1 on Canadian Christian radio and No. 2 on Christian AC radio here in the US:
"Every once in a while there is a song that is good, but different. 'There Is A Way' was one of those songs, and for a long time we were afraid that in this case, different might mean that our audience would not connect with it. WOW, were we wrong! I am more than happy to say that I was shocked not only at how well the song tested with our audience, but how within a few weeks it became our top testing song! I am so glad I finally came around and did not miss it!" --Jeff Cruz, WPOZ (Orlando, FL)

"I am smelling a Juno Award for Newworldson! 'There Is A Way' is a breath of fresh air on KLOVE that delivers the truth of God's Word. It's a song that just puts a smile on your face!" --Scott Smith, K-LOVE

"We've received several calls in the morning of moms telling us their kids were in the backseat singing 'There Is A Way.' Newworldson…kid tested and mom approved!" --Brian Sumner, WCQR (Johnson City, TN)

"'There is a Way' was an instant success for us. It immediately connected to our target audience, and by the end of its run, became one of our top testing songs of 2010!" --Kris Love, WTLV-WDLF (Knoxville, TN)
Parisien adds, "We're so encouraged by the support we've received at radio. Not only have they helped to boost our profile, but they have also partnered with us to get this message of hope out to the world, which was our prayer for this song from the very beginning."
Dale Bray, Inpop Records president agrees, "We at Inpop are very appreciative of the many radio stations around the world who have embraced this song to such a high level. It is great for our industry to see such a creative and artistic band receive such outstanding attention and support."
Produced by Newworldson alongside veteran co-producer Justin Koop (Silverstein, Finger Eleven) and GRAMMY Award-winning mix engineer F. Reid Shippen (India.Arie, Jonny Lang), the new project is largely influenced by the band's international travels, subsequently capturing an even bigger, more dynamic sound than its previous effort. This growth is evident to media who are impressed by Newworldson's " 'it factor'" (CCMMagazine.com) and are calling the album "a musical grandslam" (cbn.com) and "high art" (soul-audio.com). The album debuted at No. 3 on on the iTunes Christian/Gospel Albums chart. "There Is A Way" was recently highlighted as an iTunes Discovery Download and received more than 123,000 downloads in one week.
Since signing with Inpop Records in 2007, Newworldson has garnered two JUNO Award nominations for Gospel Album of The Year and seven GMA Canada Covenant Award nominations, including two wins for Roots Album of The Year and one each in the categories of Best New Artist and Group of the Year. The band claimed a No. 1 music video on the Gospel Music Channel with "Working Man," while earning a guest spot on newsboys' wildly popular "GO" tour, as well as invitations to headline festivals in Australia, Germany, Holland and Sweden.
Its national debut, Salvation Station, additionally elicited unanimous critical acclaim, hailed as GRAMMY-worthy by industry trade publication Christian Retailing and praised by AllMusic.com as "one of 2008's most enjoyable, well-written albums." The band plans to support its sophomore effort this spring and summer in new territories, including the United Kingdom, New Zealand and Scandinavia, as well as to revisit major venues across North America. Visit www.newworldson.com or www.myspace.com/newworldson for more information and a current list of tour dates.
Founded in 1999, Inpop Records is home to a variety of artists including newsboys, Superchick, Shane & Shane and Mat Kearney, among others. For more information, visit www.inpop.com.
###
For more info on Newworldson, visit the JFH Artists Database.

[2021]
Jan. | Feb. | March | April | May | June | July | Aug. | Sept. | Oct. | Nov. | Dec.
[2020]
Jan. | Feb. | March | April | May | June | July | Aug. | Sept. | Oct. | Nov. | Dec.
[2001 - 2020]
Visit our complete MUSIC NEWS ARCHIVE