5 Time Grammy® winner TOBYMAC starts clothing line to honor Mothers
"the bomb mom" inspired by his wife

a "new school" Mother's Day gift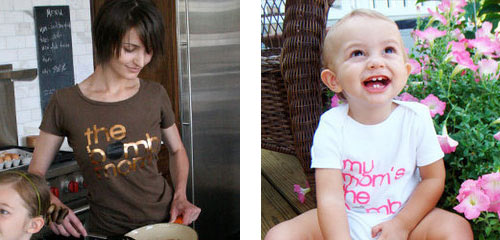 NEWS SOURCE: The M Collective
April 26, 2010
NASHVILLE, TN….April 26, 2010….Some guys give flowers and some give cards, but when you really want to get creative you start a clothing line for your wife! That's just what award-winning musician TobyMac did after watching his wife with their children one day when the phrase just came to him…The Bomb Mom.
At first he wasn't sure what to do with the phrase, but eventually he realized it was a great name for a clothing line - a series of statement tees for all the beautiful (inside out) women who give their lives to mothering: the bomb moms.
"I know for a fact that I don't work half as hard as any mother out there," he says. "I've had three to five of my kids for a day, and three hours in, I was sailing the white flag of surrender. So, I wanted to figure out a way to honor amazing moms out there." The Bomb Mom caters to moms, moms-to-be and children, with a great range of products from stylish women's tees, maternity tees, toddler, baby and youth tees, as well as a "bling" coffee mug and "bling" tote. All products can be viewed and purchased on the site at: http://www.thebombmom.com.
The Bomb Mom has already received some incredible feedback by some of the best mom blogs out there, including: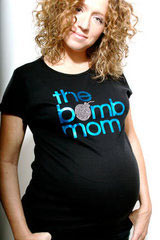 "I have to say that I LOVE this tee! First of all, it is just so cute! I love the design (especially the blue foil lettering) and the fit is very flattering. I would have normally worn a medium, but got a small because the fit runs a bit big, and it was perfect! This is also THE softest tee shirt I own which makes it the first shirt I grab when I want to get comfortable! When I wore my Bomb Mom tee, I received many compliments and "Where'd you get that shirt?" from the Moms at my dance studio. All the attention made me feel like "The Bomb!" Mission accomplished!"
- Momdot.com
"I love my new t-shirt from The Bomb Mom. It's stylish and will surely bring a few double takes. The fabric is soft and feels high quality. I love the colors and the rhinestone bomb. (I just better not wear this on a plane!) Since the t shirts run a little big, I ordered a small, but I usually wear a medium in most brands. I have worn my shirt like two times a week, so I better get a new style! I would like to get Colton one of the shirts that says, "My Mom is the Bomb." You don't see very many kids t shirts about Moms. There are usually lines like "Daddy's Girl," or "My Dad is the Man!" (Colton has that one). So it would be nice to have Colton wear a shirt about Mommy! I have a feeling that we are going to be seeing this shirt on celebrity moms before you know it."
--Busymom.com
"Moms can be hot too, you know! Kudos to the wife who inspire this line of tees for moms, toddlers and babies. The Bomb Mom, an expression coined by the creator of this hip new fashion statement, is simply fun to wear. The tee is super soft and empowering without leaving the kids out of the action with tees and onesies such as 'My mom's the bomb.'"
-coolbabykid.com
For more information on TobyMac, please visit www.tobymac.com.
###
With over 10 million in career sales, his first three solo projects receiving RIAA Gold status and GRAMMY® nominations, and TobyMac's live CD/DVD taking home a GRAMMY® award, the much-celebrated and acclaimed artist recently celebrated his fifth consecutive GRAMMY® nomination with his single "City On Our Knees" receiving a nod for Best Gospel song. The track topped the sales and radio charts faster than any of his previous singles, spending 8 weeks at #1 on the Christian Audience Chart. The single was the first release from TobyMac's latest, "TONIGHT," which also garnered him the highest sales debut of his solo career with over 78,000 units and a No. 6 Billboard Top 200 debut. Along with sold out tour dates, back-to-back radio hits and being named the GMA Dove Award's 2008 Artist of the Year, TobyMac's music has been featured in major motion pictures such as "Hancock," "TRANSPORTER 2," on Fox sports, The NFL network, 2009 SUPERBOWL and more. TobyMac's latest radio hit is his new single, "Get Back Up," currently at No. 7 on CHR, No. 18 on the AC Monitored chart. TobyMac's latest radio hit is his new single, "Get Back Up," currently at No. 2 on CHR-Indicator, No. 6 on the AC Monitored chart, No. 3 on NCA Monitored and No. 17 AC-Indicator.
For more info on TobyMac, visit the JFH Artists Database.


[2021]
Jan. | Feb. | March | April | May | June | July | Aug. | Sept. | Oct. | Nov. | Dec.
[2020]
Jan. | Feb. | March | April | May | June | July | Aug. | Sept. | Oct. | Nov. | Dec.
[2001 - 2020]
Visit our complete MUSIC NEWS ARCHIVE