MERCYME CONTINUES TO LOVE WELL, SERVING AT RESCUE MISSIONS
ALONG THE WEST COAST
BAND HONORS THOSE LIVING OUT THE MESSAGE OF THE GENEROUS MR. LOVEWELL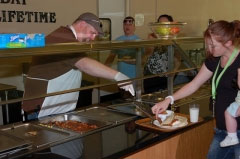 The members of MercyMe put down the mics to serve others in need at the Rescue Mission in Orange County.
NEWS SOURCE: The M Collective
April 29, 2010
April 29, 2010…Nashville, TN… MercyMe continues to live out their message of "loving well" as they move forward in their journey across America, recently serving at Rescue Missions in California and assisting radio listeners in Nevada. The Grammy® nominated band is preparing for the release of their upcoming album with INO Records The Generous Mr. Lovewell, available nationwide next Tuesday, May 4th.
With a desire to 'love well' and also honor those who do so every day, the band recently paid visits to both the Fresno Rescue Mission and the Orange County Rescue Mission in California. In Fresno, the band met with the men from the Recovery Program and heard the inspiring testimonies of how God has changed their lives. In addition, they visited the Orange County Rescue Mission in conjunction with the Fish radio station LA. The station asked for listeners to nominate family and friends who they felt were 'loving others well.' As a result, The Fish brought in the people whom they felt had the most compelling stories to witness a special acoustic performance by MercyMe at Rockwell's Bakery and be on the air with band members and morning show co-host Reba Toney. While some of MercyMe were co-hosting the radio program, the others were helping with the station's food drive by collecting cans in the parking lot. Later on in the day, the Fish LA and the band took the donations to the Orange Country Rescue Mission and served food, washed dishes and loved on the residents. To view the efforts done in California, watch the video clip here: http://www.tangle.com/view_video?viewkey=a63983a3a6f3e393ef13
"Loving well is what it's all about and this day really captured the essence of why we do, what we do," says Chuck Tyler, program director of The Fish. "I know the band has to be crazy busy when a new record is launching, so how cool is it that they are spending entire days helping folks out…it says a lot about their priorities. We truly saw some lives changed. We were just privileged to be a part of it."
The band carried on through to Las Vegas where SOS Radio asked listeners to "Lovewell" and nominate friends or family in need. Listeners nominated a woman who had lost her job last year, was still unemployed and had a car that was barely functioning. Without the woman's knowledge, SOS Radio arranged for her 14-year-old car to be repaired. MercyMe helped surprise the woman by driving her newly revamped car to her doorstep. All expenses for the car repairs were covered by Meyer's Autoparts and MercyMe provided an additional donation to assist with her bills. Watch the events in Vegas up close and personal here: http://www.tangle.com/view_video?viewkey=7395dec40be1121d5dc3
"It was fun to see how guys from Mercy Me gave Glenda James such a personal connection! She's going to remember what the Love of Christ is all about every time she starts her car now!" says SOS Program Director, Scott Herrold.
In the midst of their travels, the multi-platinum selling band was able to stop through Nashville to appear on the 41st Annual Dove Awards and performed their No. 1 hit "All of Creation" alongside David Crowder. Frontman Bart Millard co-hosted the award ceremony with Natalie Grant. "All of Creation" maintains its position at No. 1 at radio.
For more information about MercyMe, please visit www.mercyme.org.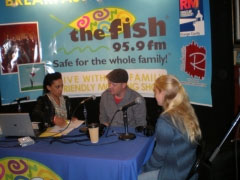 The Fish LA- Reba Toney from 95.9 Fish LA morning show along with a Lovewell winner and Mike from MercyMe.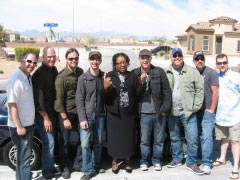 Vegas –KOSOS' Scott Herrold and Gary Thompson and MercyMe surprise a listener with her newly revamped car.
###
Since their debut in 2001, Grammy-nominated, American Music Award and multiple GMA Dove Award winners MercyMe have sold over 5.5 million units in CD and DVD sales, while being one of few Contemporary Christian music groups to have had all of their recordings certified Gold or Platinum, as well as garner 22 No.1 multi-format Christian radio singles, and four consecutive mainstream radio hits with "I Can Only Imagine," (No. 4 AC/top 25 on Top 40/Hot AC), "Here With Me" (No. 4 AC), "Homesick" (top 10 AC), and "So Long Self." In 2009 BILLBOARD named MercyMe's "Word Of God Speak" the #1 Song of The Decade and the group the #1 Christian Songs Artist of the Decade, with an additional #1 as the Christian AC Song Artist of The Decade as one of the industry's most notable talents. MercyMe recently made history as "I Can Only Imagine" surpassed 1 million digital downloads, making it the first song in Christian music to go platinum in the digital domain. The multi-platinum selling band has sold out venues including Radio City Music Hall and has been seen on The Tonight Show, CNN, Fox New Channel's Fox & Friends, ABC News, CBS' The Early Show, and on the pages of Entertainment Weekly, The New York Times, USA Today, Billboard, and more.

[2021]
Jan. | Feb. | March | April | May | June | July | Aug. | Sept. | Oct. | Nov. | Dec.
[2020]
Jan. | Feb. | March | April | May | June | July | Aug. | Sept. | Oct. | Nov. | Dec.
[2001 - 2020]
Visit our complete MUSIC NEWS ARCHIVE