GLO GARNERS GOLD MEDALLION
AND IS NAMED TOP BIBLE FOR 2010
BY THE EVANGELICAL CHRISTIAN PUBLISHERS ASSOCIATION (ECPA)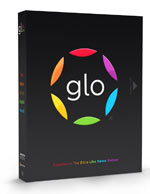 NEWS SOURCE: Rogers & Cowan
May 5, 2010
(Orlando, FL) May 5, 2010 – The Evangelical Christian Publishers Association (ECPA) recently awarded Glo (Immersion Digital LLC, Zondervan) the top Bible for 2010 at the Industry Awards banquet held Monday, May 3, 2010, during ECPA's annual Executive Leadership Summit in Nashville, Tenn. Out of the five finalists, Glo was the only interactive digital Bible featured in its category. Presented annually to the finest in Christian publishing since 1978, the Christian Book Awards honors titles in six categories – Bibles, Bible Reference & Study, Christian Life, Fiction, Children & Youth, and Inspiration & Gift. Glo garnered top honors in the Bible category for 2010 by receiving this year's Gold Medallion/Bible of the Year Award.
Glo brings the Bible to life with HD video and documentaries, high-resolution images, zoom-able maps, 360-degree virtual tours and more. Glo is the Bible "re-imagined for a digital world," according to Glo creator Nelson Saba. He and co-creator Phil Chen combined more than 12 years of expertise in interactive media to create a Bible product that would revolutionize how the Scriptures are experienced.
Content is accessed through five "browsing lenses" within Glo: Bible (the text in its traditional form); Atlas (biblical events represented geographically); Timeline (biblical events represented chronologically); Topical (browse by subject); and Media (HD video, works of art, 360-degree virtual tours, zoom-able high-resolution images and more). In addition to the NIV Bible text and its study notes, the content in Glo includes more than 500 virtual tours with 360-degree views, 7,500 encyclopedia articles, 2,300 high-resolution photos, 700 pieces of artwork, 3.5 hours of HD video, nearly 150 maps and much more. With the intuitive browsing lenses in Glo, users can easy personalize their Bible experience and find Scripture relevant to daily life. With a few clicks, it's possible to create a custom Bible reading plan, explore the biblical world, and become immersed in breathtaking 360-degree tours to experience biblical stories coming to life.
The recent award accolade builds on the Glo Bible's unprecedented achievements. Since its Oct. 15, 2009 debut, Glo has been featured in national print publications including Newsweek, Charisma & Christian Life, Church Executive, Reuters, The Guardian, Christianity Today, About.com, and Examiner.com, among others. Glo co-creator Nelson Saba has also appeared on numerous national broadcast outlets including, ABC News Now, Campus Crusade for Christ International, Moody Radio, SIRIUS/XM Radio, LeSEA Broadcasting and Daystar TV, among others. In addition to its national media success, a number of churches throughout the country have begun incorporating Glo into their services. Oak Hills Church (San Antonio, TX), with Pastors Randy Frazee and Max Lucado, was one of several churches to use the Glo Bible in their Easter services.
About Immersion Digital LLC
Immersion Digital LLC is a technology and media company founded in 2008. Chairman Phil Chen and CEO Nelson Saba actively promote the company's mission to use technology to connect people of all ages and languages to God and His Word, and bring Scripture to life in relevant formats. The Immersion Digital flagship product, Glo, is an interactive Bible that brings scripture to life through rich media, intuitive browsing lenses, and a unique natural user experience.
About The Christian Book Awards
The Christian Book Awards was established in 1978 as the Gold Medallion Book Awards by the Evangelical Christian Publishers Association; recognize the absolute highest quality in Christian books. Based on excellence in content, literary quality, design and impact, the Christian Book Awards are the oldest and among the most prestigious in the religious publishing industry.
About Zondervan:
Zondervan is a mission-driven and values-based company. Their organizational culture is uniquely centered on biblical principles. All its employees—from entry-level to leadership—are focused on and passionate about upholding the mission and shared values of this company. Today Zondervan products are sold to domestic and international ministries and retail facilities, including independent Christian and general bookstores and chains, general merchandisers, direct sellers and online e-tailers. Our products are available in nearly 200 languages in 60 countries.
###


[2021]
Jan. | Feb. | March | April | May | June | July | Aug. | Sept. | Oct. | Nov. | Dec.
[2020]
Jan. | Feb. | March | April | May | June | July | Aug. | Sept. | Oct. | Nov. | Dec.
[2001 - 2020]
Visit our complete MUSIC NEWS ARCHIVE