Star Song Music Joins Forces with Mocha Club to Help those in Need – Not Your Typical Coffee Break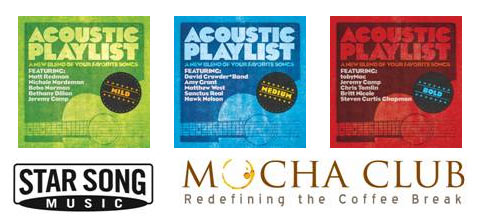 NEWS SOURCE: EMI CMG
May 10, 2010
Nashville, Tenn. (May 10, 2010) – There are two elements that frequently unite people across the world: music and coffee. Star Song Music and Mocha Club are joining forces for a unique series of albums containing songs from well-known artists such as Matthew West, Jeremy Camp, Amy Grant, TobyMac, and more while raising awareness for the humanitarian efforts of Mocha Club. The Acoustic Playlist series (Star Song Music) captures remarkable acoustic-based performances in the studio of these artists' well-known and hit-radio songs and compiles them into three unique products based on tempo: Mild, Medium, and Bold (which happens to coincide with how consumers choose their coffee).
Mild = for when you want to relax
Medium = for when you want to keep your pace
Bold = for when you need a shot of energy
Ranging from simple guitar and vocal to full-band acoustic arrangements, these songs create a new listening experience for fans with many of the tracks being available on CD for the first time ever.
Mocha Club is an online community of people giving up the cost of 2 mochas a month to fund relief and development projects in Africa working in five main areas: Clean Water, Education, Child Mothers + Women At Risk, Orphan Care + Vulnerable Children, and HIV/AIDS + Healthcare. Their vision is to provide a way for people who don't have hundreds or thousands of dollars to make a difference in Africa, and their community-based website allows members to start a team and invite friends to join them in giving up the cost of 2 mochas ($7) a month to support their chosen project.
Star Song Music is helping raise awareness for the Mocha Club through promotion inside the packaging of each title in the Acoustic Playlist: A New Blend of Your Favorite Songs series. Additionally, to further support Mocha Club, EMI Christian Music Group has made a donation to support their work in Africa.
The Acoustic Playlist series was released earlier this year with each album retailing at $9.99 SLRP. "The performances and unique arrangements of the songs on Acoustic Playlist are compelling and when you hear them presented acoustically, you're reminded of why these are great songs to begin with. We admire the work that Mocha Club is doing and thought these albums would be the perfect platform to raise awareness for the amazing work they do every day." – Bryan Ward, Director Catalog Development EMI CMG.
Track Listings:
Acoustic Playlist: Mild
1) Enough - Chris Tomlin
2) Holy - Nichole Nordeman
3) Blessed Be Your Name - Matt Redman
4) Whatever You're Doing (Something Heavenly) - Sanctus Real
5) Waiting For Love To Come Down - Susan Ashton
6) Only Grace - Matthew West
7) One Bright Hour – Bebo Norman
8) I Am Nothing - Shawn McDonald
9) Beautiful - Bethany Dillon
10) I Still Believe - Jeremy Camp
Acoustic Playlist: Medium
1) Miracle Of The Moment - Steven Curtis Chapman
2) Indescribable - Chris Tomlin
3) You Never Let Go - Matt Redman
4) You Are Everything - Matthew West
5) Takes A Little Time - Amy Grant
6) Dreamer - Bethany Dillon
7) Wholly Yours - David Crowder*Band
8) Made To Love – TobyMac
9) We Need Each Other - Sanctus Real
10) One Little Miracle - Hawk Nelson (w/ Amy Grant)
Acoustic Playlist: Bold
1) Believe - Britt Nicole
2) I'm For You - TobyMac
3) Hallelujah, God Is Near - Robbie Seay Band
4) Made To Worship - Chris Tomlin
5) Remember Not - Susan Ashton
6) Filled With Your Glory - Starfield
7) Yours - Steven Curtis Chapman
8) Beautiful One - Jeremy Camp
9) All I Need - Bethany Dillon
10) Gravity - Shawn McDonald
Bonus Track:
11) Acoustic Medley - DeGarmo & Key
About Mocha Club:
Mocha Club is a division of 501c3 non-profit African Leadership. Mocha Club was established in 2005 by a group of musicians, business men, and young people who were passionate about making a difference in Africa. For more information or to join the cause, go to www.mochaclub.org where you can make an impact.
About EMI Christian Music Group:
Established in 1994, EMI CMG is the world's largest Christian music organization and includes EMI CMG Distribution and EMI CMG Publishing in addition to EMI CMG Label Group and EMI Gospel. It is part of EMI Music North America which is a part of EMI Group. For further information, please visit www.emicmg.com.
# # # #


[2021]
Jan. | Feb. | March | April | May | June | July | Aug. | Sept. | Oct. | Nov. | Dec.
[2020]
Jan. | Feb. | March | April | May | June | July | Aug. | Sept. | Oct. | Nov. | Dec.
[2001 - 2020]
Visit our complete MUSIC NEWS ARCHIVE