JONNY DIAZ AND MIKESCHAIR JOIN
NASHVILLE'S 88.7 WAY-FM AND
PEOPLE LOVING PEOPLE.COM
FOR FLOOD RELIEF EFFORTS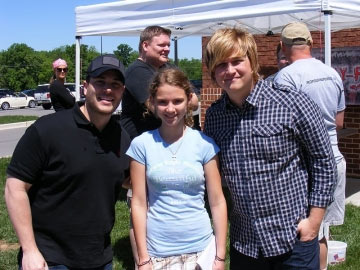 NEWS SOURCE: Vining Media
May 12, 2010
Nashville, TN - May 12, 2010 - This past weekend, INO Records' Jonny Diaz and Curb Records' MIKESCHAIR joined with WAY-FM 88.7, a local non-profit called PeopleLovingPeople.com, and other artists to help the flood victims in Nashville and in its surrounding cities. This past weekend's event kicked off in Spring Hill for a multi-phase effort from the radio network.
This past Saturday from 10am to 2pm, WAY-FM took a break from its regular programming for a live four-hour broadcast at Spring Hill's Kroger on Port Royal Road. Both Diaz and MIKESCHAIR joined in to share not only their music with the crowds but to help the flood victims with donated goods.
88.7 WAY-FM's Donna Cruz, host of the Mid-day Cruz, along with Operations Director Jeff Brown hosted the event. In addition to featuring several community leaders during the broadcast, Cruz and Brown asked residents to inventory their own garages for new and used sleeping bags and/or tents they may not otherwise need, as well as any hygiene-related items they may have, and bring them to the event.
The donations went to the local non-profit organization PeopleLovingPeople.org that directly benefits former residents of Nashville's Tent City. Tent City is a community of homeless families living among one another along the Cumberland River, all of whom have been displaced due to the flooding.
WAY-FM's Brown said, "Everywhere you turn, people are being asked to donate to this event or to that cause. We felt most of us probably have items like tents and sleeping bags we haven't used in a while just lying around collecting dust. That's a bed and a roof for the people of Tent City. Now, they don't even have that."
During the 4-hour event, an astounding number of goods were collected. Families donated over 400 hygiene kits, 300 lbs. of canned food, 40 tents and sleeping bags, and 30 cases of water. In addition, $1000 was also collected in donations.
For more information about PeopleLovingPeople.org and about Jonny Diaz and MIKESCHAIR, please visit:
PeopleLovingPeople.org
JonnyDiaz.com
MIKESCHAIR.com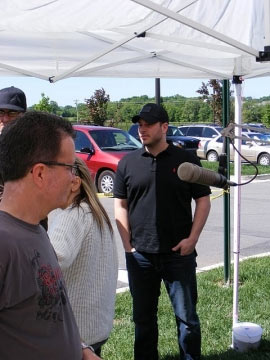 Jonny on air with WAY-FM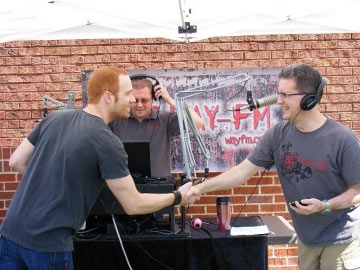 Sam of MIKESCHAIR and the WAY-FM crew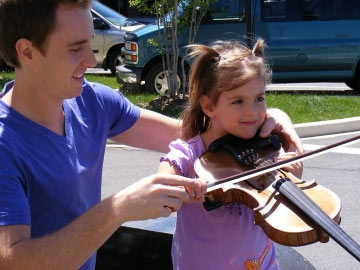 Jesse of MIKESCHAIR gives a lesson to a fan
###
For more info on Jonny Diaz, visit the JFH Artists Database.
For more info on MIKESCHAIR, visit the JFH Artists Database.


[2021]
Jan. | Feb. | March | April | May | June | July | Aug. | Sept. | Oct. | Nov. | Dec.
[2020]
Jan. | Feb. | March | April | May | June | July | Aug. | Sept. | Oct. | Nov. | Dec.
[2001 - 2020]
Visit our complete MUSIC NEWS ARCHIVE