Bring Your NEW Supplies to Cinderella to Help Nashville Flood Victims!
Show is TOMORROW in Nashville, TN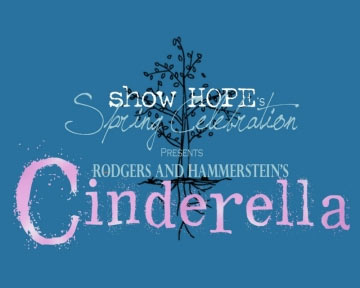 NEWS SOURCE: Show Hope / Vining Media
May 13, 2010
Show Hope has partnered with the Salvation Army to make this Friday's Spring Celebration presentation of "Cinderella: Enchanted Edition" a drop-off site for supplies to aid the Middle Tennessee flood victims. On Friday evening, a Salvation Army truck will be stationed in front of Allen Arena to accept disaster relief supplies for families in need. Requested supplies include...
Cinderella: Enchanted Edition, recently featured on BroadwayWorld and American Idol's website, was relocated to Allen Arena as a result of flooding in downtown Nashville.
Only a few tickets remain! Visit the Allen Arena Box Office or call 615-966-7075 now to reserve yours!
Friday, May 14th 7:00 pm (Doors open at 6)
**Allen Arena**
Lipscomb University
Nashville, TN
______________________________
Gearing Up For show HOPE's Presentation of Cinderella

We are working hard to get things ready for show HOPE's presentation of Cinderella this Friday, May 14th! I thought I would show you a little sneak peek behind the scenes of the rehearsals. This is going to be a fantastic show! We can not wait for all of you to see it. If you haven't gotten tickets yet, it is not too late. We have a special $30 ticket deal going right now. So, hurry up and get your tickets for this ONE TIME ONLY performance! Hope to see you all there!
______________________________
Nashville, TN - May 10, 2010 – Where else can you see Broadway stars, an American Idol finalist and GRAMMY© Award-winning vocalists all on one stage? Just leave it up to show HOPE™ and Steven Curtis and Mary Beth Chapman to make it happen! To celebrate the life of their daughter Maria Sue, to give back to the community of Nashville, as well as to serve as a platform and illuminate the mission of their orphan care organization, join the Chapman's and show HOPE this Friday as they present a unique concert production of Rodgers and Hammerstein's "Cinderella." With colorful costumes, a bit of dancing and a good measure of magic, the set will be Lipscomb University's Allen Arena and the music by the Nashville Symphony. Originally scheduled to take place at the Schermerhorn Symphony Center, due to the flooding the concert was moved to Allen Arena.
show HOPE has also partnered with the Salvation Army to help the middle Tennessee flood victims. On Friday evening, a Salvation Army truck will be stationed in front of the arena to accept disaster relief supplies for families in need. Show HOPE and the Salvation Army are asking for brand new items, such as socks, t-shirts, undergarments, hygiene products (i.e., toothbrushes and paste, deodorant, hair brushes, shampoo), cleaning supplies, and paper goods, such as paper towels, toilet paper, paper plates, and napkins. They are also accepting Walmart and Kroger gift cards in $25, $50 and $100 increments.
Friday's not-to-be missed show HOPE Spring Celebration of "Cinderella" is produced by Steven Curtis Chapman with direction and design by Matt Logan. Choreography is by Ashley McCarthy and musical direction from Stephen Kummer. "Cinderella" features an all-star cast, such as Jodi Benson (the voice of Ariel from Disney's "The Little Mermaid") as The Queen, BeBe Winans as the King, Heather Headley as the Fairy Godmother, and Alli Mauzey as Cinderella. More cast information and detailed biographies are listed below.
This one night only concert performance of "Cinderella" is the ideal selection for a spring celebration. The title, the same as one of Steven Curtis Chapman's most well-known songs, "Cinderella" (from his 2008 project This Moment), was inspired by the Chapman's two youngest daughters, Stevey Joy and Maria Sue, both adopted from China. With Maria's tragic passing in May of 2008, the story of both the song and musical of "Cinderella" makes this event, as well as the compassionate work of show HOPE, more poignant than ever. The Chapman's see this special spring event to be held on May 14th as a perfect way to honor the life of Maria, whose birthday was May 13th, while also celebrating the mission of their organization that exists to help orphaned children around the world.
ABOUT THE CAST:
Jodi Benson (The Queen) is best known for providing the speaking and singing voice of Disney's Princess Ariel in "The Little Mermaid." An Illinois native, Benson has lent her voice to numerous other films, TV shows and video games. She was nominated for a Tony award for her performance as Polly in "Crazy For You" on Broadway.
Heather Headley (The Fairy Godmother) has performed on Broadway in such musicals as The Lion King and Aida. From Trinidad & Tobago, Headley is not only a singer and actress but a songwriter, and record producer. She has won both a Tony and Grammy Award.
Alli Mauzey (Cinderella) most recently starred as Glinda in Wicked on Broadway. She has also starred as Lenora in Cry-Baby on Broadway, winning the Theatre World Award ('08) and was nominated for a Drama League Award. Mauzey also played Brenda in Hairspray on Broadway and the first national tour.
Anthony Federov (Prince Christopher) appeared in the 4th season of American Idol, placing 4th overall. Along with a few reality TV appearances, he has acted on off-Broadway productions and this Russian-born actor/singer performs at various events domestically and abroad.
Jake Speck (Lionel), is a graduate of Nashville's Christ Presbyterian Academy and is currently in the Broadway cast of Jersey Boys.
BeBe Winans (The King) is a Grammy Award-winning Gospel and R&B singer and member of the noted Winans family. Winans is also host of The BeBe Winans Radio Show.
Friday, May 14th at 7:00 pm
Lipscomb University's Allen Arena
3901 Granny White Pike
Nashville, TN 37204
Special $30 tickets are now available at the Allen Arena box office or by calling 615-966-7075. Please note that all previously sold or comped tickets will be honored at Allen Arena. Notice: Additional box office handling fees and charges may apply to ticket purchases. Castings are subject to change. For more information go to www.ShowHope.org/Cinderella
ABOUT show HOPE™:
Originally named after the Chapman's first adopted daughter, Shaohannah's Hope (now known as show HOPE) began with a simple desire to help "assist" families in the process of adoption, particularly by helping tear down the financial barrier that prevents many of them from bringing an adopted child into their home. In 2009, the organization celebrated the giving of its 2,000th financial grant (affecting the lives of children from 41 different countries, including many from the U.S.) and changed it's name to show HOPE to reflect the fact that it has grown far beyond it's initial vision of helping a few orphans find forever homes. In addition to giving financial grants, show HOPE empowers families, churches and communities with adoption and orphan care resources and advocacy efforts.
In the summer of 2009, the doors to Maria's Big House of Hope opened, a six-story facility located in Luoyang, China, which provides surgeries and medical care for special needs orphans. The mission of this healing home is to provide the highest level of care for these orphans who are in desperate need of surgeries and medical attention, thus enabling the children to thrive and increase the orphans' chances of being adopted. Because of the healing home, the financial assistance, and its extensive resources, Show HOPE has become an internationally recognized "voice" for orphan advocacy and adoption awareness.


[2021]
Jan. | Feb. | March | April | May | June | July | Aug. | Sept. | Oct. | Nov. | Dec.
[2020]
Jan. | Feb. | March | April | May | June | July | Aug. | Sept. | Oct. | Nov. | Dec.
[2001 - 2020]
Visit our complete MUSIC NEWS ARCHIVE