SHOW HOPE'S Spring Celebration of
Cinderella
...A Night To Remember!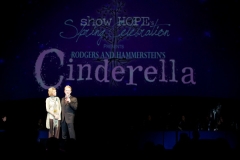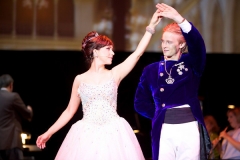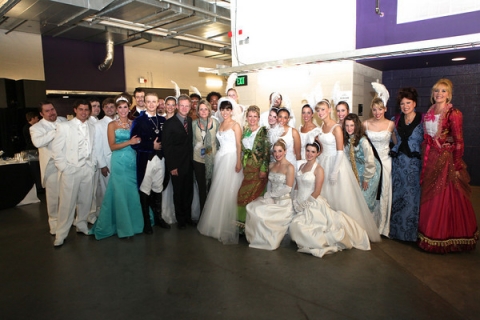 NEWS SOURCE: Vining Media
May 19, 2010
Nashville, TN - May 19, 2010 - Last Friday was a magical night in Nashville. Performing in front of a sell-out crowd of over 2,200 people at Lipscomb University's Allen Arena, the cast of "Cinderella" - which encompassed Broadway stars, an American Idol finalist to GRAMMY© winners - joined the stage along with local and regional actors, all who gave performances of a lifetime! Music was courtesy of The Nashville Symphony Orchestra.
This very special evening was in celebration of the life of Maria Sue Chapman, the daughter of Steven Curtis and Mary Beth Chapman, as well as to raise awareness for show HOPE, their adoption and orphan care ministry that exists to care for orphaned children around the world.
The principal cast was Alli Mauzey (Cinderella), Jodi Benson (The Queen), Anthony Federov (Prince Christopher), Heather Headley (Fairy Godmother), BeBe Winans (The King), and Nashville's very own Jake Speck (Lionel). The production was directed by Studio Tenn's Matt Logan and musical direction was by Stephen Kummer. Steven Curtis Chapman was the executive producer, with show HOPE's Charley Redmond as the show's producer.
To help the flood victims of middle Tennessee, the Salvation Army kindly partnered with show HOPE the night of the concert. They brought a truck to the venue to accept disaster relief supplies for families in need, such as socks and t-shirts to paper goods and toiletry items.
ABOUT show HOPE™:
Originally named after the Chapman's first adopted daughter, Shaohannah's Hope (now known as show HOPE) began with a simple desire to help "assist" families in the process of adoption, particularly by helping tear down the financial barrier that prevents many of them from bringing an adopted child into their home. In 2009, the organization celebrated the giving of its 2,300th financial grant (affecting the lives of children from 45 different countries, including many from the U.S.) and changed its name to show HOPE to reflect the fact that it has grown far beyond it's initial vision of helping a few orphans find forever homes. In addition to giving financial grants, show HOPE empowers families, churches and communities with adoption and orphan care resources and advocacy efforts.
In the summer of 2009, the doors to Maria's Big House of Hope opened, a six-story facility located in Luoyang, China, which provides surgeries and medical care for special needs orphans. The mission of this healing home is to provide the highest level of care for these orphans who are in desperate need of surgeries and medical attention, thus enabling the children to thrive and increase the orphans' chances of being adopted. Because of the healing home, the financial assistance, and its extensive resources, Show HOPE has become an internationally recognized "voice" for orphan advocacy and adoption awareness.
www.ShowHope.org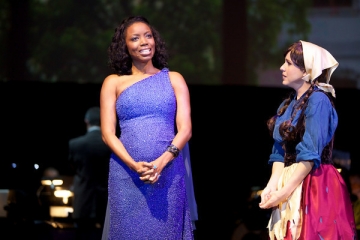 Cinderella (Alli Mauzey) meets her Fairy Godmother for the first time, played by Heather Headley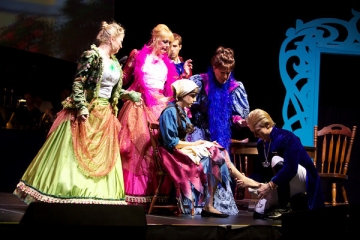 Cinderella is fitted with her glass slipper by Prince Christopher - much to the dismay of her stepsisters and stepmother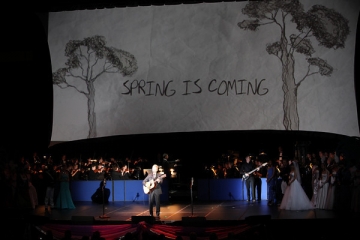 Onstage with the cast, Steven closes the show with a performance of his single "Cinderella." He was also joined by the Children of the World Choir with "Spring Is Coming"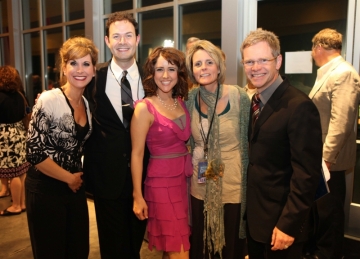 (L-R) Jodi Benson, Matt Logan, Alli Mauzey, Mary Beth and Steven Curtis Chapman take a break to pose at a reception following the show
# # #


[2021]
Jan. | Feb. | March | April | May | June | July | Aug. | Sept. | Oct. | Nov. | Dec.
[2020]
Jan. | Feb. | March | April | May | June | July | Aug. | Sept. | Oct. | Nov. | Dec.
[2001 - 2020]
Visit our complete MUSIC NEWS ARCHIVE