JOYFEST 2010 KICKS OFF WITH JOYFUL
NIGHT AND 12,000 GOSPEL FANS
Fred Hammond, Bone Hampton, Sinbad, Donald Lawrence and More Featured at Charlotte, N.C. Festival

JoyFest Continues at Three More Parks This Summer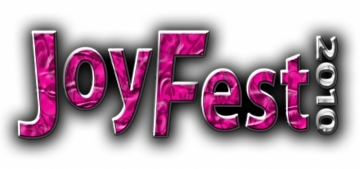 NEWS SOURCE: Spinhouse PR
June 9, 2010
HIGH POINT, N.C. – June 9, 2010 – Joy broke out at the first JoyFest held last week at Carowinds in Charlotte, N.C. as the first of four festivals of the annual summer celebration of black gospel and urban music attracted nearly 12,000 concert-goers. Three more JoyFest 2010 festivals are scheduled for this summer, with the next event set for Kings Island in Mason, Ohio on June 19.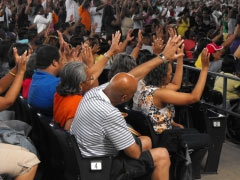 Headlined by gospel great Fred Hammond and hosted by comedian Bone Hampton, JoyFest (www.joyfest.com) was a jam-packed evening of music, inspiration and laughs. In addition to Hammond and Hampton, Sinbad, Donald Lawrence, J. Moss and 21:03 were also featured at the concert; and gospel music fans also got to enjoy all the park's attractions as part of their admission to JoyFest.
"Wow! That's probably the best way to describe the first JoyFest of the 2010 season," said Richard Young of Premier Festivals, which produces and promotes JoyFest. "I have to say that it was obvious that the crowd absolutely enjoyed every music note and every humorous moment from the stage. The response from people who talked to me afterwards was, 'Thank you so much for JoyFest!'"
Hampton, one of the most in-demand comics who recently co-hosted ABC's "The View" called JoyFest one of his favorite live experiences. "JoyFest was an exhilarating experience. The audience really got their 'praise on' and brought some supreme joy to the amusement park that night. I can't wait for the next three festivals. These JoyFest events are likely to be the highlight of my summer," Hampton said.
The remaining dates for JoyFest are:
June 19 Kings Island Cincinnati (Mason), Ohio
July 17 Kings Dominion Richmond (Doswell), Va.
July 24 Word of Fun Kansas City, Mo.
The artists for the remaining festivals will again include Fred Hammond and Donald Lawrence with Bone Hampton hosting. Canton Jones will join the concert line-up for the July 17 and July 19 dates, 21:03 and Martha Munizzi will appear at the June 19 date, and Sinbad is scheduled to appear at the July 17 date. Detailed ticket information is available at www.joyfest.com.
JoyFest is one of Premier Festival's most successful annual concert series and is produced in partnership with Cedar Fair Entertainment, the industry leader in family-oriented amusement park properties in North America.
About Premier Festivals:
Premier Festivals has been providing an incredible live festival experience with top Christian artists and speakers since 2008. More than 100,000 festival-goers in North America have experienced Premier Festivals including JoyFest, ShineFest, SonFest, KingsFest, WinterFest, HeartFest and WonderJam. For more information, visit www.premierfestivals.com.
About the JoyFest Artists:
Fred Hammond is both a solo artist and founder of the pioneer urban group, Commissioned, and has sold over seven million albums to date. His numerous awards include the Grammy® Award, Stellar Award, Dove Award, and GMWA Excellence Awards. (www.fhammondfamilyent.com)
Bone Hampton, recognized as one of the funniest 'clean humor' comedians in America—is consistently in-demand for a busy touring schedule that includes comedy clubs, churches and frequent television guest appearances. (www.bonehampton.com)
Donald Lawrence, the Grammy and multi-Stellar Award winning artist, singer/songwriter and producer of major urban artists such as Peabo Bryson and Kirk Franklin. His success with the Tri-City Singers brought major national recognition. (www.donaldlawrence.com)
J Moss as both a singer/songwriter and a creative partner in the PAJAM Production team is responsible for being a major influence in the world of urban and hip hop genres as performer, producer, and hit song writer. His latest album, Just James, released last summer, has garnered critical acclaim within the music industry. (www.insidejmoss.com)
Canton Jones debuted his music and production talents on his own independent, CAJO label early in the decade of the 2000's. Quickly establishing himself as a major new voice in Christian R&B and Gospel, his innovative project The Password: Access Granted received two Grammy Award nominations in 2005. He has since become a much in-demand concert artist. (www.cantonjones.net)
Sinbad adds major punch to this summer's line-up. The popular comedy genius whose HBO comedy specials, frequent television appearances and films have won a loyal national following, will be a special appearance headliner at the Kings Dominion July 17 presentation of JoyFest.
Martha Munizzi, celebrated worship leader, gifted songwriter, and recognized hit artist with her groundbreaking Say the Word, will be added to the JoyFest billing at King's Island's in Mason, Ohio on June 19. (www.marthamunizzi.com)
21:03, new group sensation on the urban gospel scene with their industry acclaimed sophomore project, Total Attraction, will joins the line-up for JoyFest on June 19. (http://www.facebook.com/thereal2103)
# # #


[2020]
Jan. | Feb. | March | April | May | June | July | Aug. | Sept. | Oct. | Nov. | Dec.
[2019]
Jan. | Feb. | March | April | May | June | July | Aug. | Sept. | Oct. | Nov. | Dec.
[2001 - 2018]
Visit our complete MUSIC NEWS ARCHIVE