Show Hope Presents

Steven Curtis Chapman and Family's Extraordinary Tour
"A Night with the Chapmans" To Hit U.S. Cities This Fall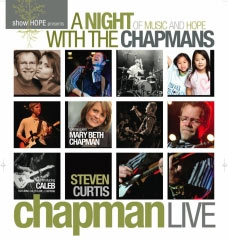 NEWS SOURCE: The M Collective
June 23, 2010
June 23, 2010…Nashville, TN…Show Hope presents Steven Curtis Chapman and his family embarking on a new journey together this fall as they venture out on a "A Night with the Chapmans." The special family affair kicks off September 10 in Lancaster, PA and will hit 34 cities before ending on November 21 in Baltimore, MD.
The night of music and hope with the multi-platinum selling and award-winning artist will feature some of his most memorable hits from his two decades plus career. Songs to expect include "Live Out Loud," "Cinderella" and many more of his extensive catalog loved by all. Chapman will also bring back by popular demand his request time where attendees can ask that their song be added to the set via www.StevenCurtisChapman.com.
"We've prayed for months that each evening of this tour be an opportunity to ponder important things, and to celebrate the hope we have in Jesus, the great hope I'm so thankful continues to carry us all," comments Chapman.
As a part of this very special season, Mary Beth Chapman will join her husband for the first time ever on the tour. "There are three things I told God I would never ever do: homeschool, adopt, and speak in public," she says. "Well, we've already homeschooled, you know we've adopted, and now this fall I'll be on stage speaking at Steven's concerts." With a smile Mary Beth adds, "now I'm telling God I will not go to Hawaii for three months."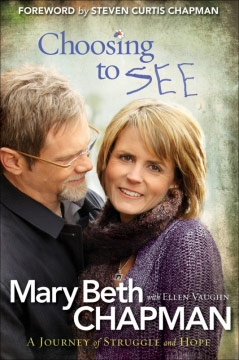 Mary Beth will share her journey as reflected in her inaugural book, Choosing To See, available this September and co-written with Ellen Vaughn. Discussing her courtship and marriage to Chapman, struggles for emotional balance, and living with grief, she will open up about how she has wrestled with God even as she has allowed him to write her story--both during times of happiness and those of tragedy. Mary Beth's transparent style will surprise audiences with the depth of her faith struggle and her hilarious sense of humor. Mary Beth and Steven will also proudly introduce audiences to the band Caleb, a new band featuring their sons Caleb and Will Franklin.
Show Hope, the title sponsor of the tour, is a ministry founded by the Chapmans that enables individuals and communities to change the world for orphans by not only addressing a child's need for food, shelter, care, and spiritual nourishment, but by also addressing the root issue for an orphan: the lack of a family.
In other Chapman news, the title track from his current album Beauty Will Rise is now impacting radio. Beauty Will Rise, released last winter, is a collection of 12 compelling and profound songs created during the walk through the darkness of the loss of Chapman's daughter Maria and while God continued to meet him there on the journey. Part lament, part praise, part grief, part hope, part wrestling, part pondering; these tracks resonate as Chapman's personal Psalms. It is a desperately hopeful, raw, personal, and honest recording that is likely the most important of his already incredible 20 plus year ministry.
For more information on Chapman, the tour and a full list of dates, please visit www.StevenCurtisChapman.com, twitter.com/StevenCurtis, or http://www.facebook.com/#!/stevencurtischapman?ref=ts.
About Show Hope:
A ministry founded by Steven Curtis and Mary Beth Chapman to help care for the millions of orphans around the world, Show Hope helps to provide waiting orphans with forever families by giving financial grants to those adopting. To date, Show Hope is now an internationally recognized voice for orphan advocacy and has given over 2,300 financial grants, affecting the lives of children from 45 different countries, including the U.S. In addition to giving financial grants, Show Hope also empowers families, churches and communities with adoption and orphan care resources and advocacy efforts to change the world for orphans.
In the summer of 2009, Show Hope opened the doors to Maria's Big House of Hope, a six-story healing home facility located in Luoyang, China, which provides surgeries and medical care for special needs orphans. The mission of this healing home is to provide the highest level of care for these orphans who are in desperate need of surgeries and medical attention, thus enabling the children to thrive and increase the orphans' chances of being adopted.
For more information, please visit www.ShowHope.org.
About Steven Curtis Chapman:
Steven Curtis Chapman has sold over ten million records including two RIAA certified platinum albums and eight RIAA certified gold albums. Along with his Dove and GRAMMY © awards, Chapman has won an American Music Award, has recorded 45 No. 1 US radio hits and been awarded 56 Dove Awards, more than any other artist to date. A Since his recording career began in 1987, Chapman has recorded seventeen projects with Sparrow Records. He has performed at the White House and has appeared on multiple national programs via CBS, NBC, ABC, CNN, MSNBC, CMT, FOX News, the Hallmark Channel and E!, icluding Good Morning America, Larry King Live, CBS Sunday Morning, The Tonight Show with Jay Leno, and more. Chapman and his wife Mary Beth created Show HOPE in 2001 after bringing their first adopted daughter, Shaohannah, home from China. The ministry's goal is to help families reduce the financial barrier of adoption, and has provided grants to over 2,000 families wishing to adopt orphans from around the world.
About Mary Beth Chapman:
Mary Beth Chapman is the wife of Grammy and Dove Award winning recording artist Steven Curtis Chapman. Together they began Show Hope, a nonprofit organization dedicated to caring for the world's forgotten and abandoned children by providing financial assistance to families wishing to adopt, as well as increasing awareness of and funneling resources to orphans domestically and internationally. Mary Beth serves as president of Show Hope and is a speaker for Women of Faith 2010 with her husband. She is also coauthor with Steven of the Shaoey and Dot series of children's picture books. Mary Beth and Steven have six children, Emily (24), Caleb (20), Will Franklin (19), and adopted daughters Shaohannah Hope (10), Stevey Joy (7), and Maria Sue, who is now with Jesus. The Chapmans live in Tennessee.
Ellen Vaughn is a New York Times bestselling author and inspirational speaker. Her recent books include It's All About Him, which debuted at #1 on the New York Times nonfiction list. In addition to her nonfiction work, Vaughn is an award-winning novelist. Vaughn and her husband Lee live in the Washington, DC area.
About Caleb:
Introducing Caleb, a four piece independent rock band out of Franklin, TN with founders songwriter/frontman Caleb Chapman and drummer Will Chapman. Caleb is musical parts alternative, rock, and pop with pondering lyrics that ask and answer big questions in life and do so with inspiring melodies that easily get caught in your head. Ultimately the heart of the band beats to create music that's accessible to everyone while maintaining artistic integrity and honesty. Caleb is recently performed on the Casting Crowns tour this spring and will be opening for the Chapmans this fall. For more information, please visit CalebMusic.com
###
For more info on Steven Curtis Chapman, visit the JFH Artists Database.


[2022]
Jan. | Feb. | March | April | May | June | July | Aug. | Sept. | Oct. | Nov. | Dec.
[2021]
Jan. | Feb. | March | April | May | June | July | Aug. | Sept. | Oct. | Nov. | Dec.
[2001 - 2021]
Visit our complete MUSIC NEWS ARCHIVE