'iShine KNECT' Season Two Premieres June 26th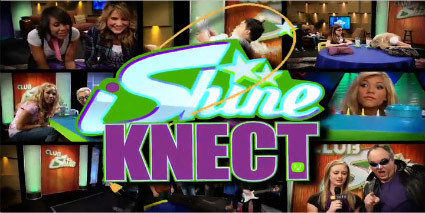 NEWS SOURCE: Nashville Publicity
June 24, 2010
(NASHVILLE, Tennessee) -- Season Two of the Saturday morning television series iShine KNECT premieres on TBN this Saturday, June 26th at 10:00 am PST / 1:00 pm EST. The series also airs on the Smile of a Child network on Saturdays at 3:00 pm PST / 6:00 pm EST.
The popular tween series is back for a second season, with a massive cast featuring some of today's most popular young Christian recording artists, including The Rubyz, Mission Six, Kylie Jean, Paige Armstrong, Chelsea Musick, Jamie Grace Harper, Grace Campbell, Siloam, Jonnie and Brookie and many more. Season Two takes on a new sitcom format, but still includes music videos, live performances, Q&A from viewers and topics addressed by iShine artists – all from a biblical perspective.
"This second season is leaps and bounds beyond the first," says producer Kevan Cyka. "We had a team of professional writers come in to create a world that is Club iShine, where most of the thematic/sitcom storyline takes place. We shot in full HD, and it's very much produced along the lines of an iCarly or Sonny with a Chance, only with a biblically based message totally tweaked for tweens, while still fun for the whole family."
"I absolutely can't wait for the premiere of Season Two on TBN this Saturday," says TBN's Brenda Rossman. "It has a whole new format and tons of catchy new songs by well-known and up-and-coming artists! iShine really raised the bar this season and brought in some seasoned writers to add more excitement to this upbeat, high-energy series with a powerful message especially for tweens!"
iShine KNECT reaches an estimated 1 million viewers each week on TBN. In addition to the television series, iShine impacts tweens through music (iShine Records), concerts (iShine LIVE! Tour), the web (iShineLive.com) and additional resources for parents and tweens.


[2020]
Jan. | Feb. | March | April | May | June | July | Aug. | Sept. | Oct. | Nov. | Dec.
[2019]
Jan. | Feb. | March | April | May | June | July | Aug. | Sept. | Oct. | Nov. | Dec.
[2001 - 2018]
Visit our complete MUSIC NEWS ARCHIVE