HAVE YOU EVER WONDERED "WHAT IF?"

BIG IDEA ENTERTAINMENT TO RELEASE
A "MEANINGFUL" NEW VEGGIETALES® DVD
AVAILABLE JUST IN TIME FOR THE HOLIDAY SEASON
VeggieTales®: It's a Meaningful Life DVD Teaches
A Valuable Lesson in Being Content

Original Song Written and Performed by Sparrow Records Multi-GRAMMY and Dove Award-winning
Artist Steven Curtis Chapman; Daughter Stevey Joy featured as voice of "Emma the Rhubarb"

Launch Supported by Extensive Marketing, Promotional and Licensing Campaign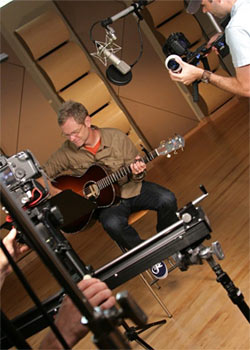 NEWS SOURCE: Hoganson Media
June 28, 2010
FRANKLIN, TN (June 28, 2010) – Big Idea Entertainment, the leading faith-based studio and producer of children's and family programming, characters and brands, announced today they will release an all new VeggieTales® adventure, VeggieTales®: It's a Meaningful Life, October 2 and October 5, 2010 in Christian and general market stores respectively. This fun and inspiring story of wonder shares valuable lessons in understanding one's worth and importance, and in being content with what one already has rather than seeking out what others possess.
VeggieTales: It's a Meaningful Life includes an original new song from multi-GRAMMY and Dove Award-winning artist Steven Curtis Chapman entitled "Meant To Be," a brand new Silly Song called "Goodnight Junior," and other family friendly bonus features. The It's a Meaningful Life launch is supported by a comprehensive marketing and advertising campaign with licensing and promotional partners such as, Burger King, McDonald's, Chuck E. Cheese's, Denny's, KFC, Gymboree, Gund, American Greetings, Show Hope, Family Life and more.
"We're very excited to share It's a Meaningful Life with VeggieTales fans and families everywhere," said Greg Fritz, SVP of Sales & Marketing at Big Idea Entertainment. "This episode is based on Jeremiah 29:11 which says, 'For I know the plans I have for you,' declares the Lord, 'plans to prosper you and not harm you, plans to give you hope and a future.' So many of us often wonder what our lives would be like if we had all we ever dreamed of. This title takes parents and children on a journey that explores how we can be content in the plans that God has for our lives – and helps us discover the beauty of how our lives affect those around us."
Inspired by the It's A Meaningful Life story, Steven Curtis Chapman notes, "The song is really shaped around, what I want to say, especially to children that wonder, 'does my life have any meaning?' As I have said to so many orphans in China or even to my own children, 'you are special, and you are meant to be because God has put us here.'"
DVD Synopsis
It was the biggest football game of his life and Stewart (Larry the Cucumber) had a chance to win it all. Injured in one bad play, his hopes of playing in the Salad Bowl – and living a life of fame and fortune – are dashed forever. Years later, silly-but-sweet Stewart loves his family, friends and job at the toy train factory, but still wonders "what if" things had been different. When he meets a mysterious train conductor who can turn back time, Stewart gets a chance to have the life he always wanted. Will he finally find all he's been looking for? And what does this mean for those he loves most? Find out in this story of wonder that's a lesson in being content.
Bonus Features

Directors' Audio Commentary
Art Gallery
Parents Guide presented by Family Life
"Goodnight Junior" Silly Songs Sing-Along
Visit a Train Museum with Larry
Behind The Music of It's a Meaningful Life—An Interview with Steven Curtis Chapman
"Meant To Be" Music Video

Advertising, Radio, TV and Online Support
The VeggieTales: It's a Meaningful Life release is supported by an extensive marketing and advertising campaign, including national print, television, radio, online and street level promotions. Big Idea Entertainment will also develop a viral eGreeting card campaign with American Greetings. In addition, Big Idea Entertainment will launch a targeted national television and radio promotional tour with artist Steven Curtis Chapman performing the DVD's theme song, "Meant to Be."

Promotional Partners
Big Idea Entertainment will promote the DVD release through their branded, interactive grocery carts for children in regional Kroger and Kmart locations. Each "TVKart" will feature a video screen with selection button for kids to watch VeggieTales silly songs, clips and promotions for upcoming DVD releases, including It's a Meaningful Life. The Company will also promote the title through indoor advertising on closed-circuit televisions that will show clips and silly songs in national quick service restaurants including McDonald's, Burger King, Crazy 8, Carl's Jr., KFC, Denny's and others. More than 800 Gymboree GymTV in-store viewing areas in the United States, United Kingdom, Ireland and Australia will also play clips and silly songs from the DVD, and over 500 Chuck E. Cheese's in the U.S. will feature clips and silly songs in their birthday party areas.

A family discussion guide called "A Meaningful Family Life" provided by a national cross-promotion with Family Life will be available as a bonus feature on the DVD. There will be a free download of the guide through iTunes with purchase of It's a Meaningful Life. Premier Christian Cruises will host a screening of It's a Meaningful Life aboard "The Music Boat" cruise on Royal Caribbean's Majesty of the Seas November 8 through November 12, 2010. The cruise line will offer DVD coupons and activity sheets to all guests.

Show Hope, an orphan care and adoption aid organization founded by Steven Curtis Chapman and his wife Mary Beth, will promote It's a Meaningful Life. Big Idea is partnering with Show Hope in order to raise awareness about opportunities to care for orphans and to help provide more orphan children with forever families through Show Hope's Adoption Aid program that awards financial grants to families seeking to adopt. More information can be found at www.showhope.org. Both Steven and his second adopted daughter, Stevey Joy, have participated in the DVD production through online videos, advertising banners, print campaigns, church outreach and other marketing efforts. Stevey Joy plays the voice of the character "Emma the Rhubarb" in It's a Meaningful Life.

Live Events
This October and November, Big Idea Entertainment will host "Family Fun Nite" events at more than 2,000 churches nationwide to screen It's a Meaningful Life. Over 450 Christian retail outlets will coordinate "Spectacular" DVD events to coincide with the October 2 release date.

Consumer Products
Beginning this September, Big Idea Entertainment will roll out a line of holiday themed consumer products. Merchandise will include a It's A Meaningful Life puzzle from Talicor, holiday mini-plush character toys and ornaments from Gund, T-shirts from Crossroads Designs, color wash stockings and ceramic and rubber ornaments from Gregg Gift and boxed and individual Christmas cards from DaySpring, a division of Hallmark. Big Idea Entertainment will release a nativity play set, a VeggieTales: Christmas Sing-alongs DVD and other toys in time for the holiday season.

About VeggieTales: It's a Meaningful Life
Not Rated-50 minutes-Color-5.1 Surround Sound-English & Spanish Subtitles Close-Captioned
Full Screen & Wide Screen Versions
DVD UPC Codes CBA: 820413114596 $14.99 SRP and GM: 796019821407 $14.93 SRP

About Big Idea Entertainment
Big Idea Entertainment is the leading faith-based studio and producer of children's and family programming, characters and brands. Since 1993, Big Idea's best-selling animated series VeggieTales has sold 53+ million videos, 13 million books and more than 7 million CDs. VeggieTales and Big Idea's property, 3-2-1 Penguins!, enjoyed four seasons as top-rated series on NBC Saturday mornings, Telemundo and ION TV via the qubo children's programming block. The studio's two theatrical releases, Jonah-A VeggieTales Movie (2002), and Universal Pictures' and Big Idea's The Pirates Who Don't Do AnythingÔ-A VeggieTales Movie (2008), are distinguished among the top ten most successful faith-based films of all time. Big Idea also maintains an extensive presence in publishing, licensing and live entertainment arenas. For more information on Big Idea Entertainment, visit: www.bigidea.com.

# # #


[2022]
Jan. | Feb. | March | April | May | June | July | Aug. | Sept. | Oct. | Nov. | Dec.
[2021]
Jan. | Feb. | March | April | May | June | July | Aug. | Sept. | Oct. | Nov. | Dec.
[2001 - 2021]
Visit our complete MUSIC NEWS ARCHIVE