VOTE JAYMES REUNION FOR MTVU'S YOU PICK THE VIDEO
ON "THE FRESHMAN"
MUSIC VIDEO FEATURED IN MCDONALD'S McCAFE'S TOP BREAKERS
FEATURED "ARTIST ON THE RISE" ON WINDOWS MUSIC GUIDE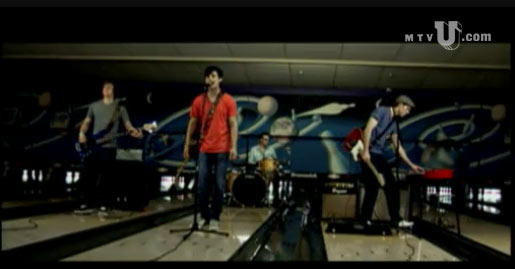 NEWS SOURCE: Overture Media
July 6, 2010
Seattle, WA...July 6, 2010...BEC Recordings' Jaymes Reunion is nominated this week for mtvU's coveted music video rotation on "The Freshman," which is voted by fans. For this week only, fans vote (no limit on voting) for one of five new videos, including California-based Jaymes Reunion's "Fine." Click here to vote for "Fine."
This music video is also included during the month of July in more than 1200 McDonald's across the nation in the McCafe's "Top Breakers" segment. Other hot news with Jaymes Reunion includes MyYearbook.com selecting the band as one of their HOT up and coming artists where the band gathered more than 30K friends in one week. Building momentum, Jaymes Reunion was recently featured on Windows Music Guide as an "Artist on the Rise." In May, the band was highlighted in the 17 Buzz on Seventeen.com as a Buzz Band.
Music fans were introduced to the pop-rock, piano driven band Jaymes Reunion with their songs "Fine" and "Let It Shine" on iTunes and radio. From there the band has continued to build their fanbase releasing their self-titled 6 song EP in September 2009. Since the release, fun-loving Jaymes Reunion has been hitting the road with heavy-touring hitters Safety Suit, Mute Math, Relient K and Parachute. The full-length debut, Everything You've Been Looking For, on BEC Recordings released earlier this spring.
For more information and tour dates featuring Jaymes Reunion, visit http://www.myspace.com/jaymesreunion
- ### -
For more info on Jaymes Reunion, visit the JFH Artists Database.


[2022]
Jan. | Feb. | March | April | May | June | July | Aug. | Sept. | Oct. | Nov. | Dec.
[2021]
Jan. | Feb. | March | April | May | June | July | Aug. | Sept. | Oct. | Nov. | Dec.
[2001 - 2021]
Visit our complete MUSIC NEWS ARCHIVE