NEWSBOYS TOP THE RADIO CHARTS FOR 7th WEEK
WITH "BORN AGAIN"
Brand New CD Releases Tuesday Offering Two Options At Digital (Regular and Deluxe), Both Include Bonus Download With Pre-Order;

newsboys Headlining All Major Festivals With Brand New Stage Set;

Band's Guitarist Adds A Member To His Family!
NEWS SOURCE: Vining Media
July 7, 2010
July 7, 2010 - Nashville, TN - Turn on the radio or head to one of the big music festivals this summer and there's no doubt that you'll find the newsboys. Not only is the band headlining all of the major festivals and performing in front of tens of thousands of screaming fans, but their chart-topping single "Born Again" is being heard on radio stations across the nation. Newsboys also appear in such magazines as Charisma, Billboard, Christian Retailing and are gracing this month's cover of CCM. Michael Tait, Jeff Frankenstein, Duncan Phillips, and Jody Davis are - no question - Born Again.
THE MUSIC
Since debuting a few of their new songs earlier this year on the WinterJam Tour, the band has been eager to release their brand new CD Born Again, which hits shelves this coming Tuesday, July 13th. Better yet is that they are going into release week with the No. 1 CHR radio single in the country, "Born Again," a spot they've claimed for an astounding seven weeks!
For the avid fans, Inpop Records has developed a digital pre-order incentive that for everyone who orders the Born Again CD, either the Digital Deluxe version or the regular version before next Tuesday's release date, receives the exclusive bonus track of "Born Again (Summertime Symphony Mix)." Additionally, Born Again's Digital Deluxe offers an exclusive digital booklet as well as the "Born Again" music video and four additional songs. Retail will carry the regular version CD only.
THE TOURING
Earlier this summer newsboys kicked off its headlining run by appearing at 23 major festivals throughout the summer in the U.S. and Canada. To date, they've already performed in front of tens of thousands of concert-goers at such festivals as Spirit West Coast, Sonfest, Icthus, Atlantafest, and they will headline this Friday at Lifest 2010. Even more exciting for the band's upcoming tour dates is their new stage set, which officially made its debut at this past weekend's Creation East. The jaw-dropping and never-before-seen new stage, featuring the band members actually being lifted on a mini-stage into the air and above the crowds, instantly became a hit with the audience and the highlight of the entire festival. Photos of the new stage are posted below.
To catch newsboys live in a city near you this summer or fall, further tour dates are listed below. Be sure to visit their website for the most updated schedule and information*:
July 9 - Oshkosh, WI, Lifest 2010
July 16 - Wilmar, MN, Sonshine Festival
July 18 - Rapid City, SD, Hills Alive Festival
July 22 - Enumclaw, WA, Creation Fest West
July 23 - Albany, OR, Timmer Linn Park
Aug. 1 - Darien Center, NY, Kingdom Bound
Aug. 7 - Bessemer, AL, Alabama Adventure Theme Park
Aug. 8 - Wickliffe, OH, The Fest 2010
Aug. 12 - Des Moines, IA, Iowa State Fair
Aug. 14 - Great Falls, MT, Downpour Festival
Aug. 15 - Missoula, MT, West Montana Fairgrounds
Aug. 21 - Ocean Grove, NJ, The Great Auditorium
Sept. 4 - La Cygne, KS, Rock The Light
Sept. 5 - Lexington, KY, Quest Community Church
Sept. 10 - Orlando, FL, Universal Studios-Rock the Universe
*All dates subject to change
And most importantly, the newsboys have a new addition to their family! Guitarist Jody Davis and his wife, Laurie, welcomed their daughter Isabella Grace to the world on June 21st. She was born in Nashville at a healthy 7 lbs and 4 oz and was 19" long. Isabella is Davis' third daughter. Congratulations!
ABOUT newsboys:
This GRAMMY®-nominated and Dove Award-winning band has achieved what few artists have in their lifetime. They have sold over 6.5 million units, garnered five Gold albums and 26 #1 hits, and are renown for their heart-pumping live shows. Last year, when longtime members Jody Davis (guitar), keyboardist Jeff Frankenstein and drummer Duncan Phillips welcomed the vocal strengths, writing talents and boundless energy of former dc Talk member Michael Tait to the band, it was clearly a good reason for newsboys to feel Born Again and share brand new songs with fans old and new. Born Again is newsboys' 15th studio project.
newsboys headlining Creation East 2010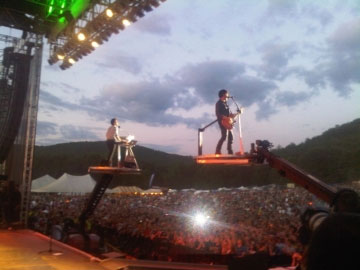 Creation East 2010 showcasing the band's brand new stage set in front of thousands of screaming fans!
# # #
For more info on Newsboys, visit the JFH Artists Database.


[2022]
Jan. | Feb. | March | April | May | June | July | Aug. | Sept. | Oct. | Nov. | Dec.
[2021]
Jan. | Feb. | March | April | May | June | July | Aug. | Sept. | Oct. | Nov. | Dec.
[2001 - 2021]
Visit our complete MUSIC NEWS ARCHIVE