Echoing Angels Signs Deal With Entertainment One Music; Currently Recording For Early 2011 Release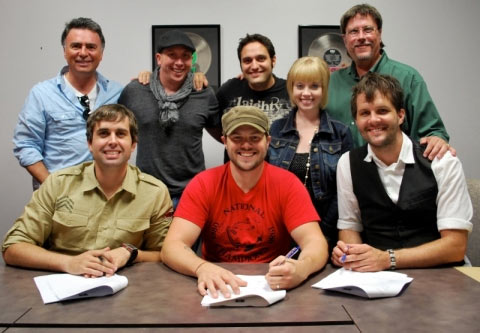 Pictured here is Echoing Angels signing their new deal with eOne:
Back row - Jim Sturgeon (eOne), Neil Tankersley (EA), Josh LeBlanc (EA), Tiffany Rockhold (Patton House Entertainment), and Bob Morrison (eOne);
Front row - Trey Heffinger (EA), Jon "JP" Poole (EA), and Shannon Cochran (EA)
NEWS SOURCE: Vining Media
July 20, 2010
Nashville, TN - July 20 , 2010 - Entertainment One Music, formerly E1 Entertainment, continues to broaden their roster, most recently signing the band Echoing Angels. The five talented and southern-charmed boys that comprise Echoing Angels - Shannon Cochran, Jon "JP" Poole, Trey Heffinger, Neil Tankersley, and Josh LeBlanc - reside in Atlanta, Georgia, yet have been traveling across the nation peforming at several major summer festivals as well as calling Nashville their temporary home. They've been in Music City these past few weeks recording with producer Calvin Turner (Marc Broussard, Jimmy Needham) for their self-titled sophomore project, set for release in February 2011.
"I've been so inspired by the band's heart and passion for ministry, and we are very excited to add Echoing Angels to our roster," states Bob Morrison, Entertainment One Music/eOne. "Their musicianship and writing have always held to very high standards, and now the boys have taken it to new heights with their upcoming release."
Growing up and continuing to reside in the south easily embraces the distinctive sound of Echoing Angels - a fusion of southern rock, pop, and worship with influences from the likes of James Taylor to Kenny Loggins, from Train to Third Day. The band began their musical career with their 2006 debut project on INO Records, You Alone ("You Alone," "Coming Back to Life").
Trey Heffinger, lead vocalist for Echoing Angels, proclaims, "We are extremely excited and blessed about the new partnership with eOne. They truly understand our hearts for ministry and the music that we write. God has brought us together for a purpose and we look forward to a great relationship. With Bob's passion for God and ministry joining with our same passions we believe great things are on the horizon."
In the fall of 2009 Echoing Angels signed a management deal with Patton House Entertainment, led by industry veteran Andrew Patton. For upcoming tour dates and more information about Echoing Angels, please visit their website, EchoingAngels.com.
About Entertainment One
Entertainment One (LSE:ETO) is a leading international company that specializes in the acquisition, production and distribution of entertainment content. The company's comprehensive network extends around the globe including the U.S., Canada, the UK, Ireland, Benelux, France, Australia, and New Zealand. Through established Entertainment and Distribution divisions, the company provides extensive expertise in film distribution, television and music production, kids programming and merchandising and licensing. Its current rights library is exploited across all media formats and includes more than 20,000 film and television titles, 2,400 hours of television programming and 45,000 music tracks.
###
For more info on Echoing Angels, visit the JFH Artists Database.


[2022]
Jan. | Feb. | March | April | May | June | July | Aug. | Sept. | Oct. | Nov. | Dec.
[2021]
Jan. | Feb. | March | April | May | June | July | Aug. | Sept. | Oct. | Nov. | Dec.
[2001 - 2021]
Visit our complete MUSIC NEWS ARCHIVE