MICHAEL W. SMITH RAISES THE BAR YET
AGAIN WITH POWERFUL, PERSONAL 'WONDER'
Album's First Single 'Save Me From Myself' At Radio Now; Album Production Represents First Use in Christian Music of Innovative New 'CLASP' Technology for Sonic Richness
NEWS SOURCE: Provident Label Group
July 20, 2010
(Nashville, Tenn.) July 19, 2010 – Ever the creative risk taker and industry innovator, Reunion Records flagship artist Michael W. Smith begins a new decade by delivering the most powerful and personal album of his career, all while living out his faith with the unsurpassed energy and passion that defines him as a man.
With new 12-song project Wonder, Smith struggles with the disparities of life in the modern age: hope and hardship, confusion and confidence, desperation and dedication. Yet, through it all, he emits a musical and lyrical sense of… possibility. Continuously transformed by the impact of his global travels and the inspiration of his non-profit work (Compassion International, RCKTWN teen club, Nashville Rising, etc.), Smith pushes forward with strength and resolve, believing that Love does win in the end. It's this sense of awe and amazement in the midst of the human condition that most aptly describes Wonder.
You're everything I can't explain.
You set my heart on fire.
And here I stand amazed.
You take my breath away ("Take My Breath Away")
Rather than being whimsical or abstract, Wonder shows the legendary and multi-talented singer/songwriter/producer/composer pursuing life and faith with a genuine sense of curiosity, gratitude and determination. Intent to explore the world and his own heart as deeply as he can, Smith again lays bare his life for his listeners, sharing his thoughts, hopes and emotions on his newest and most compelling collection of songs.
If my scars could speak
They would say that grace is my only hope
Grace is showing me the way to where
All my shadows disappear and healing waits for me ("Run to You")
Two songs provide a vulnerable lens into the intimacy of marriage as Smith speaks candidly of his feelings for wife Debbie: "You Belong to Me" tells of his love-at-first-sight encounter while "Forever Yours" reflects his romantic life-pledge. Another cut, "Welcome Home," delves into both the deep grief of losing Debbie's grandmother and the unrestrained joy of knowing she's now arrived where she truly belongs.
Other highlight tracks include the project's anthemic first single, "Save Me From Myself" (released to radio on 6/25), "Take My Breath Away," "Leave," "Run to You" and the prayerful, moving album closer, "Take Me Over."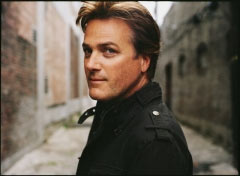 Musically, Smith continues his reign as Christian music's finest innovator. From The Big Picture production values of his early years to sold-out arena tours to the unparalleled passion of his worship albums, Smith has proven time and again his leadership as the true trendsetter of creative vision and musical originality. This time Smith raises the bar even higher, re-teaming with longtime collaborator and producer Bryan Lenox (Freedom, This Is Your Time) to bring forth a rich, sonically expansive record. The production of the 12-song Wonder featured one of the first uses of Endless Analog's CLASP system (for Closed Loop Analog Signal Processor), a device giving the producers new flexibility in linking up digital audio workstations with analog tape machines and imbuing Wonder's final sound with a warmth and depth rarely heard in today's musical marketplace.
Smith not only boldly engaged with new technology on this latest effort, he also challenged himself by teaming with a new band in the studio and partnering with several new writers (Kyle Lee, Michael Farren, Michael Olson, Stu G – formerly of Delirious? – as well as highly respected names like Matt Maher, Tommy Sims and Matthew West, among others.) to help communicate some of the most stirring and thought-provoking songs of his career.
Of course, his inventive and pioneering studio work aptly reflects the man himself. Never stagnant, ever vigilant, Michael W. Smith lives life to the fullest and approaches his relationship with God with the very same sense of Wonder that titles his latest recording. Whether singing before thousands on a worldwide tour, sharing stories and songs on his sold-out Alaskan cruises, performing for sold-out arenas as part of the Hannity Freedom Concerts or volunteering his talents to benefit Nashville's flood victims, Smith delivers a timeless message with heartfelt candor and conviction.
Wise to the ways of the world and heartbroken at the tragedies he witnesses all around, Michael W. Smith uses songs and stories to remind us all of where to find rest and comfort. With tremendous insight and expectation, Smith's latest musical endeavor displays a powerful snapshot of the journey we are all on, a journey of Wonder.
About Michael W. Smith:
Throughout his 27-year career as a recording artist, Michael W. Smith has amassed an impressive catalog of achievements. His 21 albums have garnered multiple honors including an American Music Award, three GRAMMY ® Awards (from 13 nominations), 44 GMA Dove Awards and 33 No. 1 radio hits. In addition, he holds 16 Gold and five platinum albums for career sales approaching 15 million.
Smith, who was inducted into the Gospel Music Hall of Fame in 2009, has scored several film projects, written 11 books and has been featured by media outlets including, NBC's "Today Show," "Good Morning America," "NBC Nightly News," "Larry King Live," "FOX and Friends," "Hannity and Colmes," USA Today, The New York Times, The Washington Post, Los Angeles Times, Newsweek, has been named one of People magazine's "Most Beautiful People" and has presented multiple times on the GRAMMY Awards show. His tours consistently rank among the best attended in the country, and he has performed to capacity crowds throughout the world.
Constantly giving back to the community, one of Smith's current projects is Rocketown--a nightclub for teens in his hometown of Nashville, Tenn.--which serves as safe place for young people to enjoy music and for artists to be discovered. He and wife Debbie Smith are the proud parents of five children. For up-to-date information on Michael W. Smith, please visit www.michaelwsmith.com or www.providentpress.com.
###
For more info on Michael W. Smith, visit the JFH Artists Database.


[2022]
Jan. | Feb. | March | April | May | June | July | Aug. | Sept. | Oct. | Nov. | Dec.
[2021]
Jan. | Feb. | March | April | May | June | July | Aug. | Sept. | Oct. | Nov. | Dec.
[2001 - 2021]
Visit our complete MUSIC NEWS ARCHIVE