Legendary Artist and Esteemed Author Sandi Patty
to Release Companion Book and CD Projects
The Edge of the Divine this Summer
Thomas Nelson Partners with Music Icon for
August 3 Book Launch

Stylos Records Prepares for August 24th
Release of Patty's 33rd Album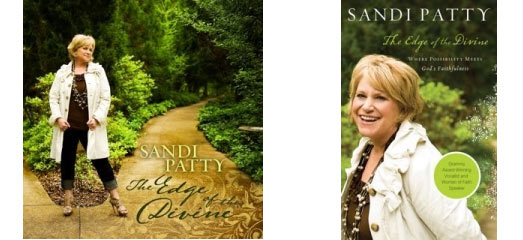 NEWS SOURCE: The M Collective
July 20, 2010
Nashville, Tenn… July 20, 2010… Music Legend and esteemed author Sandi Patty will release companion book and CD projects, The Edge of the Divine this summer. In the book and new recording, the five-time GRAMMY ® Award winner who has appeared on such notables as Today and Extreme Home Makeover Edition, uses her accomplishments and public struggles as her inspiration.
As Patty has experienced herself, and as she unveils in her book, often times in life women find themselves at an unavoidable crossroads where they either spiral into a life of shame and regret or walk away with their head held high. In The Edge of the Divine, available August 3, and published by Thomas Nelson, Patty helps women discover they can leave a life of wondering for a life of wonder but first they must walk to The Edge of the Divine and decide to jump.
Coinciding with her book, on August 24, Patty and her imprint label Stylos Records will release her first original album in seven years, The Edge of the Divine. It is a record that reveals an updated adult contemporary sound with inspirational anthems. Produced by Chance Scoggins (Point of Grace, Avalon, Mandisa, Bart Millard, Addison Road) The Edge of the Divine features 10 tracks and includes a special duet with Heather Payne, founding member of Point of Grace, on the powerful ballad "When Life Gets Broken."
"Every project that I've done in the past 30 plus years, I've always wanted to be an extension of where I'm at in my own journey," says Patty. "Being on 'The Edge of the Divine,' and the stories reflected in the book and CD, are new, fascinating and sometimes uncomfortable places for me to be. Because our journeys are never stagnant, the stories within the pages and the songs are new and current, but deeply rooted in my life's process," she continues. "Sometimes growing can be the most uncomfortable blessing we have. So, I'm growing, and actually shrinking at the same time. My prayer for those who walk on the edge with me in these projects is that they will be encouraged and inspired to know that God is just a step away. That continues to be my prayer, after all of these years, in my ministry."
Inspired by her first big dream to become a singer/dancer at Disneyland, Patty remembers the heartbreak when she was a teenager being turned down after her audition to be an entertainer. While they agreed she had a stunning voice, they critiqued her dancing skills and her weight.
"I can look back now and know that I wasn't on the edge of disaster, as I first thought," Patty says. Now she can see God's divine hand. "He had just said 'yes' to a dream for me that I hadn't seen yet."
A few years later, Patty was introduced to Bill and Gloria Gaither, and was invited to travel and perform alongside them. Now 30 years later, she continues to lead a thriving career in the Christian music industry and a ministry with a much broader impact than that teenager could have ever dreamed.
Today, 80 pounds lighter after undergoing lap band surgery due to dangerously high blood pressure and cholesterol, it's a new season for Sandi Patty -- a season of gratitude and grace that finds her finally being more accepting of herself. As someone who's been on the journey a little longer, Patty is happy to share what she's learned. "The more we are willing to share our journey and our story, it will help those who come after us," she insists.
Patty continues to share her stories with audiences across the country attending the Women of Faith conferences, the largest women's conference of any kind in the world. When she is not on the road, she is enjoying time with her husband Don Peslis and their eight children in their new home in Oklahoma City.
For more information on Sandi Patty please visit www.sandipatty.com and follow her on twitter at @sandipattyp.
###
About Sandi Patty: Sandi Patty has amassed more awards than any other female vocalist in contemporary Christian music history. She has been inducted into the Gospel Music Hall of Fame, received thirty-nine Dove Awards, five Grammy ® Awards, three RIAA-certified platinum and five gold recordings. Yet it is Sandi's down-to-earth style and strong common sense that has endeared her to Women of Faith audiences across the country, the largest women's conference of any kind in the world. The author of six books including Falling Forward and Layers, she has also appeared on Extreme Makeover: Home Edition, Macy's Day Thanksgiving Parade, The Today Show and more.


[2022]
Jan. | Feb. | March | April | May | June | July | Aug. | Sept. | Oct. | Nov. | Dec.
[2021]
Jan. | Feb. | March | April | May | June | July | Aug. | Sept. | Oct. | Nov. | Dec.
[2001 - 2021]
Visit our complete MUSIC NEWS ARCHIVE