SANCTUS REAL GARNERS FIRST-EVER NO. 1 AC RADIO HIT WITH
"LEAD ME" FROM PIECES OF A REAL HEART
"Lead Me" Receives First-Ever Song Endorsement from Focus on the Family, FamilyLife;
Praise From Peers Casting Crowns, 10th Avenue North

"Lead Me" Video Premieres on iTunes Sept. 7

Food for the Hungry Sponsor Sanctus Real Fall Tour with
Leeland, The Afters, Speaker Palmer Chinchen

Firstborn Children of Sanctus Real Members Chris Rohman, Pete Prevost Born on Same Day;
Matt Hammitt's Third Child Due Sept. 3
NEWS SOURCE: Hoganson Media
August 31, 2010
Nashville, Tenn., August 31, 2010 – GRAMMY-nominated, Dove Award-winning Sanctus Real released on Sparrow Records in March its most critically acclaimed album to date, Pieces Of A Real Heart. The fifth studio offering from the band, the album has since gathered an ever-growing cache of musical milestones, including the No. 1 radio hit, "Forgiven," and the band's eighth No. 1 radio single and first-ever Billboard Adult Contemporary (AC) No. 1, "Lead Me." The fastest climbing AC radio song ever for the band, "Lead Me" is also No. 1 on this week's overall Billboard Christian radio national audience chart and makes its video debut on iTunes Sept. 7. The song is further gathering acclaim from Casting Crowns, 10th Avenue North and others, as well as the first-ever song endorsements from Focus on the Family and FamilyLife.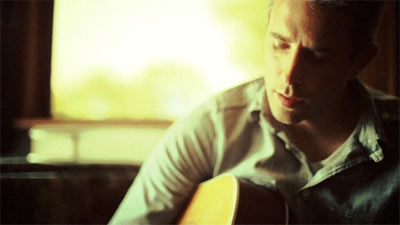 Matt Hammitt is pictured in this "Lead Me" video screenshot. The video was directed by Nathan Corrona, Dustbrand Films. Corrona also directed the band's acclaimed "Forgiven" video.
"Sanctus Real's 'Lead Me' is a beautiful reminder for men to stand up and be the husbands and fathers God called them to be," says Jim Daly, President, Focus on the Family. "It's a message every dad in our culture needs to hear, and I'm glad the song is making a significant impact on the radio."
"It's rare to hear a song that penetrates to the depths of the soul, stirs the emotions, reveals the innermost thoughts and seeks help from the only One who has it," says Dennis Rainey, President and Co-Founder of FamilyLife, a subsidiary of Campus Crusade for Christ International. "'Lead Me' does all this and more. It's a relevant message for marriages and families today. Lead Me is a timeless message that should motivate every married man to stand up and fight for his family by kneeling down to pray."
"'Lead Me' is a prayer song of God's leadership that every man needs to hear, amazing song!" adds Chris Huffman of Casting Crowns.
"'Lead Me' is probably the most intensely convicting and inspiring song I've heard on Christian radio in years," continues Mike Donehey of 10th Avenue North. "I literally wept the first time I heard it. Matt put words to my heart's cry and for that I'm infinitely grateful."
Written as a personal confession and prayer by lead vocalist Matt Hammitt, "Lead Me" is proving to be a source of hope even as he and his wife, Sarah, walk through a difficult pregnancy. Parents to Emmy and Claire, the couple is struggling to bring to term their first baby boy, Bowen Matthew Hammitt. Bowen, which means "small victorious one," is due Sept. 3 and has been diagnosed with a serious heart defect called Hypoplastic Left Heart Syndrome (HLHS).
"Knowing Bowen is sick has brought me face to face with the sobering reality that none of us are promised tomorrow and has pulled that nagging ache, the one to make every moment count, straight to the surface of my daily life," confesses Matt on a blog he and Sarah created to give updates on Bowen at http://bowensheart.com/.
As the Hammitts patiently wait for Bowen to be born, band guitarists Chris Rohman and Pete Prevost are embracing their new roles as first-time fathers. With children born on the exact same day, Chris and Dominique Rohman welcomed Penelope Jane Rohman, and Pete and Melissa Prevost welcomed Bennett Elise Prevost, into their respective families Aug. 11.
Enjoying the time off from touring to spend time with their families, the band members are also gearing up to be the nightly closing band on the 22-city "Hungry for Love" tour sponsored by Food for the Hungry and featuring Leeland, The Afters and Speaker Palmer Chinchen. The tour begins Oct. 8 in Jackson, TN and travels through 13 states before wrapping up Nov. 21 in Rogers, AR. (See full tour itinerary below)
Popularly known for its captivating recordings and live performances, Toledo, OH-based Sanctus Real is all about living out their lives as "real" Christians, not only on the stage and as they interact with fans, but in the quieter moments of their lives as husbands, fathers and fellow believers. The band creates compelling, authentic music that lives up to the meaning of their name: to be Holy (Latin meaning of "Sanctus").
With eight No. 1 and six Top 5 radio hits, Sanctus Real's 2006 breakthrough album, The Face of Love, landed at No. 2 on the Billboard Top Heatseekers chart while the band's most recent release, We Need Each Other, garnered the band a GRAMMY nomination. Pieces Of A Real Heart is the result of the band maturing and growing as songwriters, musicians and individuals, while retaining its aggressive edge and incorporating a more diverse musical palette of instrumentation and themes.
For all the latest Sanctus Real news, including it tour dates, go to www.sanctusreal.com, www.myspace.com/sanctusreal, and www.emicmg.com.
Sanctus Real "Hungry for Love" tour dates follow:
10/08/10 Jackson, TN Union University www.wigh.afr.net
10/09/10 Poplar Bluff, MO Black River Coliseum www.blackrivercoliseum.com
10/10/10 Parkersburg WV Parkersburg High School Field House
10/14/10 Quincy, IL Morrison Theater
10/15/10 Hoffman Estates, IL Life Changers International Church
10/16/10 Harrison, AR North Arkansas College www.ehbcharrison.org
10/22/10 Macon, GA Harvest Cathedral www.harvestcathedral.com
10/23/10 Pikeville, KY Eastern Kentucky Expo Center www.ichthus.org
10/24/10 Ashland, KY Paramount Arts Center
10/28/10 Pace, FL Immanuel Baptist Church www.wowradio.org
10/29/10 Tallahassee, FL Christian Heritage Church
10/30/10 Panama City, FL Marina Civic Center
11/04/10 Lewiston, ME Vineyard Church www.thelighthouseevents.com
11/05/10 Rochester, NY Roberts Wesleyan College www.kingdombound.org
11/07/10 Trucksville, PA Cross Creek Community Church www.crosscreekcc.org
11/12/10 Willoughby Hills, OH Willoughby Hills Friends Church
11/13/10 Cincinnati, OH The Underground www.theug.com
11/14/10 Collierville, TN Collierville United Methodist Church
11/18/10 Paris TX Calvary Chapel of Paris
11/19/10 Colleyville, TX Compass Christian Church www.trinitytickets.net
11/20/10 tba
11/21/10 Rogers, AR Rogers First Baptist Church
# # #
For more info on Sanctus Real, visit the JFH Artists Database.


[2021]
Jan. | Feb. | March | April | May | June | July | Aug. | Sept. | Oct. | Nov. | Dec.
[2020]
Jan. | Feb. | March | April | May | June | July | Aug. | Sept. | Oct. | Nov. | Dec.
[2001 - 2020]
Visit our complete MUSIC NEWS ARCHIVE