SWITCHFOOT LAUNCHES FALL TOUR WITH THE ALMOST ON OCTOBER 1st
BAND WILL ALSO PLAY ACL ON OCTOBER 10
PRE-SALE BEGINS TOMORROW, SEPTEMBER 1st;
TICKETS GO ON SALE TO GENERAL PUBLIC SEPTEMBER 2nd

SWITCHFOOT iTUNES SESSION IS OUT TODAY

"THE SOUND" IS TOP 10 AT MODERN ROCK RADIO AS
"YOUR LOVE IS A SONG" CLIMBS AC RADIO CHARTS
NEWS SOURCE: Hoganson Media
August 31, 2010
SWITCHFOOT will head out with The Almost this fall on a tour that launches October 1st in Lynchburg, VA. Pre-sale tickets will be available through Friends of the Foot beginning Wednesday, September 1st. Tickets go on sale to the general public on Thursday, September 2nd. For ticketing information and further details, visit www.switchfoot.com. The band, which just wrapped up a summer outing with Goo Goo Dolls, will also perform at Celebrate Freedom Atlanta, the largest free one-day concert in Atlanta, on September 4th, and the Austin City Limits Festival on October 10th. (See below for itinerary.)
"The Sound (John M. Perkins' Blues)," the band's current single, is one of eight songs included on the new Switchfoot iTunes Session, available beginning today. (Link for purchase: http://bit.ly/a1yMFI.) "The Sound" is a Top 10 hit at Modern Rock radio and the accompanying video has been added to Fuse's "#1 Countdown" and MTVu. The song was inspired by civil rights activist John M. Perkins, who appears in the video. Jon Foreman, lead vocalist/guitarist for SWITCHFOOT, has penned nine articles for The Huffington Post, including one detailing his recent meeting with Perkins:
http://www.huffingtonpost.com/jon-foreman/the-living-blues-john-m-p_b_613733.html
"The Sound" has been featured in television spots for Walt Disney Pictures' The Sorcerer's Apprentice, as well as promotional spots for Bravo and Verizon Wireless' fall 2009 ad campaign for the BlackBerry® Storm™ 2. It follows SWITCHFOOT's hit, "Mess of Me," which the band has performed on "Late Night with Jimmy Fallon," "The Tonight Show with Conan O'Brien," and "Jimmy Kimmel Live." "Your Love is a Song," another track from Hello Hurricane, is currently climbing the charts at HOT AC and Christian AC radio.
"On their seventh album, Switchfoot set the mood with U2-esque shimmer, fuzzed-out rockers that would make Dave Grohl green with envy, and jangly garage-rock," said Alternative Press while Rolling Stone noted: "the group added some heft to its super catchy alternative rock…'Mess of Me' is a stop-start rocker that kicks off with a serrated guitar scrawl, and 'Bullet Soul' is a crescendoing punk rager." "Switchfoot has much in common with arena-rocking peers like Coldplay and Snow Patrol…wrapped around huge hooks and intercut by Foreman's incisive, discontented lyrics," observed Paste.
SWITCHFOOT is Jon Foreman (vocals/guitar), Tim Foreman (bass), Chad Butler (drums), Jerome Fontamillas (keys/guitar) and Drew Shirley (guitar)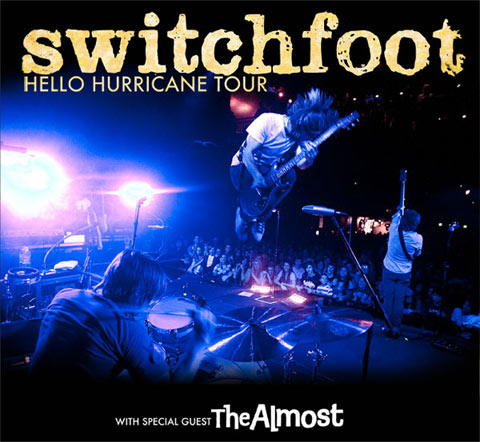 SWITCHFOOT – UPCOMING NORTH AMERICAN TOUR DATES

Date City/State Venue Support
9/4 Marietta, GA Jim R. Miller Park Celebrate Freedom Atlanta
9/5 Lexington, KY Questapalooza
10/1 Lynchburg, VA Liberty University The Almost
10/2 Cheswick, PA Ches-A-Rena The Almost
10/3 Philadelphia, PA Electric Factory The Almost
10/5 Richmond, VA The National The Almost
10/6 Norfolk, VA The Norva The Almost
10/7 Montgomery, AL Huntington College Top Stage The Almost
10/8 Baton Rouge, LA Varsity Theatre The Almost
10/10 Austin, TX Austin City Limits Festival
10/14 Omaha, NE Sokol Auditorium The Almost
10/15 St. Charles, MO TBD The Almost
10/16 Kansas City, KS Memorial Hall The Almost
10/29 Avila Beach, CA TBD The Almost
Switchfoot iTunes Session Track Listing
1. The Sound (John M. Perkins' Blues)
2. Learning to Breathe
3. Daisy
4. Dare You to Move
5. Mess of Me
6. Meant to Live
7. Only Hope
8. Your Love is a Song
# # #
For more info on Switchfoot, visit the JFH Artists Database.


[2022]
Jan. | Feb. | March | April | May | June | July | Aug. | Sept. | Oct. | Nov. | Dec.
[2021]
Jan. | Feb. | March | April | May | June | July | Aug. | Sept. | Oct. | Nov. | Dec.
[2001 - 2021]
Visit our complete MUSIC NEWS ARCHIVE