Building 429 partners with Food For The Hungry To Headline the 30 Seconds To Change Tour: A Tour To Benefit Haiti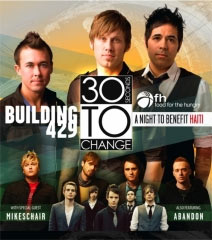 NEWS SOURCE: The M Collective
September 3, 2010
Nashville, Tenn.…September 3, 2010… Continuing their efforts to aid in Haiti disaster relief, Building 429 will headline the 30 Seconds To Change Tour: A Tour To Benefit Haiti this fall. Partnering once again with Food For The Hungry, the tour is hitting more than 25 markets along with special guests MIKESCHAIR and Abandon.
After traveling to Haiti with Food For The Hungry earlier this year, the members of Building 429 have become strong advocates of the organization's cause. The tour encourages the sponsorship of Haitian children, spreading the message that it only takes 30 seconds to contribute to restoring the hope of a devastated country and change a life forever.
"The goal of Building 429 is to sponsor 4,000 kids in Haiti this fall," said Building 429's front man Jason Roy. "The number one religion in Haiti is witchcraft. If we can help 4,000 families there encounter the love of Christ, just imagine the revival that would take place."
The 30 Seconds To Change Tour kicks off on September 30 in Waterloo, Ont., and is scheduled to run through November 20 with its last show in Corinth, Miss.
"We were searching for something to offer more than just music," said HR Ministries tour promoter Torey Hammett. "When we heard this tour was being promoted as a Night for Haiti relief, that was all we needed to hear…Great artists with great music and the greatest message of all time--Jesus Christ."
For additional information on the tour visit http://building429.com. To watch the tour video visit http://www.youtube.com/watch?v=SPyMrRLLyks.
###
Confirmed Tour Dates as of release:
9/30 – Waterloo, ONT*
10/1 – London, ONT*
10/3 – Guelph, ONT*
10/9 – Albany, GA
10/13 - Middlesboro, KY
10/16 - Garner, NC
10/17 - Hardyston, NJ
10/21 - Greenwood, AR
10/23 - Lucedale, MS
10/24 - Laurel, MS
10/30 – Getzville, NY
11/5 – Castle Hayne, NC
11/7 – Fairhope, AL
11/11 – Mequon, WI
11/13 – Princeton, KY
11/18 – San Antonio, TX
11/20 – Corinth, MS
*all dates subject to change
Building 429: Building 429 has had a history of success with the release of four studio albums, and now the rock band is joining forces with Provident Label Group for their fifth studio record set to release in 2011. In 2005 "Glory Defined" was named BMI's Christian Song of the Year, they were named the Gospel Music Association's 2005 New Artist of the Year and nominated that same year for Rock/Contemporary Album of the Year and Song of the Year. They have toured with artists such as TobyMac, Family Force 5, Casting Crowns and Thousand Foot Krutch.
About Food For The Hungry: Since 1971, Food for the Hungry has boldly served and spoken out for the poor. Food for the Hungry is more than a relief and development organization; they are tested, trusted and innovative partner who respectively walks with the poor in more than 26 countries worldwide while intentionally reflecting the love of Jesus. For more information, please visit www.fh.org
About MIKESCHAIR: This is a band well-known for infectious songs that inspire action to change the world through love. Partnering with organizations and utilizing mikestable at many of their shows, it is the band's hope for people to be aware of what's going on in the world in terms of need, to give them empowerment, while also give options. Audiences are welcomed to visit mikestable, which is dedicated to offering information for various causes such as Food for the Hungry, IJM, Love 146 and much more. MIKESCHAIR is managed by Creative Trust, Inc., and booked by Jeff Roberts & Associates, both located in the Nashville, TN area. www.MIKESCHAIR.com
About Abandon: Dove Award-nominated San Antonio rock act Abandon is a rare blend of relevant, non-alienating music with a sound that has been likened toU2-meets-Coldplay-meets-The Killers, all wrapped in a steady rush of uncommon creativity that has both modern flash and worshipful depth. Comprising of brothers Josh Engler (vocals) and Justin Engler (rhythm guitars), cousins Dave Vela (drums) and Stevan Vela (lead guitar), and Bryan Fowler (bass), Abandon has recently finished tracking in the studio for their sophomore album slated for a March 2011 release. The band's Forefront Records energy-gushing, full-length debut album hit Sept. 2009 along with widespread acclaim. Media critics called the music "catchy" (ChristianityToday.com < http://ChristianityToday.com> ), "a tasty morsel of what is to come" (jesusfreakhideout.com < http://jesusfreakhideout.com> ), and hailed the band for being "at the forefront of the current music industry" (indievisionmusic.com < http://indievisionmusic.com> ). The momentum afforded Abandon opportunities to tour alongside such established acts as Fireflight and Remedy Drive, as well as appear on a Teen Mania Ministries' "Acquire The Fire" tour and at every major Christian festival this summer. Josh says about the band and its music, "It's all about the atmosphere of God, the electricity of His presence. I must decrease; He must increase. Healing happens when you're in the atmosphere of God." For more information on Abandon, visit: http://www.abandonrock.com/.
For more info on Building 429, visit the JFH Artists Database.
For more info on Abandon, visit the JFH Artists Database.
For more info on MIKESCHAIR, visit the JFH Artists Database.


[2022]
Jan. | Feb. | March | April | May | June | July | Aug. | Sept. | Oct. | Nov. | Dec.
[2021]
Jan. | Feb. | March | April | May | June | July | Aug. | Sept. | Oct. | Nov. | Dec.
[2001 - 2021]
Visit our complete MUSIC NEWS ARCHIVE