HAWK NELSON PRESENTS: "FLY ME TO THE SHOW" FALL TOUR
FEATURING SPECIAL GUESTS BRITT NICOLE, REVIVE & JOHN REUBEN
HAWK NELSON TOURS WITH A PURPOSE WITH MOCHA CLUB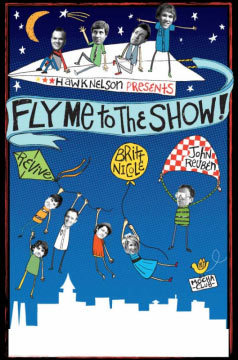 NEWS SOURCE: Overture Media
September 7, 2010
SEATTLE, WA...September 7, 2010 – Tooth & Nail Records / BEC Recordings' Hawk Nelson announces their fall headlining tour, "Fly Me To The Show," featuring special guests Britt Nicole, Revive, and John Reuben landing October 9th in Texas concluding November 13th in Michigan. At select shows, fans can purchase special VIP tickets that include an exclusive acoustic performance and an autographed CD and t-shirt. The Fall tour dates are posted on the newly launched site: http://flymetotheshow.com.
Continuing to Live Life Loud, Hawk Nelson will introduce concertgoers to the Mocha Club on tour. Mocha Club (http://www.mochaclub.org) is an online community of people giving up the cost of two mochas a month or $7. Hawk Nelson stands behind this organization and their initiatives for the Orphan Care + Vulnerable Children, specifically the Grace Foundation.
The Grace Foundation aims in helping children orphaned because of accident, HIV/AIDS and natural deaths. Currently there are 180 children being provided for with clothing, educational materials (books, pencils and pens) and money for food. These orphans live in Sunyani, Ghana and its suburbs.
"We are stoked about our fall tour and the artists that will be joining us," shares Jason Dunn of Hawk Nelson. "We're thrilled to be bringing Mocha Club on board for the tour - an amazing organization that is making a HUGE difference in these children's lives. We want to do our part and host a tour with a purpose."
Fans can sign-up to help support Hawk Nelson's efforts with Mocha Club here. For tour dates, Facebook profile images and banners go to: http://flymetotheshow.com. For more information on the band, visit http://www.hawknelson.com, follow the band on Twitter and communicate with other fans on Twitter using the hashtag: #fmtts for the tour.
- ### -
About Mocha Club:
Mocha Club is an online community of people giving up the cost of 2 mochas a month – or $7 – to fund relief and development projects in Africa. Mocha Club works in five main project areas: Clean Water, Education, Child Mothers + Women At Risk, Orphan Care + Vulnerable Children, and HIV/AIDS + Healthcare. Their vision is to provide a way for people who don't have hundreds or thousands of dollars to make a difference in Africa. The community-based website allows members to start a team and invite friends to join them in giving up the cost of 2 mochas a month to support their chosen project. Mocha Club knows that today's tech-savvy generation can have a huge impact by using the viral nature of the web. So they decided to equip Mocha Club members themselves to grow awareness and support for Africa by inviting friends.
About Hawk Nelson:
This powerhouse, pop rock foursome hailing from Canada has won the hearts of thousands since its debut release. After three stellar studio projects, Hawk Nelson released "Live Life Loud" in 2009. This release was the third top album on the overall Christian chart, the #18 digital album in the nation, the second digital album on the Christian chart and debuted with eight singles in the Top 200 digital tracks during street week. Hawk Nelson has also appeared on NBC's drama "American Dreams," had a cameo appearance in the Nickelodeon film "Yours, Mine, & Ours," as well as had its songs featured on NBC's Stanley Cup promo spots, WB's "Smallville," "Summerland," American Music Awards (2009) Promotions, and MTV's "Laguna Beach."
About Britt Nicole: Hailing from Salisbury NC, pop-rock artist Britt Nicole burst onto the Christian music scene in 2007 with her Sparrow Records debut, Say It. The finely crafted pop collection produced 3 Top 10 radio singles "You," "Set the World on Fire," and "Believe," while earning Britt a slot on "The Winter Jam 2007 Tour" and Superchick's spring 2008 "Cross The Line Tour." Her songs have been featured on LucasArt's Thrillville 2 video game, "Legally Blonde 3" DVD, MTV's "The Hills," and most recently heard during three episodes of NBC's The Biggest Loser and featured on the soundtrack for new family friendly film "Ice Castles." In addition, Britt's "Welcome to the Show" will be heard on televisions across the country during ABC Family's "Campus Crush" promo, highlighting their TV shows series and original movies. Britt's sophomore project, The Lost Get Found, (Aug. 11, 2009) produced by Robert Marvin (Mat Kearney, tobyMac) and Dan Muckala (Brandon Heath, Backstreet Boys), debuted at No. 1 on the Billboard Top Christian Albums chart, No. 62 on the Billboard 200, went straight to No. 1 on iTunes' Christian/Gospel Top Albums chart, and peaked in the Top 10 on iTunes Top 100 albums chart. The album's lead single, "The Lost Get Found," rocketed to No. 1 on the Radio & Records CHR chart, spending eight consecutive weeks in the top position while climbing to No. 1 on iTunes' Christian/Gospel Top Songs chart as well. For more information about Britt Nicole, please visit www.myspace.com/brittnicolemusic, www.brittnicole.com, http://www.facebook.com/brittnicolemusic and follow her on Twitter @ itsbrittnicole.
About Revive:
Coming off this year's 44-city WinterJam tour, and earning its first Dove Award nomination in the coveted New Artist of the Year category for the 41st Annual GMA Dove Awards, Revive's momentous climb continues with its sophomore album Blink (6/22/10). Produced by the 2010 Dove Award-winning "Producer of the Year" team, Jason Ingram and Rusty Varenkamp, the album's hit title track saw success at both Christian AC and CHR radio formats, propelling into the Top 10 songs in the country on Billboard's CHR format. Originally from Sydney, Australia, The vibrant pop/rock outfit caught the attention of Third Day frontman Mac Powell during a tour of Australia. Powell kept in touch with the band after he returned to the states and encouraged the group to move to Atlanta. Following that leap of faith, the band signed with Essential Records and recorded its U.S. debut with Powell handling production duties. Since then, Revive has been constantly touring the country opening for artists like Big Daddy Weave, Sanctus Real, DecembeRadio, and of course, Third Day. For more on Revive, visit www.reviveband.com and view the band's highly-entertaining video blogs, including an original new music video celebrating the band's 10,000th Facebook friend! Download hi-res press images at www.providentpress.com.
About John Reuben:
For the past 10 years, Columbus, Ohio's John Reuben has been creating cleaver rhymes, catchy musical hooks and memorable video characters, making him one of the most recognized and respected faces in Christian hip hop. From his early career participating in rap open mics around Ohio, to iconic albums like Are We There Yet?, Professional Rapper and Word of Mouth, Reuben has not only entertained, but challenged and inspired a generation of young listeners. "Zappin" (The Best Of) will be releasing September 14 through Gotee Records, and is a collection spanning six albums and 12 music videos. For more information on John Reuben, visit http://johnreuben.com, and follow him on Twitter at http://twitter.com/johnreuben.
For more info on Hawk Nelson, visit the JFH Artists Database.


[2022]
Jan. | Feb. | March | April | May | June | July | Aug. | Sept. | Oct. | Nov. | Dec.
[2021]
Jan. | Feb. | March | April | May | June | July | Aug. | Sept. | Oct. | Nov. | Dec.
[2001 - 2021]
Visit our complete MUSIC NEWS ARCHIVE