THE AFTERS' DELIVER THIRD RECORD, LIGHT UP THE SKY, DUE OUT SEPT. 14 ON INO RECORDS
"Light Up The Sky" Aggressively Climbing Billboard Christian Radio Charts

The Afters To Embark on "Hungry For Love Tour" This Fall with Leeland and Sanctus Real
NEWS SOURCE: The M Collective
September 9, 2010
Nashville, Tenn. Sept. 9, 2010… With early support from radio and placement on MTV's "The Hills," The Afters' third studio titled Light Up the Sky will release on Sept. 14 with INO Records.
Produced by Dan Muckala (MercyMe, Brandon Heath, Amy Grant), The Afters' 10 track CD has a comprehensive theme of rebirth and a fresh start streaming throughout the lyrics of the record. The topic of new beginnings was something very natural for The Afters whom after going through a season of loss with the passing of their former manager, and even the loss of drummer Jordan Mohilowski's best friend, started a new chapter with the added additions of a new bassist and drummer to their line-up.
"I think the direction of this album reflects where we are in life," explains The Afters' guitarist Matt Fuqua. "I celebrated my 10th wedding anniversary this year and so did Josh. As we get older I think we are seeing that what is truly important to us is God, family and our relationships. I think that is reflected in this album because that is where we are spiritually speaking."
Sonically, the band's pop sound continues to evolve and grow with Light Up the Sky. "We spent a lot of time working on building the soundscapes for this record. We experimented with mic placements...even placing mics throughout long hallways outside the studio rooms and in our producer's garage to capture ambient sounds," addresses lead singer Josh Havens. "There are a lot of textures and subtleties that the listener might not notice until they've listened a few times. I think both musically and lyrically it is instantly accessible and yet has deeper layers for those wanting to find them. It's artful pop." Light Up the Sky finds Havens and Fuqua writing alongside Muckala as well as Jason Ingram, Brandon Heath and Nate Campany (Brandon Heath, The Click Five).
The first single from the album "Light Up the Sky," which is already No. 2 at Billboard Christian CHR and top 10 at AC, is a reminder of the steadiness of God's faithfulness. The Afters have trekked across the US this summer in support of the single, making stops at KCMS (Seattle), Joy FM (St. Louis), K-LOVE/Air 1 and more (photos below). The song was also used in the final season of MTV's hit show "The Hills" earlier this summer. Other songs of interest on the record include the sonically aggressive " We Won't Give Up," the praise-filled "Lift Me Up," encouraging "Runaway" and "Start Over," which continues with the overriding theme of rebirth.
The Afters are teaming up with Leeland and Sanctus Real for the "Hungry For Love Tour" this fall. Sponsored by Food for the Hungry, the "Hungry For Love Tour" will help raise awareness for the goal's of bringing relief and aid to twenty-six of the most impoverished countries in the world. The tour will be making stops in 23 cities across the U.S. starting Oct. 9 through Nov. 22. For the most up to date concert listings, visit http://hungryforlovetour.com/.
Texas-based band The Afters were propelled into the national spotlight with their INO/Sony Music Label Group debut I Wish We All Could Win. The project spawned the swirling, melodic hit "Beautiful Love," earning the band an enthusiastic following when the song was selected as the theme track for MTV's "8th and Ocean". "Beautiful Love" was also the most downloaded track of 2006 on the iTunes ® Inspirational charts and garnered the band an mtvU award as well. The Afters' sophomore release Never Going Back To OK (INO/Columbia Records) debuted in the Top 50 on the Billboard Top 200, and proved to be sensation on the silver screen with "Grey's Anatomy" (ABC), "Dr. Phil," "Army Wives" (Lifetime) and "Rachael Ray." A slew of media including Rolling Stone, Seventeen.com, E! News Live, TV Guide, Premiere Radio and more also picked up on covering The Afters' earlier releases as well.
The Afters' Tour Schedule
* All dates subject to change, for most current tour schedule, visit www.theafters.com

Wed, Sep 1 7:00 PM Grace Bible Church Nacogdoches, TX
Sat, Sep 4 Revelation Generation Frenchtown, NJ
Sun, Sep 5 5:25 PM Holmes Boone Center Boone, NC
Sat, Sep 11 7:40 PM Mission Hills Church Highlands Ranch, CO
Fri, Sep 17 6:00 PM UMEI Christian High School Leamington, ONT
Sat, Sep 18 Awakening Festival Leesburg, VA
Sun, Sep 19 Grove City College Grove City, PA
Thu, Sep 23 7:00 PM Broadbent Arena Louisville, KY
Fri, Sep 24 7:00 PM E.A. Diddle Arena Bowling Green, KY
Sat, Sep 25 2:00 PM Kruse International Auction Park Auburn, IN
Fri, Oct 8 7:00 PM Tour - Union University Jackson, TN
Sat, Oct 9 4:00 PM Tour - Black River Coliseum Poplar Bluff, MO
Sun, Oct 10 6:00 PM Tour - Parkersburg High School Parkersburg, WV
Thu, Oct 14 7:00 PM Tour - Morrison Theater Quincy, IL
Fri, Oct 15 7:00 PM Tour - LifeChangers International Church Hoffman Estates, IL
Sat, Oct 16 7:00 PM Tour - North Arkansas College Harrison, AR
Fri, Oct 22 6:30 PM Tour - Harvest Cathedral Macon, GA
Sat, Oct 23 7:00 PM Tour - Eastern Kentucky Expo Center, KY
Sun, Oct 24 7:00 PM Tour - Paramount Arts Center Ashland, KY
Thu, Oct 28 6:30 PM Tour - Immanuel Baptist Church Pace, FL
Fri, Oct 29 7:00 PM Tour - Christian Heritage Church Tallahassee, FL
Sat, Oct 30 7:00 PM Tour - Marina Civic Center Panama City, FL
Thu, Nov 4 7:00 PM Tour - Vineyard Church Lewiston, ME
Fri, Nov 5 7:00 PM Tour - Roberts Wesleyan College Rochester, NY

Sun, Nov 7 7:00 PM Tour - Cross Creek Community Church Trucksville, PA
Fri, Nov 12 7:00 PM Tour - Willoughby Hills Friend Church Willoughby Hills, OH
Sat, Nov 13 7:00 PM Tour-The Underground Cincinnati, OH
Sun, Nov 14 7:00 PM Tour - Collierville United Methodist Church Collierville, TN
Thu, Nov 18 7:00 PM Tour - Calvary Chapel Paris, TX
Fri, Nov 19 7:00 PM Tour - Compass Christian Church Colleyville, TX
Sat, Nov 20 7:00 PM Tour - Lubbock Civic Center Lubbock, TX
Sun, Nov 21 7:00 PM Tour - Rogers First Baptist Church Rogers, AR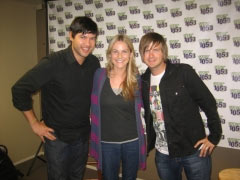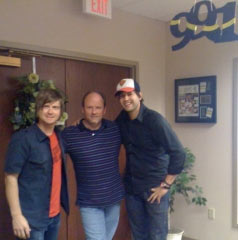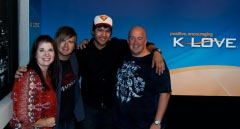 For more info on The Afters, visit the JFH Artists Database.


[2022]
Jan. | Feb. | March | April | May | June | July | Aug. | Sept. | Oct. | Nov. | Dec.
[2021]
Jan. | Feb. | March | April | May | June | July | Aug. | Sept. | Oct. | Nov. | Dec.
[2001 - 2022]
Visit our complete MUSIC NEWS ARCHIVE