GMA Dove Award-Winning Worship Leader Travis Cottrell
Partners with Beth Moore to Release Debut Book
Surprised By Worship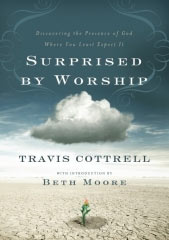 NEWS SOURCE: The M Collective
September 15, 2010
Nashville, Tenn…. Sept. 15, 2010… GMA Dove Award-winning worship leader Travis Cottrell is gearing up to release his debut book, Surprised By Worship, published by Zondervan available this October. In this new venture, Cottrell teams up with well-known author and speaker Beth Moore to show readers that God's presence can be experienced at surprising times and places.
Building on a profound introductory chapter written by Moore, Surprised By Worship explores biblical and modern-day examples of people experiencing life's travails and triumphs who bring greater meaning to their lives through spontaneous acts of worship. God's goodness is predictable. His mercy is dependable. His ability to work in every moment of our lives, leading us to Him, is unfailing. But often in those moments when we are distracted by great distress, we don't see or acknowledge God's presence and provision. It's at those times that worship can be our greatest resource, bringing us the hope, strength, even deliverance we so desperately need.
Beyond the travails, Surprised By Worship also discusses God revealing Himself in the quiet, simple moments of life; when we allow the beauty of art or nature to transport us to worship. It's about finding God when we seek Him whether that be in the midst of great joy, in the everyday or in our deepest time of need.
Since beginning his career as a worship leader, Cottrell has been on LifeWay's Top 10 Artist list for the past three years, with his albums Alive Forever selling 130,000 units and Jesus Saves on track to eclipse that record. He currently serves as the worship pastor at Englewood Baptist Church in Jackson, TN, as well as the worship leader for Moore on her hugely successful Living Proof Live! Conferences, which he has done for the past 13 years.
"What I love best about Travis is that he is not a performer. He is a true worshipper," Moore said. "God has given Travis what I believe is a gift of favor with audiences and congregations. His approach permeates every denominational wall. His warm yet powerful style engages even the most resistant group into irresistible worship."
"I am passionate about Jesus, and about my family. I love my life as a worshipper of the Most High God," says Cottrell. "I love my job...my calling...as a worship leader."
###
About Travis Cottrell:
Originally from Boone, N.C., Travis Cottrell graduated from Belmont University in 1992 with a degree in Church Music. Travis has written and arranged for church choirs and praise teams, including the Dove award-winning Everything Glorious. He has had the honor of singing with a long list of Christian artists, including Amy Grant, Mercy Me, Steven Curtis Chapman, Vince Gill, CeCe Winans and Steve Green. Travis is probably most well-known as worship leader for the Living Proof Live conferences with Beth Moore. In their 13 years of ministering together, they have ministered in all 50 states, as well in a number of other countries. Travis has produced a number of CD's including Found, Ring the Bells, and most recently Jesus Saves Live, which garnered him four Dove Award nominations and winning the award for Choral Collection of the Year. In addition to leading worship and writing, Travis is also a leading voice on the subject of worship in today's church, traveling and teaching at conferences across the country. Travis serves as Worship Pastor at Englewood Baptist Church in Jackson, TN. He and his wife, Angela, have been married for 16 years, and have 3 children - Jack, 13, Lily Kate, 9, and Levi, 7, and 1 dog - Flash, 7.
About Beth Moore:
Beth Moore is a bestselling writer, Bible teacher, and speaker whom God has used to touch the lives of millions of women around the world. She founded Living Proof Ministries in 1994 with the purpose of teaching women how to love and live on God's Word. She has authored numerous bestselling Bible studies and books including Get Out of That Pit, Believing God, and Breaking Free. She attends Houston's First Baptist Church where she hosts an interdenominational Tuesday-night Bible study for women. She and her husband, Keith live in Houston, Texas and are the happy parents of two adult daughters and the proud grandparents of Jackson and Annabeth.
For more info on Travis Cottrell, visit the JFH Artists Database.


[2022]
Jan. | Feb. | March | April | May | June | July | Aug. | Sept. | Oct. | Nov. | Dec.
[2021]
Jan. | Feb. | March | April | May | June | July | Aug. | Sept. | Oct. | Nov. | Dec.
[2001 - 2021]
Visit our complete MUSIC NEWS ARCHIVE