SWITCHFOOT ANNOUNCES SEPTEMBER 29th CONCERT IN JACKSON, MS
EVENT WILL BENEFIT JOHN M. PERKINS FOUNDATION FOLLOWING THE ROBBERY OF ITS MUSIC STUDIO

DR. PERKINS, THE CIVIL RIGHTS ACTIVIST WHO INSPIRED SWITCHFOOT'S TOP 10 SINGLE "THE SOUND," WILL BE A FEATURED SPEAKER

USTREAM WILL BROADCAST THE EVENT LIVE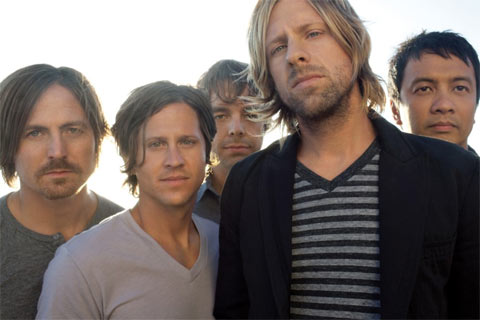 NEWS SOURCE: Hoganson Media
September 21, 2010
On Wednesday, September 29th, SWITCHFOOT will play a special concert at Belhaven University in Jackson, MS. All proceeds (after expenses) will be donated to the John M. Perkins Foundation for Reconciliation and Development. A recent robbery severely impacted the Foundation's music studio. Formed in 1983, the Foundation is dedicated to developing the lives of youth, leaders and the underprivileged in Jackson and around the world and advancing racial reconciliation.
"An Evening with Switchfoot and Dr. John M. Perkins" will feature a full-length set by SWITCHFOOT plus speeches by Dr. John M. Perkins, the civil rights activist whose autobiography, Let Justice Roll Down, inspired the band's Top 10 Modern Rock single "The Sound (John M. Perkins' Blues)" and SWITCHFOOT's lead singer/guitarist, Jon Foreman. For additional details, visit http://www.switchfoot.com or http://www.jmpf.org. Fans can view "An Evening with Switchfoot and Dr. John M. Perkins" from anywhere in the world via Ustream, which will broadcast the event live at 7:00 p.m. ET on September 29th at www.Ustream.tv/switchfoot.
"The purpose of this night is to commemorate the unlikely partnership of a civil rights patriarch from Mississippi and a rock band from San Diego," said Jon Foreman. "The concert will be a celebration of the life and words of John M. Perkins – a man who refused to believe that the present injustices are final. For me, this concert was born out of the song of a man who rose above his situation. A man who lived out what he believed: Love is louder than violence. Love is louder than hatred.
"My small hope is that this concert can raise funds for the John M. Perkins Foundation. They have a music studio that was robbed a few months back and, with the money we raise, we can get that program back on its feet. I'm hoping that this concert can be a lightning rod to attract the attention of more donors, and more folks who can partner with the JMP Foundation in and around Jackson."
Foreman described his first meeting with Dr. Perkins in a recent article for The Huffington Post:
http://www.huffingtonpost.com/jon-foreman/the-living-blues-john-m-p_b_613733.html
Dr. Perkins appears in SWITCHFOOT's video for "The Sound," which you can view at:
SWITCHFOOT – comprising Jon Foreman (vocals/guitar), Tim Foreman (bass), Chad Butler (drums), Jerome Fontamillas (keys/guitar) and Drew Shirley (guitar) – has sold over 4.4 million albums in its career. The band's latest record, Hello Hurricane, bowed at No. 13 on The Billboard 200 and has met with widespread critical acclaim. SWITCHFOOT will launch a headlining North American tour on October 1st in Lynchberg, VA with The Almost opening on all dates. The band, which recently wrapped up a summer outing with Goo Goo Dolls, will also perform at the Austin City Limits Festival on October 10th.
About Ustream
Ustream is the leading live interactive broadcast platform that enables anyone with an Internet connection and a camera to engage their audience in a meaningful, immediate way. Unlike previous webcasting technology, Ustream uses a one-to-many model, which means that the user can broadcast to an audience of unlimited size. Ustream's platform has been used to broadcast everything from high school sporting events to Hollywood movie premieres, and people are finding new and innovative uses for it every day.
# # #
For more info on Switchfoot, visit the JFH Artists Database.


[2022]
Jan. | Feb. | March | April | May | June | July | Aug. | Sept. | Oct. | Nov. | Dec.
[2021]
Jan. | Feb. | March | April | May | June | July | Aug. | Sept. | Oct. | Nov. | Dec.
[2001 - 2021]
Visit our complete MUSIC NEWS ARCHIVE