VINEYARD MUSIC ANNOUNCES
BURN BRIGHT WORSHIP CONFERENCE
October 21-23 event in Glendale, Ariz., to be recorded for live CD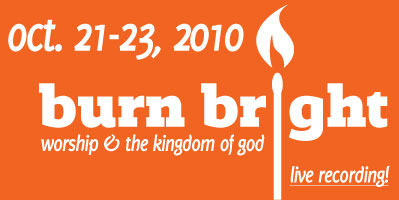 NEWS SOURCE: Williams Media Group
September 30, 2010
Houston, Texas - Vineyard Music has announced the lauch of the Burn Bright Worship Conference, taking place October 21 through 23, 2010, at the Vineyard Church North Phoenix in Glendale, Ariz.
The event will feature Vineyard artists Autumn In Repair and Chris Lizotte; speakers Eleanor Mumford, Dan Wilt, and Brian Anderson; and other worship leaders including Nigel Briggs of the band Trent, Casey Corum, Anabeth Morgan, and Matt Turrigiano. The Burn Bright Conference will be preceded by a Night of Worship on October 20, open to the public at no cost. The entire conference will be recorded for a live CD project to be released in early 2011, and made available as a free download for all conference attendees.
As an event for worship leaders and worshippers alike, the Burn Bright Conference represents a unique approach. The conference will explore the nature of worship as it pertains to the Kingdom of God. Sessions and workshops will focus on the mechanics of worship leading as well as healing the sick, issues of social justice, and prophetic ministry.
"Worship is found not so much in the songs we sing as in our lives laid down," said Casey Corum, Vice President and Executive Producer for Vineyard Music. "We hope that people will come ready to meet with the Lord, 'for He satisfies the thirsty and fills the hungry with good things.'"
"The simple act of corporate worship has changed my life forever," adds Matt Turrigiano, Burn Bright Conference Organizer/Worship & Creative Arts Pastor for the Vineyard Church North Phonenix. "But for many, worship as we know it today is lost in a sea of misconception that turns what we do into a spectator sport to be consumed. We want Burn Bright to be an opportunity to equip the church to worship and experience the transforming presence of God."
For more information about the Burn Bright Conference or registration details visit www.vineyardmusic.com/burnbright.
About Vineyard Music
For over thirty years, Vineyard Music has been dedicated to bringing great new worship songs to the church, many of which have been recorded by artists such as Michael W. Smith, Rebecca St. James, Third Day and dc Talk. Born within local Vineyard churches, many of these songs have been warmly embraced by worshippers worldwide. As part of their commitment to embracing the value of worship and empowering local church worship leaders, Vineyard Music launched Varietal Records in 2007. The label serves as a pathway for Vineyard to introduce great songs and the dynamic voices of talented, passionate worship leaders to churches across the country and around the world.
###


[2022]
Jan. | Feb. | March | April | May | June | July | Aug. | Sept. | Oct. | Nov. | Dec.
[2021]
Jan. | Feb. | March | April | May | June | July | Aug. | Sept. | Oct. | Nov. | Dec.
[2001 - 2021]
Visit our complete MUSIC NEWS ARCHIVE