VEGGIETALES: IT'S A MEANINGFUL LIFE DVD IN STORES SATURDAY!

FINDS FAVOR WITH CRITICS!
"…A New Twist on a Classic Theme"
"…Warms the Heart and Nurtures the Soul"
"…One of the Most Poignant VeggieTales DVDs"
"…A Must-have for this Christmas Season"
"…Well Worth Adding to Your Collection"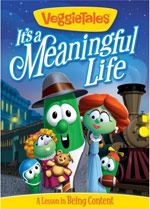 NEWS SOURCE: Hoganson Media
October 1, 2010
VEGGIETALES: IT'S A MEANINGFUL LIFE GARNERS SIGNIFICANT MEDIA ATTENTION
Available Saturday, October 2nd at Christian retail stores everywhere, It's a Meaningful Life has already garnered significant coverage in media outlets such as Kidscreen Daily, Cynopsis: Kids!, License!, Christian Retailing, CBA Retailers+ Resources, American Family Radio Network, LeSEA Broadcasting, ToyBook blog, Total Licensing Report, and others.
Here's what critics are saying:
"A lesson about being content, this new animated parable from VeggieTales explains Jeremiah 29:11 to kids in a fun way. It warms the heart and nurtures the soul. What more could a parent want?" – CBN.com
"It's a Meaningful Life may well be one of the most poignant VeggieTales DVDs produced. The story honors family, integrity, and living faithfully the quiet life God has called most of us to live…The overall message of being content with the life God has planned for us should strike every parent in the heart." – Crosswalk.com
"It's a Meaningful Life is another great installment in the VeggieTales catalog of stories with important life lessons. It's a fine mix of fun, serious, and even a little Christmas spirit as the Big Idea folks tackle 'A Lesson in Being Content.' It's well worth adding to your children's entertainment collection – and a wonderful story that you're likely to learn something from as well." – JesusFreakHideout.com (review)
"VeggieTales: It's a Meaningful Life again takes an important and timely message and shares it in a way that is simple enough for children to understand and yet profound enough to impact older viewers. A must-have for this Christmas season." – LifeWay.com
VEGGIETALES CO-CREATOR MIKE NAWROCKI AND VOICE OF "LARRY THE CUCUMBER" TEAMS UP WITH SPARROW RECORDS RECORDING ARTIST STEVEN CURTIS CHAPMAN
This week, VeggieTales Co-creator and voice of "Larry the Cucumber" Mike Nawrocki, and GRAMMY and Dove Award-winning Sparrow Records Artist Steven Curtis Chapman, teamed up for a national radio tour. Nawrocki and Chapman discussed the brand new VeggieTales adventure and Chapman's involvement with It's a Meaningful Life.
Big Idea enlisted the songwriting talents of Chapman, who wrote and recorded the original new end credits song, "Meant To Be," included on the DVD as a special music feature. Additionally, Chapman's adopted daughter, Stevey Joy Ru, voices the character of "Emma the Rhubarb," the adopted daughter of Stewart ("Larry the Cucumber") and Donna ("Petunia") in the It's a Meaningful Life episode.
NEW PARTNERSHIP FORMED, TO RAISE AWARENESS ABOUT ADOPTION ASSISTANCE FOR FAMILIES
Big Idea is partnering with Show Hope®, an orphan care and adoption aid organization founded by Steven Curtis Chapman and wife, Mary Beth, in order to raise awareness about opportunities to care for orphans and to help provide more orphan children with forever families through Show Hope's Adoption Aid program.
It's a Meaningful Life PROMOTED AS PART OF THE VEGGIETALES LIVE! SING YOURSELF SILLY! TOUR
This fall, as part of the VeggieTales Live! Sing Yourself Silly! Tour, audiences nationwide will have the opportunity to watch the It's a Meaningful Life movie trailer and the "Meant To Be" music video, featuring clips from It's a Meaningful Life, the artist recording session with Steven Curtis Chapman and heart-warming adoption footage from ministry partner Show Hope. More information on the tour, including the latest itinerary, may be found at www.bigidea.com/live.
To view the "'Meant To Be' – Behind The Song" video, click here!

To view the "Meant To Be" music video, click here!
# # #


[2022]
Jan. | Feb. | March | April | May | June | July | Aug. | Sept. | Oct. | Nov. | Dec.
[2021]
Jan. | Feb. | March | April | May | June | July | Aug. | Sept. | Oct. | Nov. | Dec.
[2001 - 2021]
Visit our complete MUSIC NEWS ARCHIVE