TOOTH & NAIL RECORDS NABS MINNEAPOLIS MELODIC ROCK BAND: HYLAND
Spring 2011 Full-length Debut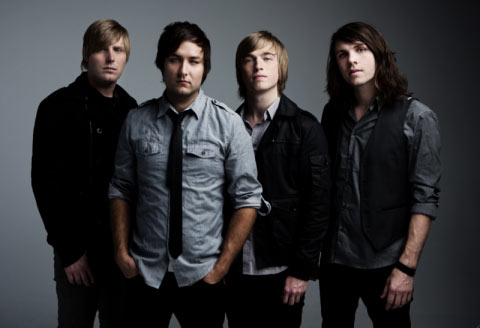 Hyland: (L to R) Ben Early, Jon Lewis, Mitchell Hansen, Steve Weigel
Photo Credit: David Molnar
NEWS SOURCE: Overture Media
October 25, 2010
Seattle, WA...October 25, 2010... A new addition has been announced to the Tooth & Nail roster - Hyland, melodic rockers hailing from Minneapolis, MN. Grabbing the labelís attention with their EP Quotients, which was produced by Ben Kasica of Skillet and Nick Rad of Acceptance, Hyland will release their T&N label debut in Spring 2011.
The forthcoming full-length release will be produced by Aaron Sprinkle in Seattle and mixed by JR McNeely. A debut radio single will be serviced in February. More information and a title for the debut will be announced soon.
Singer Jon Lewis describes how the signing happened:
"Here we were, in the process of getting songs ready for our next independent recording... Aaron Sprinkle called, asking if he could personally pitch us to Tooth & Nail. We've always been huge supporters of T&N and their artists, it's an honor to now be one of them. The opportunity, the songs, the vision... it's all coming together. Our first single heads to radio in February... And for the first time ever, I'm excited for a Minnesota Winter!"
With a strong local following and independent EP, Hyland blew away Tooth & Nail with their live performance and strong original songs. The band also won the Club Three Degreeís music tournament, and have performed at many major festivals across the nation: Creation West, Sonshine, Lifelight, Lifest, Hills Alive, Alive Fest, Purple Door, Big Ticket, and SXSW. Hyland is composed of Ben Early, Jon Lewis, Mitchell Hansen, Steve Weigel.
For more information on Hyland, visit: http://www.toothandnail.com/artists/293/Hyland/ or http://www.myspace.com/hylandrock and follow the band on Twitter @ HylandRock
- ### -
About Tooth & Nail Records:
What began in a bedroom over a decade ago has grown organically to become the enthusiastic support system behind many of the most important rock bands operating, including Underoath, Emery, Hawk Nelson, Thousand Foot Krutch and The Almost. With headquarters in Seattle and offices in Nashville, Tennessee and elsewhere, Tooth & Nail Records is also the parent company to Solid State Records (Demon Hunter, Haste The Day) and BEC Recordings (Jeremy Camp, Kutless). Label founder Brandon Ebel became immersed in the network of musicians, clubs, fanzines and promoters who were making waves with bands whose positive messages (whether translated through melodic punk or heavy rock) and creative, inspired music. Driven to this unique perspective, the music press has caught on and embraced many T&N bands the kids already knew. With new signings like The Letter Black, Sent By Ravens and Write This Down injecting fresh life into the company, Tooth & Nail continues to be a vital, dominant presence in the contemporary music scene. For more information, visit www.toothandnail.com and @toothandnail on Twitter.
For more info on Hyland, visit the JFH Artists Database.


[2021]
Jan. | Feb. | March | April | May | June | July | Aug. | Sept. | Oct. | Nov. | Dec.
[2020]
Jan. | Feb. | March | April | May | June | July | Aug. | Sept. | Oct. | Nov. | Dec.
[2001 - 2020]
Visit our complete MUSIC NEWS ARCHIVE