NEW HILLSONG CHAPEL SERIES RELEASES FIRST ALBUM, YAHWEH, TODAY!
Responding To Churches' Requests, Hillsong Worship Leaders "Unplug" for Brand New
Acoustic Arrangements Of Popular Hillsong Worship Anthems
--------------------------------------

EMI CMG PUBLISHING PRESENTS FIRST-EVER HILLSONG/
WORSHIPTOGETHER.COM ONLINE LIVE STREAMING EVENT NOV. 2

Event For Worship Leaders Features
Ben Fielding, Annie Garratt, Nigel Hendroff, Reuben Morgan, more

Second Facebook Event Added Nov. 2 For 1.6+ Million Friends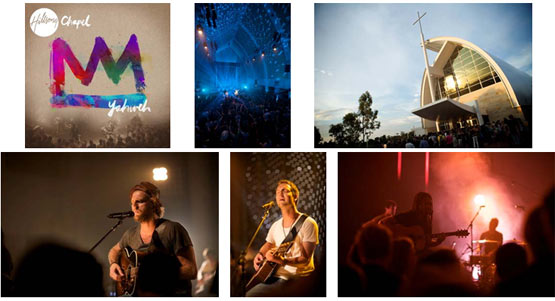 NEWS SOURCE: Hoganson Media
October 26, 2010
New from Hillsong Church, Hillsong Chapel is a series of intimate and devotional arrangements of popular songs led by Hillsong UNITED and Hillsong LIVE worship leaders. Recorded live in the church's chapel, Yahweh releases today and is the first installment in this already acclaimed series that contains organic and contemplative versions of such top Christian Copyright Licensing International (CCLI) songs as "Hosanna," "From The Inside Out" and the No. 1 CCLI song sung by an estimated 40 million people every week in church services around the world, "Mighty To Save." Thirteen songs in all, including the title track "Yahweh," the project draws from a catalog of albums that have sold over 11 million copies.
Tens of thousands of people received a preview of Hillsong Chapel Yahweh as Hillsong LIVE played acoustic versions of songs from the recording on its recent sold-out tour of the US. Now, worship leaders, Facebook friends and music fans will receive special insight to this new recording starting with a month-long Hillsong campaign from EMI CMG Publishing that culminates with a live streaming Hillsong Chapel Yahweh event on www.worshiptogether.com. This first-ever live online event for Hillsong and www.worshiptogether.com launches at 7:00 pm CT Nov. 2. The event is geared toward worship leaders and features Hillsong team members Ben Fielding, Annie Garratt, Nigel Hendroff, Reuben Morgan and more playing music from Yahweh live, demonstrating how to translate these songs in an intimate setting and pointing out elements to focus on in smaller gatherings. They will also answer questions and run select videos from the Yahweh DVD.
A second online event follows at 8:00 pm CT on Hillsong LIVE's Facebook page and will be geared to Hillsong LIVE and Hillsong UNITED's 1.6+ million Facebook friends. In addition to playing live and running videos from the DVD, the Hillsong worship team members will answer questions in 'real time' from its friends on Facebook.
Although having never recorded an "unplugged" version of their songs, Hillsong team members crafted the brand new Hillsong Chapel Yahweh arrangements in response to churches around the world asking for acoustic versions of their popular anthems. In addition to the new, intimate arrangements of these songs, the Yahweh CD includes all the song chord charts that worship leaders can use with their worship teams in their local church services. A companion, full-length DVD featuring all the songs on the CD is also available and was filmed as 300 worshippers filled the Hillsong chapel in Sydney, Australia.
"Yahweh represents the very best of what the modern worship community has to offer… A visionary and influential contribution to the modern worship canon that will be remembered for years to come," says All Music Guide as critics herald the new recording. Gmclife.com says, "The new series takes worship back to a simpler time when it wasn't a movement or a genre but simply a way of praising our God…The new arrangements make for a more organic record, perfect as the background piece to someone's personal devotions or for smaller congregations who didn't find the originals a perfect fit." Soul-Audio.com calls the recording, "incredibly peaceful and wonderful."
The complete CD / DVD track listing follows:
01. Hosanna
02. You'll Come
03. Run
04. The Time Has Come
05. Saviour King
06. Yahweh
07. Came To My Rescue
08. Stronger
09. This Is Our God
10. You Hold Me Now
11. From The Inside Out
12. Mighty To Save
13. Salvation Is Here
About Hillsong Church:
Based in Sydney, Australia, Hillsong Church is one of the world's fastest-growing ministries, with a 25,000-plus strong congregation in Australia, as well as one of the largest evangelical churches in London, Cape Town and Kiev. Hillsong also has churches in Stockholm and Paris, and recently announced plans to establish a new church in New York City. Hillsong Music has sold over 11 million albums to date and has earned 30 Gold and Platinum awards around the world.
About EMI CMG Publishing:
As a full-service music publisher, EMI CMG Publishing represents more than 35,000 songs and over 300 writers, including Chris Tomlin, Jeremy Camp, Leeland, Myron Butler, Ben Glover and Thousand Foot Krutch. EMI CMG Publishing began Oct. 1, 2010 working with Hillsong Publishing in the promotion of their song catalog and also administers catalogs for top-sellers such as TobyMac, Casting Crowns, Third Day and Lilly Mack Music. Its flagship website, WorshipTogether.com, is the leader in bringing fresh new songs to the church community worldwide. Repeatedly recognized by ASCAP, BMI and Billboard Magazine as Christian Music Publisher of the Year, EMI CMG Publishing is an industry leader that consistently accomplishes its mission: to impact modern culture with the timeless relevance of Christ through its diverse roster of writers and songs.
# # #


[2021]
Jan. | Feb. | March | April | May | June | July | Aug. | Sept. | Oct. | Nov. | Dec.
[2020]
Jan. | Feb. | March | April | May | June | July | Aug. | Sept. | Oct. | Nov. | Dec.
[2001 - 2020]
Visit our complete MUSIC NEWS ARCHIVE