Overcome Rejoin Facedown Records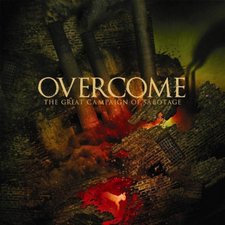 NEWS SOURCE: Facedown Records
December 7, 2010
Facedown Records are proud to announce the return of Overcome to the Facedown Family! The partnership between Overcome and Facedown Records goes all the way back to the birth of the label in 1997, and now Overcome is back to release their new album on Facedown. Release number 100 will be titled The Great Campaign of Sabotage and will be Facedown's first release of 2011. The Phoenix hardcore legends lead by Jason Stinson have returned with new music and new members, but their message remains the same. Says Stinson, "Be ready, a new flame is burning."
Facedown founder, Jason Dunn had this to say about Overcome and the significance of their return album being Facedown #100: I first saw Overcome in 1994 when they only had a demo tape out. Before I played drums for No Innocent Victim, I would travel with them and sell merch for them. NIV went out to play a couple of shows in Arizona and Overcome was the band that was also on the show. We instantly connected and have remained friends to this day. I always say that I donít think Facedown Records would be around today without Overcome. They were the cornerstone of the label in its early years and teaming up with them instantly put our name out there for hardcore fans worldwide, both Christian and non. Itís an honor to be able to still work alongside these guys and to be able to release the new album as Facedown #100. I could not have dreamed of a more appropriate release for this landmark in the label's history.
Overcome's The Great Campaign of Sabotage will be released on February 1, 2011.
You can hear "Alone in a Crowd," a new song from the album, here: http://www.myspace.com/overcome


[2022]
Jan. | Feb. | March | April | May | June | July | Aug. | Sept. | Oct. | Nov. | Dec.
[2021]
Jan. | Feb. | March | April | May | June | July | Aug. | Sept. | Oct. | Nov. | Dec.
[2001 - 2022]
Visit our complete MUSIC NEWS ARCHIVE