Sara Groves Named U.S. Delegate at
Lausanne Congress on World Evangelism
in Cape Town, South Africa
Sara Groves Joins Board of Directors for John Stott Ministries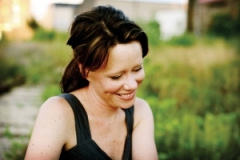 NEWS SOURCE: The M Collective
December 7, 2010
Nashville, TN… December 7, 2010…Known for her active role with International Justice Mission, singer/songwriter and justice advocate Sara Groves has been chosen to be one of 400 U.S. Delegates for the Lausanne Congress. Last month, joined by husband Troy Groves, she attended the Third Lausanne Congress on World Evangelism in Cape Town, South Africa. The Lausanne Congress, founded by Billy Graham and John Stott in 1974, convened Christian leaders in Lausanne, Switzerland to mobilize the global Church and respond to the issues of their day.
Groves gathered with over 4,000 pastors, teachers, ministry professionals and young visionaries from more than 200 countries for the Congress. The goal of the event was to promote unity, humbleness in service, and a call to action for global evangelization.
"The Congress reminded me that we serve a global God. I had the opportunity to meet, worship, get to know and study God's Word with other Believers from a wide spectrum of the Body of Christ," says Groves as she reflects on her experience. "When someone's context is so completely different from your own- it asks you a million different questions about the way you are following Jesus. When you are sharing with friends from places such as Monte Negro where there are only 140 believers in the entire country who were praying for me to have more love…it was just amazing."
The critically acclaimed singer/songwriter took her listeners along for the ride by posting "twitter-sodes" via twitter @grovesroad, where they filmed clips of the conference, which provided viewers a personal inside look at this historic event.
In the few years leading up to this event, Lausanne Working Groups and Lausanne International Deputy Directors are engaging leadership teams to determine the relevant issues of the day pertaining to the church and worldwide evangelization and holistic ministry. These issues were discussed before and during and after Cape Town 2010 with the hope that new strategies and new collaborative efforts will be started so that many more men, women and young people will be able to hear and respond to the message of Christ presented in a relevant and culturally appropriate manner.
In addition to being part of the Lausanne Congress, Groves has had the privilege to be chosen to be a part of the Board of Directors for John Stott Ministries. John Stott Ministries is the USA affiliate member of Langham Partnership International, which exists to help churches in the Majority World grow in maturity and be equipped for mission through three programs: Langham Preaching, Langham Scholars and Langham Literature. These programs work with local and national church leaders, equipping them to build on the work of evangelists and church planters, through biblical preaching, teaching and writing.
For more information on Sara Groves please go to www.saragroves.com and additional details on Lausanne Congress please go to http://www.lausanne.org/about.html.
###
About Sara Groves:
Since her debut release in 2001, Conversations, Sara Groves has become one of the most critically-acclaimed artists in the Christian music industry, receiving rave reviews across the board for each recording by the likes of Billboard, and consistently topping year-end reader's polls and album of the year nods from the likes of CCM magazine, Christianity Today online and more. On her latest project, Sara Groves O Holy Night Tour: Live The Prison Show, Groves brings the Christmas spirit to the women of an Illinois prison, Groves was able to connect with the women in treasured conversation sharing personal experiences and the meaning of Christmas before giving two intimate performances to over 1000 enthusiastic women, Since her 2005 release Add to the Beauty, Groves has been immersed in a series of global conversations and experiences, from the flood-ravaged gulf of Louisiana, to the genocide memorials of Rwanda, to the testimonies of Southeast Asia sex trade survivors. These experiences showed the disparity between some of the American pursuits of comfort and wealth and the joy of joining the difficult work of social justice and engaging in the suffering of the afflicted. www.saragroves.com
For more info on Sara Groves, visit the JFH Artists Database.


[2022]
Jan. | Feb. | March | April | May | June | July | Aug. | Sept. | Oct. | Nov. | Dec.
[2021]
Jan. | Feb. | March | April | May | June | July | Aug. | Sept. | Oct. | Nov. | Dec.
[2001 - 2022]
Visit our complete MUSIC NEWS ARCHIVE