GRAMMY WINNERS JOHN SCHLITT AND CHARLIE DANIELS ROCK CHRISTMAS
Award-winning Artists To Play Brookfield, Wisconsin Friday, December 17
NEWS SOURCE: McCain & Co. PR
December 9, 2010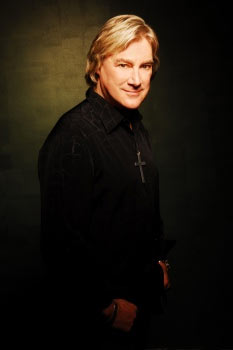 Franklin, TN (December 9, 2010) - Legendary recording artist John Schlitt — solo artist, lead singer for Grammy Award-winning Christian band Petra and former lead singer for mainstream rock band Head East — will join the renowned Charlie Daniels Band onstage in a special Christmas concert at Wisconsin's largest worship center, Elmbrook Church in Brookfield, Wisc. on Friday, December 17, 2010 starting at 7:00 p.m. CT.
Schlitt will perform selections from his latest CD, The Grafting and a selection of Christmas songs, in addition to sharing the inspiring story of his journey from an alcoholic drug addict on the verge of suicide to one of the most beloved artists in Christian music.
"John Schlitt brings a great amount of talent to the stage with his music and testimony," states Robert Schoenauer of Psalm 92 Promotions, sponsor of the event. "He's a great addition to this outreach concert, geared to rock and country fans who wouldn't otherwise come to church. We're planting seeds as the Gospel message is presented by John and Charlie in an exciting and entertaining way."
Tickets are available online through iTickets.com or at Elmbrook Church.
The Charlie Daniels Band is best known for its hit "The Devil Went Down To Georgia," which reached #3 on the Billboard Hot 100 chart and won Daniels the Grammy Award for Best Country Vocal Performance.
With more than three decades worth of water under the musical bridge, John Schlitt has earned multiple Gold Records, Grammys and Dove Awards. He has toured all over the world and has been inducted into the Gospel Music Hall of Fame as a member of Petra, one of the most successful rock bands in Christian music history. Schlitt was recently named the best rock singer in Christian music history by GospelMusicChannel.com. According to the website, Schlitt "remains one of the most distinctive and impactful men to ever stand behind a microphone."
For Schlitt's latest solo album, The Grafting, he called on the multiple talents of son-in-law and rising star producer/songwriter/drummer Dan Needham (Amy Grant, Petra, Michael McDonald) to help craft his vision. The Grafting finds Schlitt exploring uncharted musical territory, while remaining anchored by his unmistakable voice. At once intimate and accessible, The Grafting is without a doubt Schlitt's most potent solo album to date.
The Grafting is available on 4K Records and is distributed by New Day Christian Distributors in the U.S. and internationally by Go Global Entertainment. For more information on John Schlitt and The Grafting, visit johnwschlitt.com.
# # #
For more info on John Schlitt, visit the JFH Artists Database.


[2022]
Jan. | Feb. | March | April | May | June | July | Aug. | Sept. | Oct. | Nov. | Dec.
[2021]
Jan. | Feb. | March | April | May | June | July | Aug. | Sept. | Oct. | Nov. | Dec.
[2001 - 2022]
Visit our complete MUSIC NEWS ARCHIVE