MercyMe Closes 2010 With Billboard's
National Christian Audience and
Christian AC Song of the Year, "All of Creation"
Band Performs National Anthem at Dallas Cowboys Game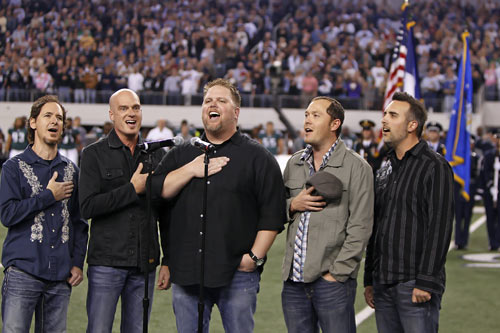 MercyMe opens the Dallas Cowboys game by singing the National Anthem
NEWS SOURCE: The M Collective
December 15, 2010
Nashville, TN…December 15, 2010….On the heels of their second American Music Award win for Contemporary Inspirational Artist, MercyMe recently garnered the National Christian Audience Song of the Year and Christian AC Song of the Year with "All of Creation" according to Billboard magazine. The track dominated Billboard's AC Monitored chart for 11 weeks, the longest run at No. 1 in the band's career.
Along with the Song of the Year nod, MercyMe is closing out 2010 with a bang in other ways as well. Having wrapped their successful "The Generous Mr. Lovewell" tour, the Dallas-area locals had a dream come true when they were recently asked to open a Dallas Cowboys Football game by singing the National Anthem for Sunday night football.
"2010 has been an amazing year for this band," remarked lead vocalist Bart Millard. "Christian radio, fans, etc have just been so good to us, and this year was no exception - it's just beyond incredible. Of course standing on the football field before the Cowboys fans and such was mind blowing – what a thrill for all of us! We're a blessed group of guys for sure."
The multi-platinum selling band was also invited to visit Sam's Club associates in Bentonville, AR for their quarterly business review and holiday party. With nearly 1000 in attendance, MercyMe charmed the crowd with their humor and gave an intimate stripped down performance of some of their greatest hits, along with a selection of new favorites off of their latest best-selling album The Generous Mr. Lovewell (INO Records).
MercyMe will kick off 2011 on January 28th when they hit the road for the third annual Rock and Worship Roadshow. Compassion International will serve as the executive producer and along with MercyMe the tour will also feature Jars of Clay, Thousand Foot Krutch, Matt Maher, The Afters and LeCrae.
For more information on MercyMe please visit www.mercyme.org.
###
MercyMe:
Since their debut in 2001, Grammy-nominated, American Music Award and multiple GMA Dove Award winners MercyMe have sold nearly 6 million units in CD and DVD sales, while being one of few Contemporary Christian music groups to have had all of their recordings certified Gold or Platinum, as well as garner 23 No.1 multi-format Christian radio singles, and four consecutive mainstream radio hits with "I Can Only Imagine," (No. 4 AC/top 25 on Top 40/Hot AC), "Here With Me" (No. 4 AC), "Homesick" (top 10 AC), and "So Long Self." In 2009 BILLBOARD named MercyMe's "Word Of God Speak" the #1 Song of The Decade and the group the #1 Christian Songs Artist of the Decade, with an additional #1 as the Christian AC Song Artist of The Decade as one of the industry's most notable talents. MercyMe recently made history as "I Can Only Imagine" surpassed 1 million digital downloads, making it the first song in Christian music to go platinum in the digital domain. The multi-platinum selling band has sold out venues including Radio City Music Hall and has been seen on The Tonight Show, CNN, Fox New Channel's Fox & Friends, ABC News, CBS' The Early Show, and on the pages of Entertainment Weekly, The New York Times, USA Today, Billboard, and more. www.mercyme.org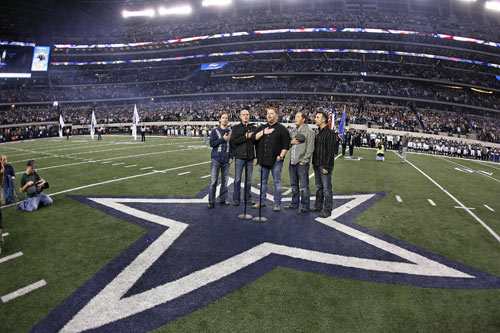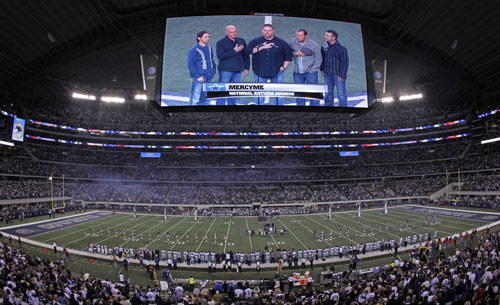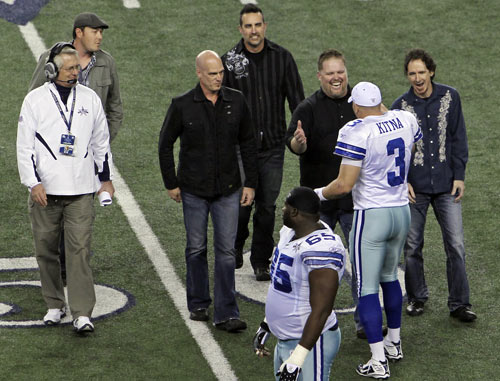 For more info on MercyMe, visit the JFH Artists Database.


[2021]
Jan. | Feb. | March | April | May | June | July | Aug. | Sept. | Oct. | Nov. | Dec.
[2020]
Jan. | Feb. | March | April | May | June | July | Aug. | Sept. | Oct. | Nov. | Dec.
[2001 - 2020]
Visit our complete MUSIC NEWS ARCHIVE