SANCTUS REAL HAS BIGGEST YEAR YET IN 2010
Successful Headline Tours, Two No. 1 Singles, Unprecedented Sales, Newborn Babies;
All Capped by ABC World News Feature, Second GRAMMY Nomination,
Billboard Year End Chart Success

More Than 3 Million See Story of Lead Vocalist Matt Hammitt's Son at http://bowensheart.com/;

Baby Bowen's Second Heart Surgery is Set for March 2

New Radio Single "The Redeemer" Releases Spring 2011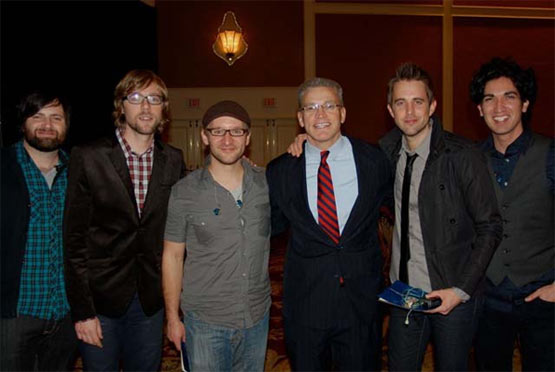 Sanctus Real was the featured band at the Washington, DC International Justice Mission (IJM) benefit Dec. 9, 2010. IJM is a human rights agency that secures justice for victims of slavery, sexual exploitation and other forms of violent oppression. Sanctus Real members are pictured at the event with Gary Haugen, President and CEO of International Justice Mission.
NEWS SOURCE: Hoganson Media
January 10, 2011
GRAMMY-nominated, Dove Award-winning Sanctus Real wrapped up 2010 as its most successful year as a band. The successes not only stemmed from the March 9, 2010 release of its fastest selling album to date, the GRAMMY-nominated and critically acclaimed fifth studio album, Pieces Of A Real Heart, but extended to the personal and spiritual lives of the band members themselves.
Pieces Of A Real Heart garnered the band its second GRAMMY nomination with the awards ceremony to be held on CBS at 8PM ET/PT, Feb. 13. The album also sparked the No. 1 song, "Forgiven," the band's eighth No. 1 radio single and first-ever Billboard Adult Contemporary (AC) No. 1, "Lead Me," and the current top 10 and climbing Rock single, "Take Over Me. The combined multi-format radio single success led Billboard to name Sanctus Real as the No. 4 most played Christian band of 2010. "Lead Me" also spent nine full weeks at No. 1 and became 2010's No. 7 most downloaded Christian song and No. 8 most played song at Christian radio according to Billboard. The video for "Lead Me" made its debut on iTunes Sept. 7, as the song further received the first-ever song endorsements from Focus on the Family and FamilyLife.
"Lead Me" was written as a personal confession and prayer by Sanctus Real lead vocalist Matt Hammitt, and is proving to be a source of hope even as he and his wife, Sarah, take care of their baby boy, Bowen Matthew Hammitt. Parents to Emmy and Claire, the couple's first son was born Sept. 9 and came home from the hospital Nov. 18. This extraordinary story was covered by ABC World News With Diane Sawyer, who called the homecoming their "favorite Thanksgiving story" (http://www.youtube.com/watch?v=WoeGKOXeO-s). Bowen, whose name means "small victorious one," was born with a serious heart defect called Hypoplastic Left Heart Syndrome (HLHS), and has gone through heart surgery, an infection and other complications since being born. Bowen's next surgery is scheduled for March 2 at the University of Michigan C.S. Mott Children's Hospital. To find out all the latest news on Bowen, plus a wealth of photos and other blogs written by his parents, see http://bowensheart.com/. In three month's time, more than three million people have visited the blog.
"This has been a year of awakening. Walking through this struggle with my family has sparked a growing desire to live out a deeper faith and purpose," reflects Matt Hammitt in his Dec. 29, 2010 blog at http://bowensheart.com/. "The past few months have been the most spiritually rich season of my short life, and I pray that it continues to get better. I also know that the emotions that come with new experiences fade, but when I come down off this mountain to enter another valley, I'll be walking with greater trust and a stronger, more rooted faith."
In addition to Bowen, band guitarists Chris Rohman and Pete Prevost are embracing their new roles as first-time fathers. With children born on the exact same day, Chris and Dominique Rohman welcomed Penelope Jane Rohman, and Pete and Melissa Prevost welcomed Bennett Elise Prevost, into their respective families Aug. 11.
Taking appropriate time off to spend with their families, the band members also hit the road in 2010. Headlining a Mocha Club (www.mochaclub.org) sponsored spring tour with special guests Addison Road, Above the Golden State, Me In Motion and Speaker Sammy Adebiyi, the summer found the band playing during headlining slots on the major Christian festivals, including Crossover Festival, Atlanta Fest, Ichthus, Sonshine, Revelation Generation, and more. The fall tour included closing nightly on the 22-city "Hungry for Love" tour sponsored by Food for the Hungry (www.fh.org) and featuring Leeland, The Afters and Speaker Palmer Chinchen.
Popularly known for its captivating recordings and live performances, Toledo, OH-based Sanctus Real will continue to tour in 2011, as well as release this spring its new radio single "The Redeemer" from Pieces Of A Real Heart.
"It can be a struggle to remain hopeful when there is so much injustice in this world…to find the courage to dig for goodness amidst the wreckage we've created with the human condition," notes Hammitt. "To soften the blow, we become guarded. We protect ourselves by building up walls of cynicism and hesitation. We seldom believe in dreams. We stop expecting to find anything good, anything new. 'The Redeemer' is encouragement for us to let down these defenses. It's better to dig with hope and have our hearts be tattered than to lose hope completely."
With 13 No. 1 and Top 5 radio hits, Sanctus Real is all about living out their lives as "real" Christians, not only on the stage and as they interact with fans, but as husbands, fathers and fellow believers. The band creates compelling, authentic music that lives up to the meaning of their name: to be Holy (Latin meaning of "Sanctus"). The band's 2006 breakthrough album, The Face of Love, landed at No. 2 on the Billboard Top Heatseekers chart while We Need Each Other (2008) garnered the band its first GRAMMY nomination. For all the latest Sanctus Real news, including tour dates, go to www.sanctusreal.com, www.myspace.com/sanctusreal, and www.emicmg.com.
###
For more info on Sanctus Real, visit the JFH Artists Database.


[2019]
Jan. | Feb. | March | April | May | June | July | Aug. | Sept. | Oct. | Nov. | Dec.
[2018]
Jan. | Feb. | March | April | May | June | July | Aug. | Sept. | Oct. | Nov. | Dec.
[2001 - 2017]
Visit our complete MUSIC NEWS ARCHIVE