Passion 2011 Draws Sold Out Crowd of 22,000
College Students in Atlanta
Students Exceed Goals and Generously Give More Than
1.1 Million Dollars To Various Causes Through
"Do Something Now"

Passion 2012 to Move to The Georgia Dome

New Passion 2011 LIVE Recording Passion: Here For You
Set to Release March 8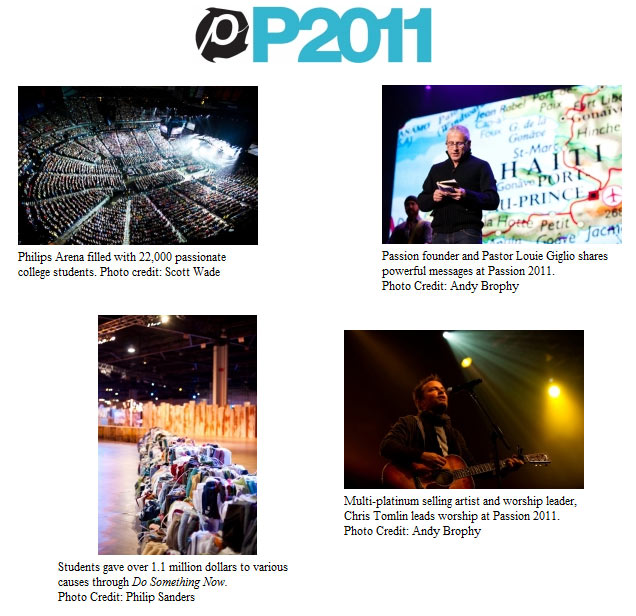 NEWS SOURCE: The M Collective
January 18, 2011
Nashville, TN…Jan. 18, 2011…On January 1st, the city of Atlanta was flooded with more than 22, 000 college students as they filled the Philips Arena and the Georgia World Congress Center for Passion 2011. The sold out event featured talks from Passion founder and Pastor Louie Giglio along with other notable speakers and best-selling authors John Piper, Beth Moore, Andy Stanley and Francis Chan. The annual event kicked off with powerful worship led by Chris Tomlin, David Crowder*Band, Charlie Hall, Matt Redman, Christy Nockels and Kristian Stanfill, along with special guests Lecrae, Tenth Avenue North and Gungor. With the past two years' conferences taking place in these two locations as the conference exceeded the capacity of Philips Arena, Passion announced the exciting news that Passion 2012 will take place at The Georgia Dome in Atlanta.
At the core of Passion is a desire to wed worship and justice, believing that what God wants most is not just another song, but a reflection of His love and mercy among the poor, the imprisoned, the voiceless and the oppressed. Therefore, during the four-day conference (held Jan 1-4) attendees stepped up in a big way to help the needy around the world through the global movement, Do Something Now which Passion launched in 2007 to help those with the greatest of needs through various causes such as sponsoring a child through Compassion International, providing funds to build wells in India to supply fresh water, and helping set up loans so families can start their own business in Afghanistan. Since its inception Do Something Now has gathered more than three million dollars for these causes.
For Passion 2011, Do Something Now set goals with each cause to encourage the students to get involved and make a difference. The end result greatly exceeded the expectations for each, as evidenced in the final counts seen below:
Clean Water :: Students provided 24 clean water wells in India exceeding the Do Something Now goal of $75,000 for 15 wells. Pathway Out of Poverty :: Students provided 385 micro-loans to offer pathways out of poverty for people in Afghanistan, exceeding the goal of $40,000 to fund 200 loans.

Feed The Hungry (JAM International) :: Students provided enough to feed 2,225 children in South Africa for one year, exceeding the goal of $50,000 to feed 1,000 children.

Child Sponsorship + Compassion Market :: Students sponsored 442 children through Compassion International and provided essentials for families such as vaccines, AIDS testing, livestock and mosquito nets, exceeding the goal of $100,000 to sponsor 150 children and provide basic essentials.

Homes in Haiti (Haiti Transformed) :: Students funded 39 homes to be built in Haiti for displaced families, exceeding the goal of $54,000 for only 15 homes.

Bibles to the Unreached (Bibles Unbound) :: Students sent 31,554 Bibles to people in remote areas of Columbia, exceeding the goal of $20,000 to send 20,000 Bibles.

Freedom and Futures for Sex Slaves (Word Made Flesh) :: Students provided aftercare and vocational training for 22 girls trapped in the sex trade in Bolivia, exceeding the goal of $36,000 to provide restoration for 10 girls.

Stop Sex Trafficking (International Justice Mission) :: Students funded 29 rescue operations to bring girls out of sex slavery in Cebu, Philippines, exceeding the goal of $45,000 to fund 10 rescue operations.

Life-Saving Surgeries (CURE International) :: Students funded 141 surgeries to bring physical healing to babies in Uganda suffering from Hydrocephalus, or "water on the brain," exceeding the goal of $50,000 to fund 50 surgeries.

Homeless Men and Women in Atlanta :: Students provided over 18,400 towels and 88,000 pairs of socks for Atlanta area shelters.

"The fact that 22,000 university-aged young people would journey to Atlanta and gather for the name of Jesus is staggering in and of itself," says Louie Giglio. "But the fact that, as a result of His grace in their lives, they would pool their resources to the tune of $1.1 million to fund 10 local and global causes signifies a massive shift. The days of me and mine are fleeting, and the days of Christ and His are coming swiftly. Students believe in eternity, and they want to invest their gifts, passion and resources on the things that matter most in the end."
This year is also the first time Passion is holding two conferences in the same year in the U.S. The next event will be held in Dallas, TX on April 1-3 at the Fort Worth Convention Center. Just prior to this on March 8, sixstepsrecords will release its new LIVE recording Passion: Here For You featuring Passion 2011's worship leaders Chris Tomlin, David Crowder*Band, Charlie Hall, Matt Redman, Christy Nockels and Kristian Stanfill and more. The album will feature some familiar songs while also highlighting brand new music spurred from Passion 2011. This will be the follow-up record to the recently GRAMMY® nominated album Passion: Awakening that debuted at No. 15 on Billboard's Top 200 when it released in March 2010 selling over 25,000 units garnering the No. 1 on the Christian Albums Chart.
To register for the Dallas event and Passion 2012 in addition to finding more information on Passion, please visit http://268generation.com/.
###


[2020]
Jan. | Feb. | March | April | May | June | July | Aug. | Sept. | Oct. | Nov. | Dec.
[2019]
Jan. | Feb. | March | April | May | June | July | Aug. | Sept. | Oct. | Nov. | Dec.
[2001 - 2018]
Visit our complete MUSIC NEWS ARCHIVE