MARY MARY ANNOUNCE SOMETHING BIG
FOR MARCH 29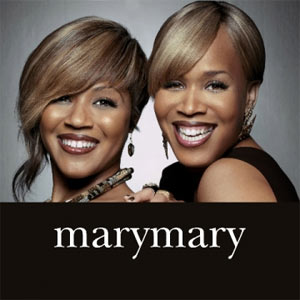 NEWS SOURCE: Spinhouse PR
February 2, 2011
(Mobile, Ala. – February 2, 2011) – Columbia Records/Integrity Music artists Mary Mary, announce the release of SOMETHING BIG on March 29, 2011, the long-awaited follow-up to The Sound, their multi-award winning, groundbreaking previous CD.
With powerful voices that soar, harmonies that chime and empowering lyrics written by the duo of sisters Erica and Tina Campbell, the songs on SOMETHING BIG are instantly memorable. From the lively lead single "Walking," to the unforgettable anthem "Never Wave My Flag" and title song "Something Big," Mary Mary is on course to deliver another blockbuster project to their loyal fan base as well as to attract new audiences.
As songwriters, Mary Mary are known for their honest, passionate lyrics that underscore an unwavering faith in God in the face of life's challenges. It is that faith that has connected with fans around the globe.
"In life, we all need to believe in our inner strength to endure the unexpected, to face challenges which confront us, and ultimately survive; we are living in difficult times, but there are infinite reasons to be hopeful," say Erica Campbell.
SOMETHING BIG's first single is "Walking." Billboard Magazine's recent review of the song stated "The song's synthesizer-accented, percolating rhythms are immediately arresting, and the mix is seamlessly strung together by the engaging vocal interplay…'Walking' is the pair's latest track to leave the listener with a bounce in his or her step."
Already a Top 10 hit at Billboard Gospel and Urban AC smash, "Walking" has just landed on the charts within weeks of its release to those formats. The song's video was directed by Luga Podesta, best known for shooting recent pop videos for Travie McCoy, Emily Osment and Hey Monday and will premiere late January.
SOMETHING BIG Track Listing:
1. Something Big
2. Something Bigger
3. Blind
4. It Is Well
5. Never Wave My Flag
6. Walking
7. Slow Walk
8. Survive
9. Are You Ready
10. Catch Me
11. Sitting With Me
12. Homecoming Glory
During their career, the multiple Dove and Stellar Award-winning Mary Mary have sold upwards of five million albums. In a remarkable and still ongoing story, Mary Mary's 2008 release, The Sound topped multiple charts and broke several records. A string of awards, including four Stellar Awards, two Grammy Awards, a Dove Award, an American Music Award, a BET Award, a Soul Train Award, and an NAACP Image Award, among others were racked up for the album.
Mary Mary have made it their life's mission to connect with people all over the world. "It's not about musical achievements, awards, charts and sales," say Tina Campbell. "That's not our guiding light. It's about helping people…we're committed to our message and purpose." Please visit www.mary-mary.com for an exclusive listen to Mary Mary's "Walking" and for additional information about SOMETHING BIG.
Fearless. That one word eloquently captures the creative spirit of groundbreaking duo Mary Mary. Ever since siblings Erica Campbell and Tina Campbell broke through in 2000 with the pioneering crossover hit "Shackles (Praise You)," the chart-topping sister act has never wavered from defying convention to fulfill its mission: sending uplifting messages through music and words that are relatable to everyone.
"It's about making music that touches both adults and young people," says Erica. Adds Tina, "It's about spreading good news for the world but doing it in the Mary Mary way: banging beats and melodies, intertwined voices and messages of hope."
An amazing ten years later, having earned 7 Stellar Awards, 7 Dove Awards, 3 Grammy Awards, 2 American Music Awards, an NAACP Image Award and a BET Award, the "Mary Mary way" sounds just as fresh and innovative on the duo's sixth album, the aptly titled SOMETHING BIG (My Block/Columbia/Sony Music; March 29, 2011). This vibrant outing, once again produced by longtime collaborator Warryn Campbell, picks up where the group's most recent mainstream success story, 2008's The Sound and its Grammy Award-winning smash hit "God in Me," left off.
Paving the way for SOMETHING BIG is the lively lead single "Walking." After only nine weeks at radio, the single has already marched its way into the top 10 at Urban AC and is steadily growing. In the vein of "God in Me," Mary Mary's 2009 Auto-Tune-laden R&B/hip-hop crossover hit, "Walking" bounces along with synthesizer-accented, percolating rhythms while delivering its uplifting message. "Some say walking takes too long/I say with walking you can't go wrong/I rock with the greatest," proclaim Tina and Erica.
Like Mary Mary's previous albums, SOMETHING BIG resonates with a fusion of sound (R&B, hip-hop, dance, pop, gospel and jazz) and empowering messages. But unlike earlier efforts, this album also features more collaborations with several talented new writers. A case in point is Jazz Nixon, who crafted the title track. Interpolating the Jackson 5's 1971 hit "Mama's Pearl," complemented by an edgy bass and drum mix and spirited hand claps, the track puts a contemporary spin on the traditional call and response song.
"We always go into the studio with the intention of, 'Hey, why not try this out," says Tina. "When we heard 'Something Big' the first time, it just screamed out to us. It worked tremendously with our chemistry."
Showcasing their signature crystalline harmonies, Mary Mary raises goosebumps on the striking "It Is Well." Produced by Warryn Campbell, the a cappella track quietly soars as the song confidently declares, "I've had more than my share of pain/Still I believe that all things will work out for my good/It is well with me."
"People ask us all the time whether we're gospel, inspirational or trying to go pop," says Erica. "Tina and I are artists whose music fits in so many other places. That's always been the leading force behind each of our albums. Knowing who we are, we know each album can be different from the next."
Born in Inglewood, CA to an evangelist/choir director mother and a youth minister father, Erica and Tina—and their six other siblings—grew up singing in church choirs. After a stint studying vocal performance at local El Camino College, Erica and Tina joined the lineup of traveling gospel shows and toured as backup singers for several R&B acts.
Three years later, songwriter/producer Warryn Campbell played a pivotal role in the sisters' career, helping them secure a song publishing deal with EMI. Soon thereafter, the pair began accumulating writing and performance credits on soundtracks and through songs recorded by various recording artists.
With their platinum-selling, Grammy-winning debut album, Thankful, Mary Mary hit a homerun, due in large part to the broad success of its first single, "Shackles (Praise You)," in 2000. Their sophomore follow-up, Incredible, was released in 2005 and was certified gold, before the duo's acclaimed holiday project, A Mary Mary Christmas, was released in 2006.
It is Mary Mary's The Sound (2008), however, that sparked Mary Mary's best mainstream success to date, bowing at No. 7 on the Billboard 200 and No. 2 on the publication's R&B/hip-hop chart, as well as garnering numerous awards for the album, and for its record-breaking single "God In Me."
Yet with their tremendous accomplishments, the sisters are quick to point out that they're driven by something far greater--"It's not about musical achievements, awards, charts and sales," says Erica. "That's not our guiding light. It's about connecting with people and offering them real hope…hope that, ultimately, changes lives."
"We're committed to our message and purpose," adds Tina. "Years later, we're still here; our fans are still with us and our audience is still growing. We're just so grateful to still have this opportunity."
# # #
For more info on Mary Mary, visit the JFH Artists Database.


[2022]
Jan. | Feb. | March | April | May | June | July | Aug. | Sept. | Oct. | Nov. | Dec.
[2021]
Jan. | Feb. | March | April | May | June | July | Aug. | Sept. | Oct. | Nov. | Dec.
[2001 - 2021]
Visit our complete MUSIC NEWS ARCHIVE