Circleslide Wishes You "Love Amazing" This Valentine's Day!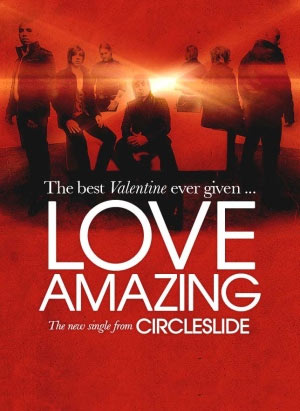 NEWS SOURCE: McCain & Co.
February 14, 2011
Nashville, Tenn. (February 14, 2011) - Critically acclaimed Christian pop/rock band Circleslide wants to share the ultimate gift of love this Valentine's Day — God's love for each of us. Their new single, "Love Amazing" from their current CD, Echoes of the Light on Save the City Records and Provident-Integrity Distribution, explores the way God loves us even when we feel unloved, left out, or at the end of our rope. To hear the song, click the link below.
"Circleslide is one of the most real bands I have ever had the opportunity to take to radio. Their music and ministry work hand in hand on a daily basis," says Chris Laney, V.P. of Digital Development, AC/Inspo National Promotion at Shamrock Media. "'Love Amazing,' their newest single, hit radio and got several immediate adds in week one."
"I haven't been this passionate about a song in a long time," he continues, "'Love Amazing' has personally moved me, and I am so passionate about taking it to radio! I really believe that this song can touch lives in ways that only God can supply."
"Love Amazing" is being spun on stations around the country, including WJTL (Lancaster, PA), WDJC (Birmingham, AL), KCVO (Camdenton, MO) WCVK (Bowling, Green KY) and WWIB (Chippewa Falls, WI).
About Circleslide:
Since the band's debut project, which landed them on Christianity Today's list of "Best New Artists," among other accolades, Circleslide — whose lineup includes frontman Gabe Martinez, lead guitarist Jonathan DeAnda, bassist Eric Vickers and drummer Lee Yoder — has toured unceasingly, refining their modern rock ruminations, while keeping their ministry agenda firmly in focus. In addition to shows with newsboys, tobyMac, MercyMe, Casting Crowns, Salvador, Jaci Velasquez and downhere, the guitar-driven band has headlined everything from clubs to churches and colleges, with plenty of youth camps and outreach events in between — all of which build off the group's Youth With A Mission beginnings.
The band was developing Echoes of the Light last spring when Nashville was hit with a devastating flood which destroyed Martinez's house, as well as all of the band's gear, instruments, PA and trailer. Circleslide's ordeal, and the season of spiritual reassurance which followed, directly inspired the band's recent songwriting. "We have a renewed realization that God has called us to this ministry, says Martinez. "Nothing's going to hold us back from spreading His word."
Circleslide's Echoes of the Light is available on Save the City Records and distributed through Provident-Integrity Distribution. For more information on Circleslide and Echoes of the Light, visit circleslide.net or savethecityrecords.com.
Click here to listen to Circleslide's "Love Amazing"
For more info on Circleslide, visit the JFH Artists Database.


[2022]
Jan. | Feb. | March | April | May | June | July | Aug. | Sept. | Oct. | Nov. | Dec.
[2021]
Jan. | Feb. | March | April | May | June | July | Aug. | Sept. | Oct. | Nov. | Dec.
[2001 - 2021]
Visit our complete MUSIC NEWS ARCHIVE