SONGS FOR ISRAEL:
NEW CD RELEASE OFFERS RICH NEW MUSICAL EXPERIENCE INSPIRED BY THE ANCIENT LAND JESUS WALKED
Musical Talents of Phil Keaggy, Randy Stonehill, Bob Bennett & Buck Storm Bring Collaborative New Creativity To Holy Land Experience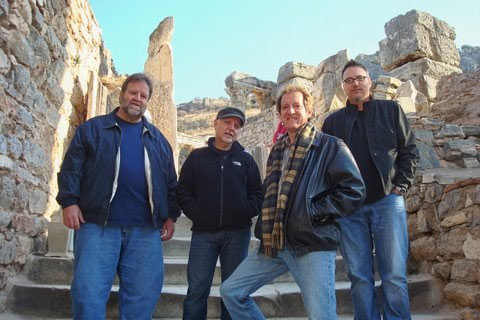 (Left to right) Bob Bennett, Phil Keaggy, Randy Stonehill and Buck Storm followed the footsteps of the apostles in the Holy Land as inspiration for "Songs For Israel."
NEWS SOURCE: MorningStar PR
February 14, 2011
(Nashville, Tennessee) –February 14, 2011 –It began in 2008 as a 'magnificent experiment' of combining the giftings of four recognized Christian artists and songwriters on a visit to Israel and other Biblical locales for the purpose of writing new music drawn from the inspiration and unique brotherhood of together walking the ancient lands Jesus walked.
The February 15th release of Songs For Israel (Candlelight Records) completes the journey.
Songs For Israel contains twelve inspired new songs birthed from the Holy Land experience—both collaborative efforts and solo writes—by the participating artists –Phil Keaggy, Randy Stonehill, Songs For Israel, and Songs For Israel. Their blending of artistry and inspiration remarkably succeeds in capturing the heart of the ancient land with a fresh wind of spirit and sounds.
The CD project began as a labor of love undertaken by Candlelight Christian Fellowship and its pastor, Paul Van Noy, in alliance with Compass International Ministries, (both based in Coeur d'Alene, Idaho) who led a diverse group of 150 Christian pilgrims on the ambitious re-visit to re-trace the footsteps on the history laden streets of biblical significance -- Galilee, Jerusalem, Ephesus and Patmos.
Each of the songwriters involved in Songs For Israel brought a wealth of experience and skill to the Holy Land venture. Two of them—Phil Keaggy and Randy Stonehill—have written and recorded hundreds of songs that help lay the musical foundation of the Jesus Movement in the early 1970's and creatively pioneered the early days of contemporary Christian Music as we know it today.
Bob Bennett represents a second wave of creative talent in Christian music—breaking onto the national scene as a singer/songwriter in the 1980's and deservedly earning a reputation as a writer of poetic depth and spiritual honesty.
The fourth member of the ensemble cast—Buck Storm—represents a new generation of Christian songwriting, fresh with the perspective of reaching a new generation through musical ministry. Buck has overseen the corporate production of the Songs For Israel project, assembling music and mixing at studios in Couer d'Alene.
With the challenge of four busy individual touring schedules, examples of long distance engineering feats are many-- including vocals and guitar on the track Broken Places being recorded by Randy Stonehill in Neuvecalle, France. Phil Keaggy's guitar passes were added with no impediment by the thousand miles of separation and final vocal tracks for The Lord Bless Thee came from the four principal artists from points of origin literally around the world. Through the miracle of modern recording technology by internet the finished tracks of the 'magnificent experiment' that began in the Holy Land became flawlessly incorporated into a project that holds the promise of being globally embraced.
Woven unmistakably too into the beauty of Songs For Israel are the collaborate threads of four unique brushstrokes seamlessly painting an extravagant portrait of the Israel of God's heart and eternal covenant.
Track List:
Jerusalem
House of the Lord
Eyes Upon The Land
Secret Name of God
John The Revelator
God of All Creation
Deliver Us, Deliver Me
Exiled
The Garden
Psalm 121
Broken Places
The Lord Bless Thee
Songs For Israel is available online: www.www.candlelightfellowship.org
The CD is also available online through leading digital retails outlets: iTunes, Amazon, eMusic, Rhapsody, Napster, MySpace Music, Spotify, Liquid Digital, Verizon V-Cast, Shockhound, Nokia, Zune, MediaNet, Tradebit, GreatindieMusic, Thumbplay.
About Phil Keaggy: A guitar virtuoso of unparalleled skill, musicians across genre lines and oceans has been influenced by Phil Keaggy's musicianship. Equally influential have been his beautifully penned insights through words and music. From the formation of his first band Glass Harp in 1970 through today, he continues to be an in-demand concert artist. Along the way, Phil's breakthrough albums Love Broke Through and The Master & The Musician attracted growing audiences in the early era Christian music industry of the late 70's and early 80's. He won his first Dove Award in 1988 for the critically acclaimed instrumental album The Wind & The Wheat, followed by a second Dove in '92 for his Celtic influenced project, Beyond Nature. He has since virtually dominated the "Instrumental Record" category—winning Dove Awards for Invention, Acoustic Sketches, Majesty & Wonder, and most recently for Lights of Madrid. He has been repeatedly been named among the world's top fingerstyle guitarists by Guitar Player Magazine. In demand when not on tour for his creative input as both a session producer and studio musician, in the midst of acclaim, Phil Keaggy continues to feel called to deliver the gospel through his giftings. ( www.philkeaggy.com)
About Randy Stonehill: A premier artist in the foundational building of contemporary Christian music, Randy Stonehill has a career discography spanning over thirty years of lyrics and music of depth and humor that's connected with broad audiences on both the spiritual and entertainment levels. His Welcome To Paradise album in 1976 is considered a groundbreaking project in Christian music, setting the stage for a string of commercially and critically acclaimed projects that included: Equator, Celebrate This Heartbeat, Love Beyond Reason, and Return To Paradise. As a gifted singer-songwriter, his ability to continually see the world through relevantly hip spiritual eyes has made Randy Stonehill a true statesman of the contemporary Christian music art form he pioneered and continues to influence. Each new generation of listeners seems to find reason to celebrate the spark of spiritual energy and imagination that lights Randy Stonehill's timeless creativity. ( www.randystonehill.com)
About Bob Bennett: Bob Bennett's connectivity with his unique gift of music and lyric offers proof positive that God both loves folk music and has a rich sense of humor! His influences inside the realm of Christian music have included the release of his 1982 "Album of the Year" project Matters of the Heart, ranked among the Top 20 Contemporary Christian albums of all time. Extensively touring with artists such as Amy Grant and Michael Card, Bob built a major career platform with projects such as Non Fiction, and Lord Of The Past, (which birthed his first #1 single) and Songs From Bright Avenue. His second number one chart single, Yours Alone opened the 90's and a decade of self discovery that produced some of his deepest and most personal communication through music. His core spiritual philosophy in songwriting "that our lives are intricately woven with the sacred and the human" has consistently continued to keep his music relevant and fresh. ( www.bob-bennett.com)
About Buck Storm: Buck Storm is a new generation of creative worshiper who combines a strong passion for reaching people for Jesus with his natural giftings as a singer, songwriter, and worship leader. A writer of insightful depth, he broke onto the music scene with the success of his critically acclaimed debut album, Goodbye From Venus in 1998 and has since logged a half dozen project releases that have gain international attention. His music has taken him to perform both on major stages and in larger church venues as well as to reach the all-too-often-forgotten in soup kitchens and prisons. When not travelling on tour, he serves as Pastor of Arts at Candlelight Christian Fellowship in Coeur d'Alene, Idaho. For the Songs For Israel project, Buck provided the creative glue that began as a vision of four gifted writers to find inspiration in the Holy Land and transformed that dream into a finished collaborative work in studio. He is passionate about this project, Israel and God's continued story of His Chosen People. ( www.buckstorm.com)
###


[2022]
Jan. | Feb. | March | April | May | June | July | Aug. | Sept. | Oct. | Nov. | Dec.
[2021]
Jan. | Feb. | March | April | May | June | July | Aug. | Sept. | Oct. | Nov. | Dec.
[2001 - 2021]
Visit our complete MUSIC NEWS ARCHIVE