ISRAEL HOUGHTON AND JOHN MARK McMILLAN EACH HONORED WITH 3 DOVE AWARD NOMINATIONS
--INTEGRITY MUSIC EARNS 14 TOTAL NOMINATIONS--

--Carlos Whittaker Helps Announce the Nominees at Fox Theatre in Atlanta--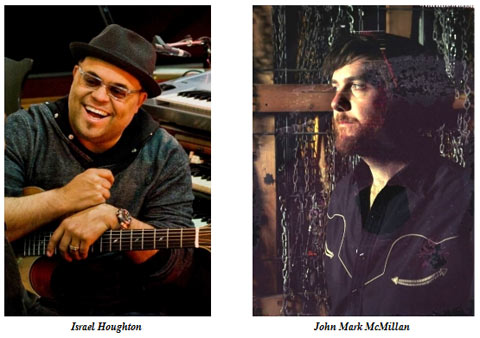 NEWS SOURCE: Spinhouse PR
February 17, 2011
MOBILE, Ala. – February 16, 2011 – Nominations were announced today for the 42nd Annual GMA Dove Awards with Integrity Music's signed and distributed artists and songwriters receiving 14 nominations, including three each for Israel Houghton and John Mark McMillan.
The Gospel Music Association (GMA) announced the nominations today from the Grand Salon of the historic Fox Theatre in Atlanta. Integrity's own Carlos Whittaker was among the artists participating in the press conference.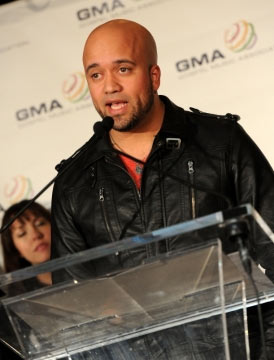 Carlos Whittaker announced nominations at the Atlanta press conference.
Photo by Rick Diamond/WireImage
Integrity Music's nominations include:
Israel Houghton
Male Vocalist
Contemporary Gospel Recorded Song for "You Hold My World"
Contemporary Gospel Album for Love God. Love People.
John Mark McMillan
New Artist
Worship Song for "How He Loves"
Rock/Contemporary Album for The Medicine
Don Poythress
Inspirational Recorded Song for writing "Joseph" (with Tony Wood)
Paul Baloche
Worship Song for writing "How Great Is The Love" (with Meredith Andrews, Jacob Sooter)
Shout Praises Kids - Today is the Day
Children's Music Album
Cuan Gran Amor-En Vivo Miami, Ingrid Rosario
Spanish Language Album
Devocion, Danilo Montero
Spanish Language Album
Mi Declaracion, Hector Sotelo
Spanish Language Album
Annette Oden
Musical for "Just Run"
Jeff Sandstrom/Annette Oden
Youth/Children's Musical for "Get to the Manger"
Fresh from winning his fourth straight GRAMMY Award on Sunday, Israel Hougthon's three Dove nominations include Male Vocalist of the Year, Contemporary Gospel Recorded Song of the Year and Contemporary Gospel Album of the Year, recognizing him for his critically and commercially successful Love God. Love People. Love God. Love People. released in August on Integrity Music/Columbia Records and has garnered praise from critics reaching out to a diverse variety of music fans nationally and beyond. The album features the musically masterful energy that has become synonymous with Houghton recordings, and includes special guest appearances by Kirk Franklin, Fred Hammond and Take 6's Claude V. McKnight, III, Mark Kibble and Joey Kibble, and was recorded and engineered at Abbey Road Studios.
The eight-time Dove Award winning Houghton now hits the road for the Love Revolution Tour, which will visit more than 20 cities in February and March. Tour dates can be found at www.israelhoughton.net.
John Mark McMillan is new to Dove Award nominations and is recognized as such with a New Artist of the Year nod as well as nominations for Worship Song of the Year and Rock/Contemporary Album of the Year on behalf of his Integrity debut The Medicine.
Heart-on-sleeves rock is what North Carolinian McMillan does best and it's his bluesy voice and well-crafted lyrics that have brought him heightened popularity and universal critical acclaim with The Medicine, an intriguing, musically compelling and intensely in-depth project which expresses McMillan's soul and personal life journey. Through his lyrics, McMillan takes listeners through a story of emotions. Poetic metaphors and vivid imagery thread themselves through the album binding together a universal theme of brokenness and love's power over the weak and the wounded.
McMillan embarks on his national concert tour "A Mighty Raucous Evening" in March. Complete information about the dates and tickets can be found at www.thejohnmark.com or at www.facebook.com/therukusroom.
The 42nd EST Annual GMA Dove Awards will be held on Wednesday, April 20, 2010 at 8:00 p.m.at Atlanta's historic Fox Theatre and will be t elevised nationwide on GMC (www.watchgmctv.com), on Easter Sunday, April 24, 2011 from 7-9p.m. ESTThe evening will be full of rare and exciting performances showcasing the genre's hottest and most diverse artists.
# # #


[2022]
Jan. | Feb. | March | April | May | June | July | Aug. | Sept. | Oct. | Nov. | Dec.
[2021]
Jan. | Feb. | March | April | May | June | July | Aug. | Sept. | Oct. | Nov. | Dec.
[2001 - 2021]
Visit our complete MUSIC NEWS ARCHIVE