GRAMMY NOMINEE TOBYMAC A LEADER IN
DOVE AWARD NOMINATIONS, WRAPS PEBBLE BEACH PRO-AM
INVITES FANS TO JOIN TEAM TOBYMAC IN
POWERED BY HOPE HALF MARATHON TEAM
NEWS SOURCE: The M Collective
February 18, 2011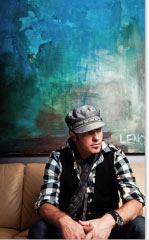 NASHVILLE, TN... 2/18/2011....Recent Grammy nominee and multi-platinum recording artist TobyMac has been named a leader in nominations for the 42nd Annual Dove Awards. Held yesterday in Atlanta, TobyMac garnered a total of six nominations including Best Artist, Song of the Year ("Get Back Up"), Rock Recorded Song of the Year ("Showstopper"), Rock/Contemporary Recorded Song of the Year ("Tonight"), Pop/Contemporary Recorded Song of the Year ("Get Back Up") and Rock/Contemporary Album of the Year (TONIGHT). The 42nd Annual Dove Awards show will take place on Wednesday, April 20, 2011 at the Fox Theatre in Atlanta, Georgia at 8:00 p.m. EST. The awards will be broadcast on GMC, America's favorite network for uplifting music and entertainment, on Easter Sunday, April 24, 2011 at 7:00 p.m. EST.
Known for his dedication to the craft, in commenting on the nominations to The Tennessean, TobyMac stated, "These are the people that know you. They go to your shows, and they're around the studio when you're making your records. I've been doing this for a minute, and the last thing I want to do is (phone) it in. I want to be passionate about single hi-hat, kick drum, bassline, guitar riff, melody and lyric on the record…it tells me that the guys around me can see that I do that. That's quite an honor."
Just last week the celebrity field for the 2011 AT&T Pebble Beach National ProAm was joined for the first time by TobyMac, he and his Pro Kevin Steelman placed 27th out of 150 teams. Leading PGA Tour pros were teamed with celebrity amateurs including TobyMac, as well as ESP sportscaster Chris Berman, actor Kevin Costner, NCIS: Los Angeles star Chris O'Donnell, Josh Duhamel and more. Played on the Pebble Beach Golf Links, Spyglass Hill Golf Course and Monterey Peninsula Country Club's Shore Course, Net proceeds from the ProAm go to support a wide variety of charitable organizations.
Currently in the last week of his Winter Wonder Slam 2011 tour, TobyMac is now gearing up for the annual Team TobyMac Powered by Hope Half Marathon Team. Held on April 30, 2011 during the Country Music 1/2 Marathon in Nashville, fans that join Team TobyMac, which is part of the larger Powered by Hope half marathon team, will get to run with him and help support the cause of diverse-city at the same time. True to all TobyMac represents, Powered by Hope/Team TobyMac is on a mission to turn racial division, class segregation, and spiritual poverty in to community, possibility, and vision, raising funds for New Hope Academy–a school that is igniting hope and transforming hearts. In 2010 they raised over $100,000 for New Hope.
Limited to 150 team members, registration closes on March 3, so fans should register now. Team TobyMac members will get exclusive benefits, including:
Admission to private VIP Tobymac Concert for you and a guest, featuring special surprise guest
Meet TobyMac and his band at the VIP Concert
Admission to the exclusive pre-race Team TobyMac Pasta Party for you and a guest
VIP Team TobyMac gift bag, full of signature Team TobyMac Gear, designed by TobyMac himself
Limited edition team jersey to wear on race day
Access to VIP Powered by Hope team tent on race day
Have your individual photo taken with TobyMac at the team Pasta Party
Chance to attend a private luncheon with TobyMac on April 29, 2011
Tour New Hope Academy, the cause behind Powered by Hope
To Find out more about TeamTobyMac and Powered by Hope, please visit: http://whatpowersyou.org/team-toby/

###

About TobyMac:
With over 10 million in career sales, TobyMac's first three solo projects received RIAA Gold status and GRAMMY® nominations, his live CD/DVD took home a GRAMMY® award in 2009, and this year the much-celebrated and acclaimed artist celebrated his seventh consecutive GRAMMY® nomination for his latest album TONIGHT that received a nod for "Best Pop/Contemporary Gospel Album." The GRAMMY ® nominated single from the hit record "City On Our Knees" track topped the sales and radio charts faster than any of his previous singles, spending 8 weeks at #1 on the Christian Audience Chart. TONIGHT also garnered him the highest sales debut of his solo career with over 78,000 units and a No. 6 Billboard Top 200 debut. The album was also named as iTunes® Best Christian Album of 2010.

Along with sold out tour dates, back-to-back radio hits and being named the GMA Dove Award's 2008 Artist of the Year and recently nominated for Favorite Contemporary Inspirational Artist at the 2010 American Music Awards, the title-track of TobyMac's latest album was also chosen as the theme song for MLB's 30 Clubs in 30 Days Spring Training Series and featured on the Golf Channel. In addition, his music has been heard in major motion pictures such as "Hancock," "TRANSPORTER 2," while also being featured on Fox sports, The NFL network, being selected as the theme song for Fox College Football, WWE's Fatal 4-Way Pay-Per-View and "Showstopper" was featured in ESPN's ESPY Award Show and most recently chosen to launch the new season of CBS hit television show CSI: NY. For more information on TobyMac, go to: http://www.tobymac.com

For more info on TobyMac, visit the JFH Artists Database.


[2022]
Jan. | Feb. | March | April | May | June | July | Aug. | Sept. | Oct. | Nov. | Dec.
[2021]
Jan. | Feb. | March | April | May | June | July | Aug. | Sept. | Oct. | Nov. | Dec.
[2001 - 2021]
Visit our complete MUSIC NEWS ARCHIVE