FFH ANNOUNCES OFFICIAL LAUNCH OF 62RECORDS
First Artist Signing WatersEdge to Release National Debut This Summer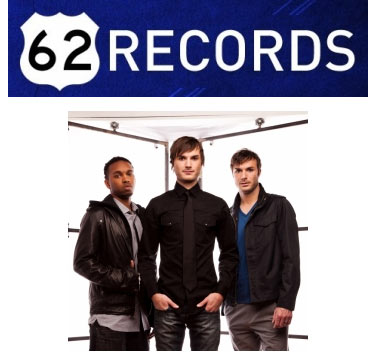 NEWS SOURCE: Savvy Media
February 24, 2011
(NASHVILLE, Tenn.) Feb. 24, 2011—Jeromy and Jennifer Deibler of the award-winning pop group FFH announce the official launch of 62Records, a label and production company dedicated to helping new artists broaden their impact. 62Records' first signing, central Pennsylvania-based pop band WatersEdge, will release its debut album this summer.
In 2007, after returning home from six months in Africa with his family, FFH frontman Jeromy Deibler began recording and producing music with a new sense of purpose under his own production label, 62Records. 62Records originally formed to serve FFH only, but Deibler has recently felt led to sign other artists.
Deibler comments, "I didn't expect to be starting a label at this point in my life, but one thing I've learned over the past few years is that no one, especially me, knows what the future holds. My hope is that 62Records can help our artists broaden their impact and increase their audience. As always, I'm thankful for the rare opportunity to impact peoples' way of life with music."
62Records' initial signing is 3-man, reggae/soul/pop outfit WatersEdge. "I met WatersEdge while playing a concert in Pennsylvania, and we struck up an immediate friendship," recalls Deibler. "That friendship opened the door for me to produce their forthcoming record, and in the process of recording, I felt led to offer them our first artist contract."
"We are so excited to be taking the next step in our music career by signing with 62Records," says Caleb Fritz of WatersEdge." Jeromy Deibler has been a person of incredible vision and experience, and it has been a true blessing working with him."
The band's full-length debut will release late summer with its first national single impacting radio this spring. The project, and all 62Records releases, will be distributed by Provident-Integrity Distribution. For more information, visit www.62records.com.
About FFH
Pop vocal group FFH has released twelve projects, sold more than two million albums, and garnered 24 radio hits, including seven No. 1 singles and ten Top 5 radio singles. In addition to multiple Dove Award nominations, FFH has been recognized at the Inspirational Life Awards as well as the Billboard Music Video Awards. The group has performed more than 1000 dates since 2000 and continues to be a favorite on the tour circuit. FFH is also known for its work with the "Make-A-Wish Foundation," Kurt Warner's "First Things First Foundation," and for its contributions to national ad campaigns for Coca Cola and IBM. For more information on FFH, visit www.ffh.net or www.myspace.com/ffhworship.
About WatersEdge
WatersEdge, named after the account of Joshua crossing the Jordan River in Joshua 3:15, comprises Caleb Fritz (guitar, vocals), Joshua Fritz (keys, vocals), and Emmanuel Graham (drums, backing vocals). Originally formed in the fall of 2009, the band began playing local churches before taking its unique blend of sounds to venues across Pennsylviania, touring more than 80 dates a year. In July 2010, WatersEdge was a finalist in the Gospel Music Association's IMMERSE songwriting competition with its song "True Religion," to be featured on the group's forthcoming project. For more information on WatersEdge, visit: www.watersedgemusic.com. Also, follow the band on Twitter at www.twitter.com/watersedgemusic.
###
For more info on FFH, visit the JFH Artists Database.


[2022]
Jan. | Feb. | March | April | May | June | July | Aug. | Sept. | Oct. | Nov. | Dec.
[2021]
Jan. | Feb. | March | April | May | June | July | Aug. | Sept. | Oct. | Nov. | Dec.
[2001 - 2021]
Visit our complete MUSIC NEWS ARCHIVE