Maranatha! Music Releases Top 25 Cantos de Alabanza 2012 Edition available May 3, 2011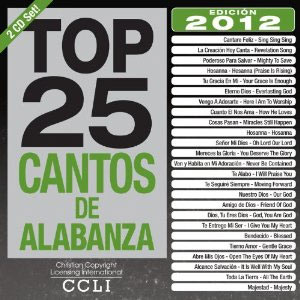 NEWS SOURCE: TKO Marketing
April 1, 2011
Los Angeles, CA, (April 1, 2011) – Maranatha! Music announces the upcoming release of Top 25 Cantos de Alabanza 2012 Edition, which is now available for pre-sale online at Maranathamusic.com and everywhere on May 3, 2011.
Top 25 Cantos de Alabanza 2012 Edition (Top 25 New Praise Songs 2012) is filled with 25 popular songs in Spanish for Latin Christians. The CD features current songs sung in Spanish, multi-cultural churches across the United States and Latin America and is produced by Worship Leader magazine's SongDISCovery A& R Director, Phil Sillas (Natalie Grant, Plus One). Featured vocalists/worship leaders include Lily Cruz, Eric Lopez, Harry Samuel, Mark Gutierrez, Lisa Lopez, Josh Lopez and Tony Lebron. Featured musicians include Dan Needham (CeCe Winans), Javier Solis (Israel Houghton), Ramon Stagnaro (Josh Grobin), Tim Stewart (American Idol), Alex Nifong (Tim Hughes) and many more.
The Top 25 brand is Maranatha! Music's best selling original series with more than 1.75 million copies sold to date. The series features titles in multiple genres including Gospel, Kids and Praise & Worship.
Maranatha! Music is a pioneer in praise and worship music resource publishing. Best known for the Praise Series, Praise Band Series, The Invitation CD and Top 25 Series; Maranatha! Music has sold more than 30 million records worldwide. For more information, visit www.maranathamusic.com.
Track Listing includes:

Poderoso Para Salvar-Mighty To Save
La Creacion Hoy Canta-Revelation Song
Tu Gracia En Mi-Your Grace Is Enough
Vengo A Adorarte-Here I Am To Worship
Eterno Dios-Everlasting God
Hosanna-Hosanna
Nuestro Dios-Our God
Cuanto El Nos Ama-How He Loves
Hosanna-Hosanna (Praise Is Rising)
Amigo de Dios-Friend Of God
Cantare Feliz-Sing Sing Sing
Abre Mis Ojos-Open The Eyes Of My Heart Lord
Alcance Salvacion-It Is Well With My Soul
Majestad-Majesty
Te Seguire Siempre-Moving Forward
Te Entrego Mi Ser-I Give You My Heart
Toda la Tierra-All The Earth
Mereces la Gloria-You Deserve The Glory
Te Alabo-I Will Praise You
Dios, Tu Eres Dios-God You Are God
Cosas Pasan-Miracles Still Happen
Bendecido-Blessed
Senor Mi Dios-Oh Lord Our Lord
Tierno Amor-Gentle Grace
Ven y Habita en Mi Adoracion-Never Be Contained
You can pre-order Top 25 Cantos de Alabanza 2012 Edition on Amazon.com now!


[2022]
Jan. | Feb. | March | April | May | June | July | Aug. | Sept. | Oct. | Nov. | Dec.
[2021]
Jan. | Feb. | March | April | May | June | July | Aug. | Sept. | Oct. | Nov. | Dec.
[2001 - 2021]
Visit our complete MUSIC NEWS ARCHIVE