HILLSONG UNITED IS POLLSTAR MAGAZINE'S
"HOTSTAR" COVER FEATURE
Cover Follows Sold Out North American Tour Dates,
Band's Fastest Selling Album Ever, AFTERMATH

Summer/Fall 2011 North American Tour Announced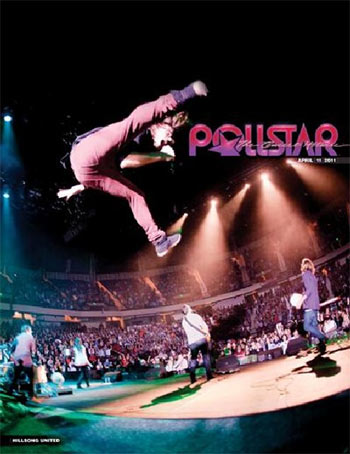 NEWS SOURCE: Hoganson Media
April 4, 2011
Modern worship band Hillsong UNITED is featured as the current "Hotstar" cover feature of touring industry trade magazine Pollstar. Of the more than 11,000 artists on Pollstar's radar, the publication chose UNITED to be the cover of its April 11 issue following the success of the band's North American "Aftermath" tour. Logging 10 sold out events at major venues coast-to-coast and becoming the first Christian artist to ever sell out Los Angeles's Staples Center, Hillsong UNITED's tour launched following the release of its 11th full-length album and second ever studio recording, AFTERMATH, which topped retail sales charts internationally and remains the band's fastest selling album ever.
In addition to the Staples Center, major market venues that sold out along the tour include Seattle's ShoWare Center, San Francisco's Warfied Theatre, Sacramento's Memorial Auditorium, Dallas's Music Hall, Houston's Berry Center, Atlanta's Gwinnett Center, New York City's Hammerstein Ballroom and two back-to-back sold out events the same night at Boston's Orpheum Theatre. Partially driving the success in each market were Hillsong UNITED's more than 1.75 million friends at www.facebook.com/hillsongunited. Plans for a significant summer/fall 2011 North American tour to begin in August will be announced soon.
"Christian music collective Hillsong UNITED from Sydney, Australia, has visited the U.S. several times over the past three years, drawing crowds from 3,000 to 6,000 wherever they went. But it wasn't until they became the first Christian artist to sell out the Staples Center that the band caught some people's attention," notes Pollstar.
For the full Pollstar feature, click this link: http://www.pollstar.com/blogs/hotstar/archive_/2011/04/01/hotstar199084.aspx.
Hillsong UNITED claimed it's highest sales charting success to date with AFTERMATH. Landing at No. 17 on the Billboard Top 200, becoming Hillsong Music's 10th Top 10 album in Australia and hitting the top 10 on iTunes in numerous countries around the world, Hillsong UNITED's AFTERMATH debut sales were 55% ahead of its last, critically acclaimed album, A Cross the Earth: Tear Down The Walls. Seven weeks later, AFTERMATH remains the band's fastest selling album ever as its first single from AFTERMATH, "Search My Heart," a pulsing, urgent cry to be used by God for His – not simply our own – purposes, has become the band's most successful radio single ever. Hitting the Top 20 on Billboard's national Christian radio audience chart, the single continues to gather radio adds and has been heard by millions of people nationwide.
AFTERMATH is also the first new album from Hillsong UNITED in over two years, and offers an unabashedly creative collection of new songs that celebrates the One who saves, redeems and is the true representation of Hope in a world where hopelessness abounds.
For more information, please visit: www.hillsongunited.com and www.facebook.com/hillsongunited.
# # #
For more info on Hillsong UNITED, visit the JFH Artists Database.


[2022]
Jan. | Feb. | March | April | May | June | July | Aug. | Sept. | Oct. | Nov. | Dec.
[2021]
Jan. | Feb. | March | April | May | June | July | Aug. | Sept. | Oct. | Nov. | Dec.
[2001 - 2021]
Visit our complete MUSIC NEWS ARCHIVE