NEARLY 10,000 UNIVERSITY STUDENTS GATHER
FOR FT. WORTH PASSION CONFERENCE
ATTENDEES GIVE $225,000 TOWARD SCRIPTURE TRANSLATION
THROUGH DO SOMETHING NOW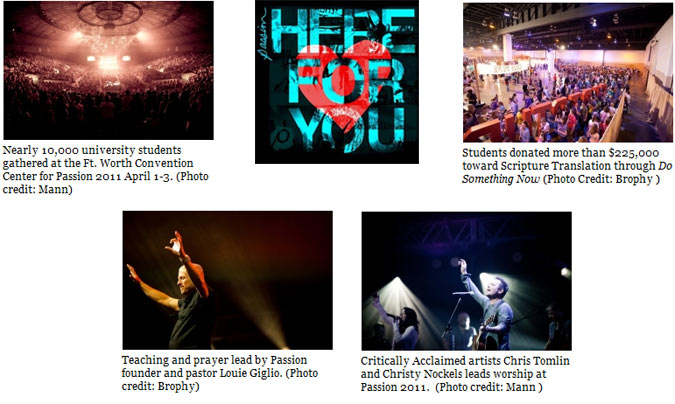 NEWS SOURCE: The M Collective
April 7, 2011
(Nashville, Tenn) April 7, 2011— Coming off the heels of more than 22,000 university students gathering in Atlanta this past January, Passion 2011 opened Friday at the Fort Worth Convention Center in downtown Ft. Worth with 10,000 students and leaders in attendance representing 13 countries and 47 states.
Teaching and leading the prayer gathering was Passion founder and Pastor Louie Giglio as well as renowned speakers John Piper, Francis Chan. Leading worship were the critically acclaimed artists Chris Tomlin, David Crowder*Band, Charlie Hall, Christy Nockels and Kristian Stanfill, with special guest LeCrae who also performed a late night concert Friday night. The massive crowd sung songs from the latest release Passion: Here For You, which debuted at No. 1 on the Christian Albums Chart and No. 11 on Billboard's Top 200, the greatest first week sales on a Passion album to date. Also performed in Ft. Worth was "Waiting Here For You" sung by Christy Nockels, the latest single featured on Passion: Here For You.
Passion 2011 Ft. Worth challenged students in a massive way to leverage their lives for the glory of God. As part of that challenge, Passion founder Louie Giglio pointed students toward a people group found in Mali, Africa with no access to Biblical scriptures.
Prior to the start of Passion 2011, Do Something Now leaders set a goal of raising $220,350 toward the translation of 90 Biblical stories in the heart language of the people in Mali over the next 5 years. By day three, attendees had given $227,418 to fully fund the translation project.
"They don't have one verse in their heart language," says Giglio. "And what an amazing thought that in the unfolding of history, God chose us to put Scripture in the hands of 500,000 people in Mali."
Students donated more than 5,700 towels and 31,200 socks to the homeless community in Ft. Worth and $14,091 to purchase and send mosquito nets to people in Africa.
Putting faith into action, Giglio gave the crowd the opportunity to be the first people on the planet to hear about the latest cause at Do Something Now: www.Haiti-Rising.com.
Over the next 60 days, the students and leaders that attended Passion 2011 in Ft. Worth have been given the charge to spread word about a new endeavor – helping remove the tons of rubble left in Haiti after the devastation left by the earthquake so that the country can begin the rebuilding process. For more information, visit www.dosomethingnow.com.
For more information about Passion Conferences, visit http://268generation.com.
###
About The Passion Movement:
The Passion Movement and the messages of founder Louie Giglio have marked the lives of millions of people around the globe, calling people everywhere to live for the glory of God. Focused on the collegiate age group - yet spilling over to people of all ages - Passion exists to unite students for spiritual awakening in this generation. From its inception, the movement of Passion has birthed new anthems of worship, influencing countless churches and helping to define the current worship climate and establish artists Chris Tomlin, David Crowder*Band, Charlie Hall, Matt Redman, Christy Nockels, Kristian Stanfill and Passion. For more information please visit http://268generation.com
For more info on Passion, visit the JFH Artists Database.


[2022]
Jan. | Feb. | March | April | May | June | July | Aug. | Sept. | Oct. | Nov. | Dec.
[2021]
Jan. | Feb. | March | April | May | June | July | Aug. | Sept. | Oct. | Nov. | Dec.
[2001 - 2021]
Visit our complete MUSIC NEWS ARCHIVE