Worthy Publishing and EMI Christian Music Group
Announce Unprecedented Distribution Partnership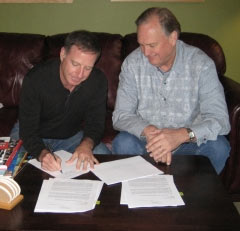 Bill Hearn and Byron Williamson
NEWS SOURCE: Spinhouse
April 11, 2011
BRENTWOOD, Tenn. – April 12, 2011 – EMI Christian Music Group and Worthy Publishing have signed a long-term fulfillment and retail distribution agreement, according to Byron Williamson, President and CEO of Worthy, and Bill Hearn, President and CEO of EMI CMG.
Under the new agreement EMI CMG will provide fulfillment services to all physical retail channels as well as sales and retail marketing support to the independent Christian retail channel. Worthy will directly manage sales representation to all national accounts, including Barnes & Noble, LifeWay, Books-A-Million, CBD, Target, Walmart, Family Christian Stores, Mardel, Amazon, and all international and digital accounts.
Worthy's launch was announced in January by Williamson, who was formerly president of Word Publishing and the Thomas Nelson/Word Publishing Group. Williamson also founded Integrity Publishers. He has published such authors as Beth Moore, Max Lucado, Sarah Young, David Jeremiah, Emerson Eggerichs, Jerry Jenkins, and Newt Gingrich.
Williamson said, "With the combined strength of our experienced book publishing team and EMI CMG's stellar reputation for excellence in the music business and customer service, this alliance creates an all-encompassing Christian media platform for books, music, and video – the first of its kind in the industry."
The inaugural list from this unprecedented partnership between EMI CMG and Worthy will release in the third quarter of 2011, and includes the following titles:
Charles Colson's The Sky Is Not Falling (September 2011) delivers an insightful yet optimistic vision of our culture's future, despite trends toward overwhelming secularization.


Stephen Arterburn, author of the three million copy bestseller Every Man's Battle, pens a compelling new work, Walking into Walls (August 2011). Arterburn addresses the ve enormous blind spots that block God's work in almost every person and how to overcome them. Permanently.


Belieber! Fame, Faith and the Heart of Justin Bieber (September 2011) is written by Cathleen Falsani, an award-winning religion journalist and former columnist for the Chicago Sun-Times who specializes in the intersection of faith and popular culture. Justin Bieber is a teenage musical phenomenon who is grounded by a humble faith in Jesus. Listening to the voice of his generation, this book explores the soul and soulful faith behind his famous hair and screaming fans.


Renowned songwriter and author Gloria Gaither presents A Homecoming Christmas, Making Memories of Comfort and Joy (September 2011), a beautiful four-color book that will add spice to the holiday season. "Our company was founded on the idea of creating a platform to support and develop communicators of the gospel," said Hearn. "We have established a formidable track record in doing that with both music and video. Adding books by world-class authors writing on compelling topics is a natural extension for us. We believe this partnership with Worthy will improve our ability to effectively serve Christian retailers and will make us a stronger distribution company for our labels, film studios, and other business partners."
"Having managed book publishing in the context of Word Entertainment and later Integrity Music," Williamson observed, "I fully understand the strategic value of partnering books and music. We could not be more excited about our alliance with Bill's team. In fact, we are already imagining other great opportunities together."
ABOUT WORTHY PUBLISHING (www.worthypublishing.com)
Worthy Publishing, a division of Worthy Media, Inc., is a privately-held company whose mission is helping people experience the heart of God. Worthy is an independent voice in Christian publishing and manages all company activities – editorial, marketing, publicity, sales, and distribution – from its home offices in Brentwood, TN. Worthy focuses on a boutique list of new books each year, crossing a broad spectrum of genres, including fiction, Bible study, current events, devotional, biography, leadership, specialized Bibles, spiritual and personal growth, as well as select children's titles. The executive team includes Rob Birkhead as Sr. Vice President of Marketing; Dale Wilstermann, Sr. Vice President of Sales; Jeana Ledbetter, Vice President of Planning and Author Relations; and David Howell, Sr. Vice President of Finance & Operations.
ABOUT EMI CMG DISTRIBUTION (www.emicmg.com)
EMI CMG Distribution was founded in 1994 to serve as the main distribution outlet for EMI CMG's owned and distributed labels to the US Christian and general retail marketplace, and the international Christian marketplace. Since this distribution division was launched, EMI CMG has had more charting titles annually on Billboard's Top Christian charts than any other Christian distributor and has been named Billboard Magazine's Top Christian Music Distributor 10 times since 1995. In addition to distributing EMI Christian Music Group's fully-owned labels, which include Sparrow, ForeFront, and Credential imprints, as well as EMI Gospel and Worship Together, EMI CMG Distribution has exclusive distribution agreements with BEC/Tooth & Nail Records, Centricity Records, Gaither Music Group, Green Hill Productions, Hal Leonard, Inpop, Isaiah 61, Hillsong, Kingsway Music, , Maranatha! Music, North Point Music, sixsteps records, Sonoma Music, Spring Hill Music Group, Troubadour for the Lord, Universal Music Group, VSR Music Group, Anchor Bay Entertainment/Starz, Creative Trust Media, First Look Studios, GT Media, Guardian Studios/Bananas, Pure Flix Entertainment, Rainbow Valley Heroes, Vivendi Visual Entertainment, and many more. EMI CMG Distribution is a division of EMI Christian Music Group, a unit of EMI Music ( www.emi.com), one of the world's leading music companies.
# # #


[2022]
Jan. | Feb. | March | April | May | June | July | Aug. | Sept. | Oct. | Nov. | Dec.
[2021]
Jan. | Feb. | March | April | May | June | July | Aug. | Sept. | Oct. | Nov. | Dec.
[2001 - 2021]
Visit our complete MUSIC NEWS ARCHIVE